In a MJTC first, live actors will be joined by marionettes, which portray Anne Frank and her family
By DORIS RUBENSTEIN
It's rare for Jews — even children — not to know the story of Anne Frank. Her diary has been in continuous print for decades. Its movie version is easily viewed via Netflix or any number of video services. The play on which the movie is based is regularly staged; in fact, it is playing at St. Paul's Park Square Theatre through March 22.
With this constant exposure, is there a different way or something new to be learned about one of the Holocaust's most famous victims? The Minnesota Jewish Theatre Company has found a new take on this familiar story in Compulsion or the House Behind, playing at its St. Paul venue March 2-24.
Compulsion is a new play, having had its off-Broadway premiere at the prestigious Public Theater a mere two years ago. The strength of the play, written by Jewish playwright Rinne Groff, was enough to attract Tony Award-winning actor and singer Mandy Patinkin to take on the role of the main character.
This character is based on a real-life personality, Meyer Levin, a Jewish writer and journalist whose obsession with telling the theatrical story of Anne Frank's life consumed the last 30 years of his life. His obsession with the play and his battles with the artistic and publishing establishment continued almost to Levin's death; perhaps in this way he is one of the last, indirect victims of the Holocaust. At MJTC, the role is taken by local favorite Mark Benninghofen.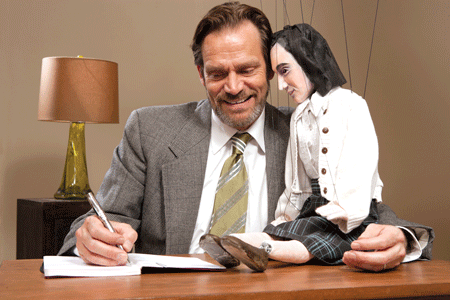 Groff drilled deeply into Levin's life to bring a surprising device to Compulsion. Levin had talents beyond the printed page; at one time, he'd run a puppet theater in Chicago where he staged productions of modern classics such as Eugene O'Neill's The Hairy Ape using marionettes. In Compulsion, Anne Frank and her family are portrayed by marionettes, which is something that is a novelty at the MJTC — although the Twin Cities' In the Heart of the Beast Puppet and Mask Theatre is a national leader in the medium.
The puppets themselves are a product of Chris Lutter-Gardella, of Puppet Farm Arts, himself an alumnus of In the Heart of the Beast's famous May Day event. Lutter-Gardella has been making masks, puppets, costumes, sets, floats and various theatrical accoutrements out of waste materials for more than 10 years. He has taught the process of transforming trash into imaginative art to communities throughout the upper Midwest and beyond.
When asked how a director directs a puppet, director Hayley Finn replied, "You direct the puppeteer."
"As a puppeteer, I am working to usher in a new role for puppets: as intercessors between the way it was and the way it will be, agents between humans and technology," said puppeteer Janaki Ranpura. "Puppet shows are not just games for children; they can be futurist scenarios. Puppets can help people reenvision themselves so they feel empowered when faced with a changing, increasingly technological world."
Ranpura is currently an emerging Many Voices fellow at the Playwrights' Center in Minneapolis. And it's the Playwrights' Center that brought Finn, who currently is its associate artistic director, and Ranpura together.
Compulsion is Finn's third play at MJTC; she directed The Gospel According to Jerry in 2011 and The Last Word in 2012. She also directed the History Theater's production of Hiding in the Open in 2010. She came to Minnesota seven years ago, but still belongs to her mother's synagogue in her native New York City.
"We did a workshop of Compulsion or the House Behind at the Playwright's Center after its New York debut," Finn said. Shortly afterwards, she and MJTC Artistic Director Barbara Brooks "had a meeting of the minds" and agreed on a production with Finn directing.
Other non-puppet, human performers include Bethany Ford, seen at MJTC this past fall in Photograph 51 and in Women's Minyan in 2010. Matt Rein was previously seen at MJTC in the wildly popular My Mother's Lesbian Jewish Wiccan Wedding and in The Triangle Factory Fire Project in 2008.
Compulsion or the House Behind promises MJTC patrons an evening that is entertaining, informative, and intellectually and emotionally challenging. For those who cannot get enough Anne Frank, they should take advantage of this opportunity to see two entirely different offerings — MJTC and Park Square's — to make a fuller portrait of this icon of 20th-century Jewish history.
***
Minnesota Jewish Theatre Company (MJTC) will present the regional premiere of Compulsion or the House Behind by Rinne Goff. The show will be performed Saturdays and Sundays, March 2-24, at the Hillcrest Center Theater, 1978 Ford Pkwy., St. Paul.
For tickets and information, call 651-647-4315 or visit: www.mnjewishtheatre.org.
(American Jewish World, 3.1.13)