(Update: Since the Jewish World went to press with its August edition, a lease has been signed for the Gateways Thrift Shop. The location is 4 Shady Oak Rd. in Hopkins, located in the Suburban Mall on Shady Oak Road, between Hwy. 7 and Excelsior Blvd.)
By MORDECAI SPECKTOR
Tucked away in a Minnetonka office park area, the Sha'arim sign by one door gives no clue about what's going on inside the 3,000-square foot warehouse and office space.
What a reporter finds is a thrift shop in progress: a warehouse crammed with donated housewares, clothes and furniture.
"Home goods is my specialty," says Grady, a voluble intern who comes from Monticello, Minnesota. "I make sure that everything is clean. I learned that toothpaste is a good cleaner."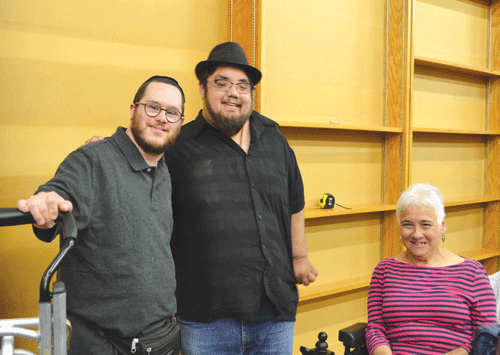 The 26-year-old worker has had a harder life than most people. At the age of eight, he was hit by a truck while bicycling and suffered a traumatic brain injury. He readily shows a reporter an MRI picture of his damaged brain that he keeps on his phone.
"It feels like a second home," Grady comments about his internship at the Sha'arim Thrift Shop. "It feels like a big family."
The Sha'arim Thrift Shop is a new initiative of Sha'arim (which used to have its offices in the same building on Minnetonka Boulevard as the Jewish World). Sha'arim, which began in 1999, is an agency that serves individuals with special needs. As it states on the organization's website (shaarim.org): "Our goal is to assist in providing a meaningful Jewish experience to any individual in our community. By partnering with schools, synagogues, temples, community organizations and social groups, we have created gateways for our participants to reach, and engage in, all areas of Jewish life at any age."
Calling itself the "only Jewish cross-denominational organization in the Twin Cities," Sha'arim partners with Jewish organizations across the various streams — Reform, Conservative and Orthodox, etc.
During a tour of the agency's Minnetonka warehouse space, Chana Shagalow, Sha'arim's program director, points to panels mounted high on the walls that document signposts in history. In 1999, Sha'arim partnered with Torah Academy; in 2000, with Temple Israel in Minneapolis; in 2004, with Lubavitch Cheder in St. Paul.
In 2008, Sha'arim founded Youth Darkaynu, a program geared to Jewish students with moderate to severe disabilities who are unable to attend mainstream Jewish educational institutions. That program was followed, in 2009, by the creation of Young Adult Darkaynu, which, in cooperation Inclusion Department of the Sabes JCC, offered Jewish educational programming to an older cohort. Sha'arim also started Friends 'n Fun programs, in 2010, which provide social activities for youth and adults with special needs.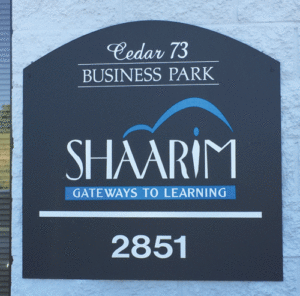 "Everything keeps evolving for us," comments Shagalow.
The latest evolution is the development is a vocational training program for adults with special needs. In 2018, the Sha'arim Thrift Shop started, and a group of nine interns with special challenges is getting vocational and employment training — learning the ropes "like their neurotypical peers," in Shagalow's words.
One of the first members in the program was Shmuel Kutoff, a young man with Down syndrome. He works in the furniture department, getting furniture ready for sale and going out on occasion to pick up furniture.
Another intern, Sharon, who is in an electric wheelchair, was born with cerebral palsy. Raised in North Dakota, she came here in search of a Jewish community that would accept her. She joined Darkaynu and Friends 'n Fun, in 2010.
Rather then spending her time hanging out at Starbucks, Sharon wanted "something different to do." She previously worked at a Roseville motel for six years, delivering items to people renting rooms. That job ended in 2008, when the Great Recession hit.
She looked for other work, but it was a fruitless search. "I gave up about five years ago, then Dina called me," she recalls, regarding the contact from Dina Drubach, the Sha'arim Thrift Shop operations manager.
Sharon says she polishes and prices glassware, and designs outfits for the mannequins.
"I think this is a good program, because this is what people need: employment… somewhere to go," she remarks.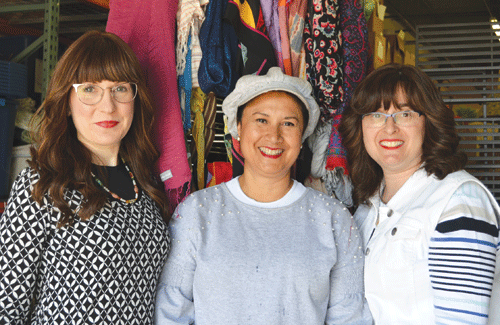 "The program is evolving," explains Dina Drubach, who has a doctorate in physical therapy and is a certified wellness coach. A Baltimore native, Drubach worked as a physical therapist and researcher at the Mayo Clinic in Rochester before moving to St. Louis Park. She mentioned that her son is a student at the Yeshiva of Minneapolis, which is located in the former Bnai Emet Synagogue.
The six-month internship envisioned for the Sha'arim Thrift Shop has become a one-year internship, based on each intern's capacity, according to Drubach, whose parents came from Brazil and India. The program is individualized, and "assessed and evaluated by me, to give tasks to the interns based on what they can do and then pushed to make them grow and develop beyond where they are."
She allows that pushing is "tricky" when working with adults. "But thank God, we're almost to a year in the program, and I see tremendous growth in areas of social interaction, emotional interaction, self-control, self-esteem, dignity, empathy is a big one."
And generally, the interns have shown themselves to be "excellent workers. I've been so happily surprised to have excellent workers."
Chana Shagalow says that they are close to signing a lease on a retail space have signed a lease on a retail space. The store will be called Gateways Thrift Shop — translating Sha'arim into its English equivalent.
The Minnetonka warehouse is bulging with donations. "The community has been amazing," Shagalow declares.
They've stopped taking donated goods. But if they can start selling stuff through a retail outlet, more donations will be needed. There have been pop-up sales at the warehouse, but the leased space is not approved for retail sales.
In any case, Sha'arim's warehouse is one of the friendliest, most upbeat work environments I've seen in recent years. You should experience it for yourself — and I was told that everyone who visits buys something. I bought two shirts.
***
For information about the Gateways Thrift Shop, contact Dina Drubach at 507-398-3622 or email: ddrubach@shaarim.org.
(American Jewish World, August 2019)