Reviewed by NEAL GENDLER
Having years earlier become a Swiss citizen, German-born Albert Einstein did not have to fight for the Kaiser, but during the Great War he had other battles.
The first was to complete and then gain acceptance of his theories of relativity, challenging two centuries of Isaac Newton's laws, "which bound together the universe by gravity."
A second struggle was with his estranged wife, Mileva, who in 1914 returned to Switzerland with their three children and set difficult terms for divorce.
The third, life-threatening, was with his health: Painfully unhappy innards sometimes left him bedridden, too weak for more than minimal work, if any — aggravated by the near-starvation of Germany during Britain's blockade.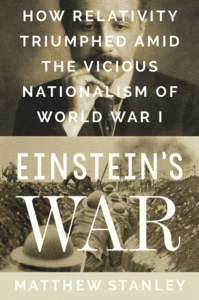 Author Matthew Stanley, who teaches history of science at New York University, describes "Einstein's overthrow of Newton" with delicious details, even humor, while also explaining relativity — to the extent one can without equations — in Einstein's War, 334 clearly written text pages combining biography, history and science.
The explanations, including simple diagrams, are in easy English — no highfalutin science terms — and I understood every word. But I still cannot comprehend how speed and gravity can alter time.
No matter. Understanding relativity isn't necessary to enjoy this book.
Also told is the little-known story of Arthur Stanley Eddington, a bachelor British Quaker who became an astronomer and president of the Royal Astronomical Society. In 1919, he would prove Einstein's relativity theory of gravitation with a two-location expedition to record a solar eclipse, seeking gravitational deflection of light.
That's what caused the triumph of relativity, making Einstein a worldwide celebrity at age 40. "Young women fainted as he entered the room," Stanley says.
Einstein and Eddington didn't meet until 1921. War cut contact between Germany and Britain, Eddington learning of Einstein's work only though wartime letters from Einstein's friend, Willem de Sitter, astronomy chair at Leiden University in neutral Holland.
Cambridge professor Eddington worked a year and a half to understand Einstein's theories and "took up the case of that German physicist… to show how science could triumph over nationalism and hatred." Both were appalled by the war and nationalist hysteria that denigrated and excluded the people and science on the other side.
Stanley captures Einstein's loose and Eddington's buttoned-up personalities. Religious Eddington was a proper English gentleman, while religion-indifferent Einstein often wore shabby attire and preferred shoes without socks. Yet, a friend said, "Einstein acted on women as a magnet acts on iron filings."
Stanley explains how Einstein's theories were derived from pure thought, not laboratory experiments. Einstein's first theory, the famous E=mc2, came out in 1905 when he was a patent clerk in Berne, Switzerland, earning more than he could have with an academic position.
In 1909, he became a theoretical physics professor at the University of Zurich after negotiating a match of his patent-office pay, and a year later took "a well-paid position as a full professor" at the German University of Prague. Einstein moved again to Switzerland, then to Berlin when Max Planck, the most important person in German physics, got him a teaching-free professorship and membership in the Prussian Academy of Sciences.
Einstein's shattering ideas were his own, but he enlisted help when he was stuck or to check his accuracy. For example, he and math professor friend Marcel Grossman worked on the very complicated theory of general relativity in the winter- spring of 1912-1913.
Gravitational deflection of light had to be tested during a total solar eclipse. Erwin Freundlich's July 1914 expedition to the Crimea ended when war began before the Aug. 21 eclipse, leading to his arrest and impounding of equipment.
Proof would have to await peace.
When proof was presented, it was huge news in Britain, partly because Eddington and then-Royal Astronomer Frank Dyson had spent a year preparing the press for it.
The theory continued to consume Eddington's time because he "had to ensure that people cared about relativity and Einstein" and about internationalism and scientific cooperation, Stanley says.
"It was those efforts that would change Einstein's life forever," Stanley says. "His transformation into an icon of genius was inextricably tied to his emergence as a scientific saint from the chaos of postwar Europe."
***
Neal Gendler is a Minneapolis writer and editor.
(American Jewish World, August 2019)