Actress Kate Fuglei will perform her one-woman show, about the Russian Jewish immigrant who lived for 20 years on the prairie, June 20-21 in Devils Lake
By ERIN ELLIOTT BRYAN / Community News Editor
Last August, the Minnesota Jewish Theatre Company staged Rachel Calof: A Memoir with Music, actress Kate Fuglei'sone-woman show about the hardships of a Jewish immigrant who endured a harsh childhood in Russia and later spent 20 years on the unforgiving North Dakota prairie, near the town of Devils Lake (8-16-13 AJW).
In a review of the play, the Star Tribune's Graydon Royce called Fuglei "a briskly confident actor with a no-nonsense mien."
"Physically adroit in portraying other characters, [Fuglei] has a muscular and unsentimental approach that glimpses the survivor's fortitude," Royce wrote. "Rachel is too honest and serious about life to shed many tears over. Fuglei's hard-set jaw and square shoulders get that point across."
The show was adapted from Rachel Calof's Story: Jewish Homesteader on the Northern Plains (Indiana University Press), which Rachel Calof wrote in Yiddish in the 1930s.
Rachel Calof's story is now coming full circle. Fuglei will perform the show June 20-21 in Devils Lake, about 20 miles from the spot of the Calofs' original homestead.
In addition to the two performances, there will be bus tours on June 12 and June 19-21 to visit what was once the Jewish community settlement known as the Garske Colony and its Sons of Jacob Cemetery.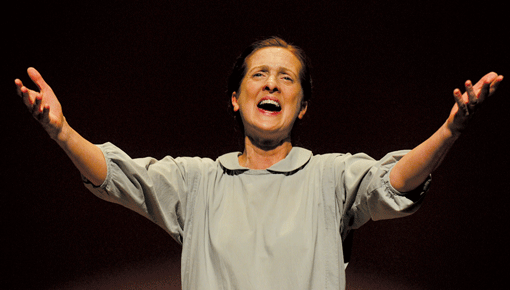 The City of Devils Lake and Ramsey County (North Dakota) have proclaimed June 20-21 to be "Rachel Calof Days," and North Dakota Gov. Jack Dalrymple congratulated organizers in a letter.
"Our great state achieved the success it enjoys today because of the efforts of Rachel Calof and thousands of others like her who came to North Dakota to build a better life," Dalrymple wrote.
The Devils Lake production is co-sponsored by the Lake Region Heritage Center, the North Dakota Chautauqua Association and the Sons of Jacob community.
"It's really turning into, which is very nice, a big regional celebration," Rachel's grandson, Stan Calof, of St. Paul, told the AJW. "There are a number of people who are descendants of the early settlers, like my grandmother, who didn't necessarily come down to the Twin Cities… It really has a lot of appeal for a number of different reasons, one of them being that a lot of people heard about Devils Lake, but never went there. Yet some of their ancestors came out of there."
When the play premiered last August in St. Paul, Stan Calof attended the opening night performance and invited along two couples from Devils Lake, including Mike Connor, an Irish Catholic retiree who volunteers to maintain the Sons of Jacob Cemetery.
Stan Calof had met Connor in 2006, when Connor spearheaded a fundraising effort to restore the cemetery and dedicate a memorial to the original 104 Jewish homesteaders who came to the Devils Lake area, beginning in the 1880s.
"I said to Mike, 'We really need to do this in Devils Lake, not only because it all started there, but when you listen to questions from the audience, you understand they are also descendants of people who were in the settlement,'" Stan Calof said. "There is great interest."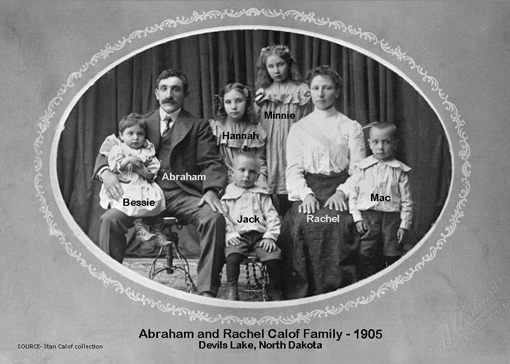 Connor agreed and took the lead to raise the necessary funds to bring the production — and Fuglei — to North Dakota. Donations rolled in from the Devils Lake business community and individuals all over the world (many of whom had helped finance the cemetery memorial), as well as grants from the State Historical Society of North Dakota, the Devils Lake Convention and Visitors Bureau, and others.
Connor's grandparents on both sides were also original homesteaders in the Devils Lake area.
"It's an interesting area up here, there's Irish and German and Russian and Jewish," Connor said. "Different faiths, but they were all neighbors through the years."
And when Connor saw Fuglei's show in St. Paul, he recognized the people and places she was referencing.
"It was talking about where I live and I could connect to it," Connor said. "I could remember my mother talking about going [to the Garske Colony] as a little girl with her mother, helping Jewish families who had sick children. It really hit home for me."
Connor and his committee have been working to bring the production to North Dakota since last November and group members have presented Rachel's story in local schools.
"We want to get a little more of the story out about Rachel Calof," Connor said. "Lots of Jewish families lived here, but most of them now, with no family, have died off or the children have grown up and left the community. But a lot of them are coming back… It's a homecoming and it started out because of what happened in Devils Lake or Garske and that's why it's important that we remember it and honor it."
In April, Dianne Siegel, of Mendota Heights, spoke at the Devils Lake History Center about the history of her family, beginning with her great-grandfather, Davis Rubin, who homesteaded near Rachel's husband, Abe Calof, in 1893. Siegel's mother was close to the Calof family and called Rachel "auntie."
Siegel and her husband, Leighton, serve with Connor in the Sons of Jacob community, along with others from around the United States who are descended from the original homesteaders. Leighton Siegel also maintains the group's Web site, which presents the history of the Jewish community near Devils Lake.
"It's pretty exciting for this community to suddenly become aware of the Jewish connections there," Siegel said. "It's a piece of Jewish history that's important. This was part of the fabric of Jewish settlement in the United States."
And that history is why Lisa Zimmerman, curator of the Lake Region Heritage Center, is excited to be a part of bringing this play to the Devils Lake community. Calof's story and the story of the original Jewish homesteaders are included in a section of the museum's Life at the Lake exhibit, but she said the play is a way of "presenting history in a new way."
Zimmerman also explained that the play will be part of Devils Lake's summer-long Chautauqua celebration, which is a throwback to the series of educational and cultural programs that took place in the late 1880s and early 1900s at Lakewood Park, on the shores of Devils Lake.
"People are really excited to see a real production come to Devils Lake," Zimmerman said. "We're getting a lot of questions about [Calof], her book, where she was, there's a lot of interest in seeing the homestead and seeing the cemetery. People are interested to see the play, but they're also becoming more involved with the history behind it, which is always good."
***
Rachel Calof: A Memoir with Music will be performed 7:30 p.m. Friday, June 20 and Saturday, June 21 in the Robert Fawcett Auditorium at Lake Region State College in Devils Lake, N.D.
In addition to the play, there will be bus tours on June 12 and June 19-21; a discussion of Rachel Calof's Story on June 16; and an acting workshop with Kate Fuglei on June 21.
For tickets and information, contact the Lake Region Heritage Center at 701-662-3701 or visit: www.lrhcmuseum.com.
For information about Fuglei's play, visit: rachelcalof.net. For information about the Sons of Jacob community, visit: www.sojnorthdakota.org.
(American Jewish World, 6.6.14)