A recent visit to the Israeli-occupied Palestinian Territories offered a different perspective from a mission trip to Israel in 1998
By ANNE MAERTZ
When I was first asked by my employer, the Center for Victims of Torture in St. Paul, to travel to the Occupied Palestinian Territories to assess whether we could work with Palestinian human rights organizations there, my reaction was, "Are you crazy? I'm Jewish!"
I had been to Israel with the Twin Cities 50th anniversary mission, which was organized by the Minneapolis and St. Paul Jewish federations, in 1998. I had read Thomas L. Friedman's From Beirut to Jerusalem, chronicling his days as a reporter in Beirut during the Lebanese Civil War and in Jerusalem through the first year of the Intifada. At one point I met with the Twin Cities shaliach (Israel emissary) to discuss making aliya.
Opinion
I love Israel. I think of it as my "ark" in case ISIS ever comes to the United States. I was pretty secure in my knowledge of certain truths about the Israeli-Palestinian situation.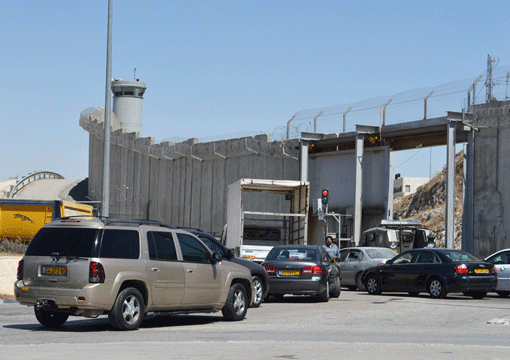 I could have easily refused to go on this trip; but I would have missed a life-changing opportunity. Over a period of six months, "my thinking evolved" — as President Barack Obama famously said about his position on gay marriage. I talked to a number of Jewish-American and Canadian human rights activists and foundation leaders who saw no problem with supporting the Palestinians in nonviolent organizing. My rabbi said, "Maybe God thinks you're the one to do this."
I don't know about that, but at least my rabbi didn't think I would be a traitor to the Jewish people by going. That was a huge relief.
I've struggled with how to tell the story of this trip. For every point, there is a counterpoint. I will not cite statistics; I am only reporting on what I saw and heard firsthand.
I'll get a couple things out of the way: The fact that I met so many smart, kind and dedicated Palestinians doesn't negate the fact that Hamas is a terrorist group, or that Palestinian school textbooks do not mention the Holocaust. Even if Israel tore down the separation barrier ("the wall"), turned the settlements over to the Palestinians, and recognized Palestine as a sovereign nation with its capital in East Jerusalem, I have no illusions that Israelis and Palestinians would be peacefully co-existing any time soon.
I don't know what the answers are. But I believe we need to hold Israel to high standards for human rights. We are supposed to be a light unto the nations, and it is painful to see the tide of liberal thinking worldwide turning against Israel. Of course, the Palestinian Authority should also meet high human rights standards; but as an American Jew, I have no influence over them.
So my Minnesota coworker, Nancy, and I flew into Amman, Jordan, earlier this year, where we joined Omar, our Palestinian colleague, before crossing over the Allenby Bridge into Israel.
It took six and a half hours to traverse the 45 miles from Amman to Jerusalem. Why? The Allenby Bridge (or the King Hussein Bridge, as it's called on the Jordanian side) crosses the Jordan River, which, despite its huge historical significance, makes Minnehaha Creek look like the mighty Mississippi.
Nancy and I sailed across the border in about 20 minutes and waited for Omar. We waited three hours. When he finally emerged, he told us he'd been strip searched three times by the Israeli border guards. "That's normal," he shrugged.
So there I was for the next five days, driving along the 25-foot high, razor-wire-topped, graffiti-splattered concrete separation barrier, crossing through filthy, jail-like checkpoints guarded by sullen but baby-faced IDF soldiers armed with automatic rifles, between East Jerusalem and Ramallah and Bethlehem.
Nancy, Omar and I met with about 30 human rights activists who work with or volunteer for organizations that are tackling everything from women's issues to torture to legal reform.
In almost every meeting, I heard a different point of view from what I'd heard on my mission trip in '98, in the media or from many fellow Jews.
For instance, when I was on the 1998 mission, we were shown how Israel has made the dessert bloom, while the Palestinian areas are still desert. "They don't even try to improve the land!" our guide exclaimed. He said something along the lines of, "Palestinians are simple, backward people who are content to live in tents."
Well, it's pretty hard to improve the land when Israel is cutting off your water supply. And is growing lettuce in the desert really such a great idea for the environment?
We American Jews hear how the separation barrier has stopped the suicide bombers. This does seem to be true. However, my Palestinian colleague pointed out that Israel has some of the most sophisticated intelligence and technology resources in the world at its disposal. At the very best, the wall was a heavy-handed way to stop suicide bombers.
Couldn't Israel have figured out a less clumsy approach? No, because the threat from suicide bombers was only an excuse to build the wall, he said. The real reason for it was to expropriate Palestinian land, slicing it up in so many ways that getting around is impossible, and splintering Palestinian families, businesses and identity. Divide and conquer.
There is a lot of language and messaging used by both sides to make their respective cases. For instance, the word "settlers" conjures up images of brave pioneers in tiny, isolated, defenseless outposts. In Israel, many settlers are actually poor Israelis, often immigrants, who receive government subsidies to move to settlements and live in vastly improved housing. And the settlements are anything buy tiny. I was shocked to view the Har Homa settlement from a hill in Bethlehem — it is sprawling and had a 2013 population of more than 25,000.
Finally, I went on this trip expecting to experience anti-Semitism but I did not. I have been subjected to anti-Semitism in Minnesota half a dozen times, but I met more than 30 Palestinians, and not one of them referred to their conflict with Jews, only Israelis.
***
Anne Maertz lives in St. Paul and is the manager of institutional relations at the Center for Victims of Torture. She blogs about mass incarceration and related issues at: www.breakingfreeblog.org/about.
The views expressed are those of the author and not of the Center for Victims of Torture.
(American Jewish World, 6.19.15)