The first edition of the American Jewish World was published July 30, 1915.
Dr. Samuel Deinard, a native of Lithuania who came to Minneapolis to serve as the rabbi of Temple Shaarei Tov (which later became Temple Israel), was a visionary who tried to unite the Minnesota Jewish community through journalism. He published a paper called The Jewish Weekly, which appeared in 1912, but it failed after about six months.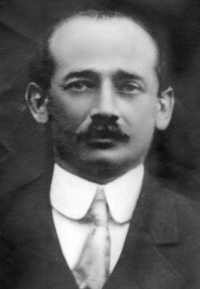 Several years later, Deinard teamed up with Leonard H. (Leo) Frisch, and the American Jewish World was born. (After Deinard's untimely death in 1921, Frisch became publisher of the newspaper — and his tenure spanned six decades.)
This is quite a legacy for the newspaper, and a special edition on July 31, 2015, will celebrate the AJW at 100 — a century of the newspaper's continuous publication.
The theme of the issue is "100 Years of Minnesota Jewish History — from the American Jewish World."
All of Minnesota's synagogues, Jewish schools, agencies and organizations have been invited to participate in the print edition. We also welcome businesses in the greater community to advertise in the July 21 edition; details can be found HERE.
The advertising space reservation deadline is 12 p.m. Wednesday, July 22. For information or to reserve an ad space, contact Mordecai Specktor at 952.259.5234 or e-mail: editor [at] ajwnews [dot] com.