Jake Garber, 97, will sponsor Jake's Gin Rummy Tournament at the Sabes JCC Golf and Games Event on Aug. 12 — and spend time with his longtime friend, Thomas Friedman
By TAMAR FENTON
Humble. Self-deprecating. Grateful.
And Jake Garber is almost a centenarian, having been born the same year that Alexander Graham Bell made his first telephone call to Thomas Watson. During his 97 years, Garber has witnessed incredible changes in the world and has also made his mark.
But don't expect him to tell you about his many accomplishments, as he isn't interested in recognition or in drawing any attention to himself. What he does love to talk about is the old Northside, his family and friends, and the importance of the Sabes JCC in his life.
Garber is one of only two surviving members of the original 17 boys who formed the "Flashes Club" at the old Emanuel Cohen Center on the Northside. These friendships that were built and strengthened while hanging out at the forerunner to the Sabes JCC, helped shape Garber's sense of responsibility to his community and to his friends.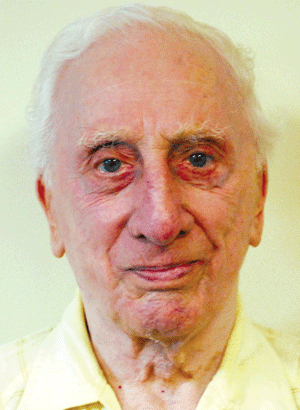 Garber's father passed away when he was just 13 years old, forcing him into the role of "man of the house." Always clever, but not a great student, Garber took his responsibility to help support his family seriously and came up with creative ways to bring money into the household before he even started high school.
Looking for a competitive edge over other boys working after school, Garber would sneak out through a classroom window in order to get downtown and sell more candy, newspapers, toys or ice cream to downtown customers. On his 16th birthday, the school principal informed Garber that he didn't need to sneak out of the window anymore because he was being kicked out of school. That was fine with Garber — it just gave him more time to find ways to make a buck.
When World War II broke out, Garber enlisted, and was stationed at Pearl Harbor and later in Guam. When he returned from the war, he initially wondered what he would do next, given that he had no diploma, no training and no prospects. He figured he had nothing to lose when his friend suggested that they go into the ball bearing business together. With surplus metal from the war in great supply, their small business, United Bearing Company, quickly grew and eventually became one of the most successful of its kind in the country.
Harold "Iggy" Friedman, a lifelong friend from the neighborhood and a fellow member of the "Flashes Club," joined the company at its inception. Garber describes his dear friend as "the funniest and greatest guy you'd ever want to know."
When Friedman passed away, Garber and another "Flashes Club" member, Morrie Berenberg, became friends and mentors to Friedman's children, including his son Tommy, whom the world now knows as Pulitzer Prize-winning author Thomas Friedman.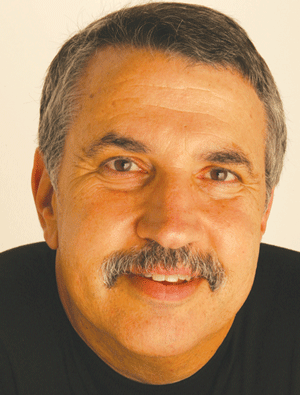 In 1954, the JCC was built in St. Louis Park to reflect the changing needs and demographics of the Jewish community. Garber was so grateful for the special times that "the Flashes" had shared at the Emanuel Cohen Center, that when asked to donate to the new JCC, he gladly "wrote out the largest charitable donation I had ever made up to that point to support the JCC."
Since it first opened its doors, Garber has come to the JCC almost every day to play cards and be among members of his community.
"When I'm at the JCC and I see all of the little kids, running and laughing and chasing each other, it's like I'm in an opera house," Garber said. "It's like seventh heaven to hear that beautiful noise. The greatest things ever invented are little kids. And to see them at the JCC, yelling and enjoying themselves, that is a dream come true. I'm so grateful for the JCC. It's where I spend my days with friends. It's perfect. I wouldn't know what to do with my days if the JCC wasn't here."
On Monday, Aug. 12, the Sabes JCC will honor the enduring connection between Garber and the Sabes JCC when it inaugurates the first-ever Jake's Gin Rummy Tournament that will become the newest addition to the Machers Golf and Games event, a fundraiser for the Sabes JCC's scholarship fund. And along with 124 golfers, 100 people playing mah-jongg or Canasta, and dozens of folks who will play in Jake's Gin Rummy Tournament, Thomas Friedman will be there to pay tribute to his old friend, Jake Garber.
The entire community is welcome to join in any of the games that day or come to the community dinner at 5 p.m. at Oak Ridge Country Club. The dinner will include a keynote address by NFL agent Blake Baratz, president of the Institute for Athletes, who will present "The Business of Sports."
For information or to register, go to: www.sabesjcc.org, or contact Raleigh Wolpert at: rwolpert@sabesjcc.org or 952-381-3429.
(American Jewish World, 8.2.13)