Jane Nides, of St. Paul, uses her dog to start a conversation about pancreatic cancer, the disease that claimed the life of her sister
By ERIN ELLIOTT BRYAN / Community News Editor
When Jane Nides, of St. Paul, lost her sister, Anne Loeb, to pancreatic cancer at the age of 61 in September 2012, Nides was devastated. Loeb was the oldest of seven siblings raised in the Duluth Jewish community, and Nides referred to her sister as her "best friend" and "chairman of the board."
"I was pretty much immobilized by her death this winter," Nides told the AJW, "but decided to dry up my tears and truly try and make an impact."
As a unique way to raise awareness of what she refers to as an "insidious disease," Nides used her mild-mannered, six-year-old golden doodle, DaisyMae, as a tool to start a conversation. Nides gave DaisyMae a specialty haircut and dyed her fur purple, in an effort to educate people about pancreatic cancer.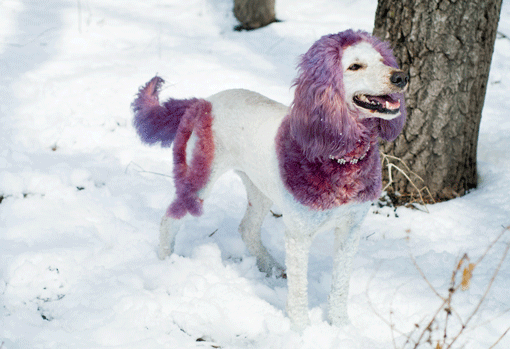 Affectionately known as the Purple Lion in her Linden Hills neighborhood, DaisyMae even has her own business card, which talks about pancreatic cancer and Nides' involvement with the California-based Pancreatic Cancer Action Network (PanCAN).
"The last thing [Anne] would have done is dyed her dog purple," Nides said, chuckling. "But everybody does grief differently… That's how radical I decided I had to be in order to make some kind of difference with this disease."
And what Nides has been able to do is raise a lot of money for cancer research. Last year, just a few weeks before Loeb died, Nides participated in PanCAN's Purple Ride, a day of bike riding and entertainment — and raised more than $28,000 in less than 30 days, mainly with smaller donations of $25 or $50.
Nides will participate in the Purple Ride Twin Cities again this year, as team captain of Funsters Local 247. The family-friendly event will take place on Sunday, Sept. 15 at Elm Creek Regional Park in Maple Grove, and riders can choose from a 25- mile or eight-mile course as well as an optional scenic loop.
Pancreatic cancer is now the fourth leading cause of cancer deaths in the United States, and Ashkenazi Jews with a BRCA2 mutation are at higher risk of developing the disease.
According to the Center for Jewish Genetics, "the lifetime risk to develop pancreatic cancer is 1 percent, but in a Jewish individual with a BRCA2 mutation, that risk may be as high as 7 to 10 percent."
And the Sol Goldman Pancreatic Cancer Research Center at Johns Hopkins Hospital in Baltimore notes that carriers of the BRCA2 gene mutations "have a ten-fold increased risk of developing pancreatic cancer."
"My brother-in-law, Anne's husband, is a pathologist, so he's done all of the research and is working on a paper right now documenting that the deaths from pancreatic cancer in Jews is over the top from the so-called Jewish diseases," Nides said.
Loeb, who lived in Des Moines, battled the disease for 11 months, seeking treatment in Iowa, Maryland, Arizona and Wisconsin, and participating in several clinical trials. She spent four months in the hospital — much of that time with Nides by her side.
"She was willing to go on every clinical trial, basically to save those who weren't even born yet. And she never complained," Nides said. "When you have somebody in your life that you love as much as I loved my sister, you will do anything… I never, ever thought she was going to die."
After Loeb's death, Nides sought comfort from DaisyMae, who travels with her for work.
"I just looked at Daisy and said, 'It's up to you and I, and we'll make a difference,'" Nides said.
DaisyMae will be on hand for this year's Purple Ride, which Nides describes as an "incredible learning experience."
"If you can come out on September 15 in great numbers and making a lot of noise and having fun, on a sad day, it at least brings smiles to people's faces," Nides said. "It's that whole Jewish upbringing, you just give back. Regardless of if I'm doing it the traditional way, I'm still out there doing it."
***
For information about Nides' Funsters Local 247 and the Purple Ride Twin Cities, visit: http://bit.ly/11RFSEh or: www.purpleride.org.
(American Jewish World, 8.2.13)