Reviewed by NEAL GENDLER
Adam Ehrlich Sachs is possessed of a great imagination, a sense of the absurd and the ability to write rambling, multi-topic sentences that don't require rereading to remember their to­pic.
Not all of them, anyway.
Sachs' The Organs of Sense is a quirky novel based around a preposterous plot: An aged, hermit-like, eyeless astronomer has predicted a total solar eclipse at noon on June 30, 1666: "the brightest time of day at nearly the brightest time of year… casting all of Europe for one instant" into "a darkness without equal in our history."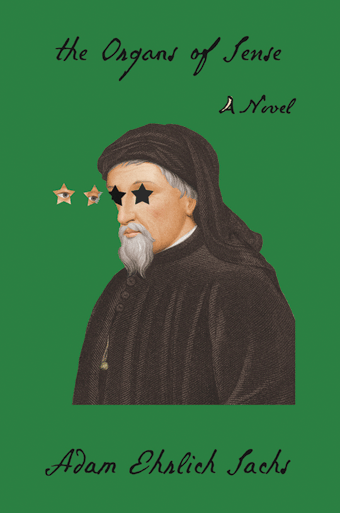 Word of this unlikely astronomer and his prediction has attracted the attention of young G.W. Leibniz, "an assiduous inquirer into miracles and other aberrations of nature," who makes a difficult journey from Germany to Bohemia to visit the astronomer.
The astronomer's name isn't given, unless I missed it amid Sachs' enormous, Faulkner-like sentences; one starting near the bottom of page four fills three-quarters of page five. I counted 288 words — English teachers would faint.
Leibniz arrives just hours before the predicted eclipse, finding the astronomer living impoverished in a dark, rundown observatory from which an enormous telescope, one of the astronomer's inventions, protrudes skyward through a narrow opening.
As Leibniz takes notes for later publication, the astronomer unreels his life story, occasionally pausing his near-monologue to put his eye to the telescope and write down some numbers.
It apparently never occurs to Leibniz to ask what the astronomer, who boasts of cataloging more stars than his predecessors, possibly could be seeing. Not only has he no eyes — explained late in the book — but it's daylight; stars aren't visible.
But play along. The astronomer's father was Emperor Maximilian's prolific, highly compensated imperial sculptor. After Maximilian's death, his successor, Rudolf, dismisses Maximilian's ministers. Impoverished, the sculptor invents a mechanical head he hopes will lead to regaining his position.
As the father presents the head, his son intervenes, showing Rudolf how lenses magnify. Astounded, Rudolf makes the son the imperial astronomer, provided he teach math to the emperor's four children.
Sounds reasonable, except that Rudolf and his three daughters hover near the edge of madness and the prince has fallen over it.
One thing leads to another — at very great length — until the astronomer leaves after a tragedy but possessing a decree that the court will provide him in perpetuity with telescopes. They keep getting longer and stronger.
We eventually learn that the astronomer is a Jew who fathered a son with one of the princesses. The son has his father's face, especially his nose, but his stepparents' royal airs.
All of this spins out for hours as the moment of the eclipse draws closer, although through the small opening around the telescope, Leibniz doesn't see the sky darkening.
This may sound thin, but Sachs' inventiveness thickens it to high viscosity in a sort of stream-of-consciousness hurricane of subplots and supposed philosophy.
For example, Rudolf says: "Possibly a good educational institution can help one see how the seemingly significant is, in truth, insignificant, but in seeing the significant within the seemingly insignificant one is always alone."
It's unsurprising that Sachs was a member of the Harvard Lampoon. He's also a 2018 National Endowment for the Arts Literature Fellow and a very competent juggler of intersecting storylines and information both relevant and not, keeping everything aloft for more than 200 pages until a sudden twist that readers scarcely could imagine, followed by an O. Henry-like ending.
So did an eclipse occur? I'm not telling.
***
Neal Gendler is a Minneapolis writer and editor.
(June 2019, American Jewish World)