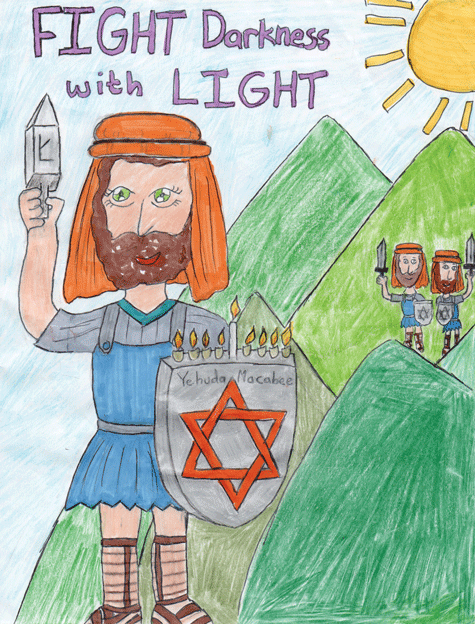 We are proud to announce that Chana Goldberg is the winner of this year's Hanuka Cover Contest. And as it happens, she also won the contest in 2014.
The 26th annual AJW Hanuka Cover Contest, for students in grades 1-8, again inspired young artists in the community to reflect on the meaning of the Festival of Lights.
The judges were challenged to choose a winner from numerous entries that were skillfully executed and creatively reflected our suggestion that drawings "should be visual representations of the meaning of Hanuka."
(To see artworks by the four runners-up in the contest, click HERE.)
Chana, 13, is in the eighth grade at Lubavitch Cheder Day School in St. Paul. Next year she will attend Lubavitch Girls High School in Chicago.
She's the daughter of Rabbi Yisroel and Rivkah Goldberg. Her father is the principal of Lubavitch Cheder in St. Paul's Highland Park neighborhood.
When we last talked two years ago, Chana had four sisters and three brothers (she's the second oldest). Now she has five sisters, including one-year-old Golda Ita.
During an interview at the school this week, Chana talked about her drawing. She pointed out that the Jews were a "weak nation" in ancient times; but the Maccabees were victorious in their revolt against the oppressive Seleucid Empire because "they were connected to HaShem."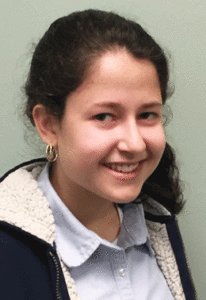 Yehuda Maccabee, the leader of the guerrilla army that overthrew the colonizers and restored Jewish worship to the Holy Temple in Jerusalem, is the central figure in Chana's artwork. He holds up a dreidel and his shield, adorned with the Star of David, is topped with a hanukia that has all the candles lit.
Regarding this imaginative and symbolic facet of her drawing — along with the theme line at the top — Chana explained, "You can fight darkness with the light of Torah and mitzva."
Chana continues to enjoy Hebrew class at Lubavitch Cheder, as well as "drawing and doing projects."
As this year's winner, Chana received a gift card, chocolate Hanuka gelt and a certificate suitable for framing courtesy of the American Jewish World.
We congratulate all of the artists who entered our contest this year. You're all winners in our book. For those still eligible to enter, we hope to see your work again next year!
— Mordecai Specktor
(American Jewish World, 12.01.17)