Reviewed by NEAL GENDLER
Judging ÉricVuillard's brief, award-winning The Order of the Day is like trying to evaluate a movie "based on a true story" that's artistically masterful but at variance from the facts.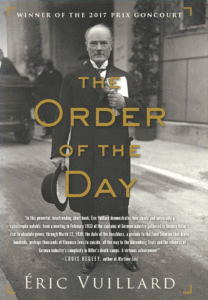 Vuillard's 132 small pages take to task 24 business leaders who agreed on Feb. 23, 1933, to finance Hitler's campaign for the next-month election, and it describes Hitler's takeover of Austria as nearly comically at odds with his military's purported prowess.
Comic except for the suicides Vuillard enumerates, particularly of Jews.
"They say that literature gives you license," Vuillard writes, and he certainly seems to have taken it, producing what might most accurately be called a historical novel.
He begins with the secret Feb. 20 meeting, describing how those "high priests of industry and banking" climbed stairs to the third floor of Germany's palace of the President of the Assembly — even who paused, sweating, loosening his detachable collar.
Meeting Goering and Hitler, the 24 are promised an end to chaotic government, "the Communist menace," and trade unions if the Nazi party wins. They pledge funds.
Order of the Day, written in French, won the 2017 Prix Goncourt, which the New York Times called "France's most prestigious literary prize."
I would focus on the word "literary." The book is not labeled a novel, and the problem is distinguishing fact from imagination.
We know the basics: dates, places and events. The secret meeting was real. But when Vuillard tells us how the attendees were dressed, what they saw or what they and later characters in his book said and thought, does he have any factual basis or only his imagination?
We don't know, although there's an unquoted attribution to Field Marshal Wilhelm Keitel, Hitler's senior military advisor, at the Nuremberg trials. Typically for a novel, there are neither source notes nor bibliography.
None of which diminishes the book's compelling, easily read story, smoothly translated by Mark Polizzotti.
Much of the book is about the Anschluss, Germany's absorption of Austria. Vuillard describes it as a combination of bullying and bluff, threatening Austrian Chancellor Schuschnigg with invasion if he doesn't sign an agreement giving Germany great sway over Austria.
But Vuillard claims that 1938 Germany's military was so inept that its Vienna-bound stream of armor and trucks sat broken down outside Linz, "an advance of barely 60 miles," with Hitler purple-faced at being delayed.
In his portrayal of Schuschnigg's quandary, Vuillard seems to be buying Austria's discredited self-portrayal as Hitler's first victim.
But Vuillard soon changes tune: "On the morning of March 12, Austria waited feverishly and with indecent joy for the Germans to arrive… Everywhere, people stood on tiptoe, hoisted themselves onto ledges and walls, climbed up lampposts, anywhere they could, just so they could see."
Newsreels show Hitler's triumphant entry, Austrian throngs cheering, stiff-arm saluting and waving swastika flags, beaming "joyful young girls with their hair in braids."
But when seeing a film of herself as one of those ecstatic girls, what does she think now, old and fragile in a retirement home?
Vuillard asks: "Does she sigh sometimes, extracting the painful memories from their formaldehyde?"
If so, I'd bet those memories are less of dictatorship or war than of something simpler and more universal: the pain of no longer being that vigorous, attractive girl so full of joy and possibilities.
And the 24 captains of industry and finance? "These are not antediluvian creatures who pitifully faded away in the 1950s… These names still exist. Their fortunes are enormous," Vuillard says.
"To truly understand the meeting," he says, "we must now call these men by their real names… BASF, Bayer, Agfa, Opel, IG Farben, Siemens, Allianz, Telefunken" and Krupp. They profited from the war, some with slave labor.
He says we know them well, for "they are here beside us…our cars, our washing machines, our household appliances, our clock radios."
ThyssenKrupp builds submarines for Israel. The 24 men are but company proxies, he says, "like 24 calculating machines at the gates of Hell."
***
Neal Gendler is a Minneapolis writer and editor.