AJW Staff Report
Ilhan Omar, elected Nov. 6 to represent Minnesota's Fifth District in the U.S. House, seemed to reverse statements she had made on the campaign trail regarding the anti-Israel boycott, divestment and sanctions movement (BDS), in an article on the Muslim Girl website (muslimgirl.com).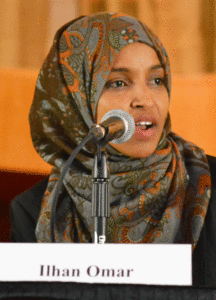 At an Aug. 6 candidates' forum at Beth El Synagogue in St. Louis Park, Omar, who represents a south Minneapolis district in the Minnesota House of Representatives, expressed support for a negotiated two-state solution to the Israeli-Palestinian conflict and said of BDS that "it's not helpful in getting that two-state solution."
"I think the particular purpose for [BDS] is to make sure that there is pressure, and I think that pressure really is counteractive," the Somali-American elected official told the predominantly Jewish audience at Beth El. "Because in order for us to have a process of getting to a two-state solution, people have to be willing to come to the table and have a conversation about how that is going to be possible and I think that stops the dialogue."
But speaking with Muslim Girl, Omar's campaign said: "Ilhan believes in and supports the BDS movement and has fought to make sure people's right to support it isn't criminalized."
In an interview with TC Jewfolk, the local online news outlet, Omar insisted there was no contradiction between her comments at Beth El and the Muslim Girl article.
"I believe and support the BDS movement and have fought to make sure people's right to support it isn't criminalized," she said. "I do, however, have reservations on [the] effectiveness of the movement in accomplishing a lasting solution. Which is what I believe I said at the forum."
Nonetheless, Omar's comments were the subject of criticism. Haaretz, the Israeli newspaper quoted Beth El's Rabbi Avi Olitzky: "She's either misrepresenting or misunderstanding. And I hope to be able to have a dialogue with her that clarifies which of those is the nature of her stance."
The Anti-Defamation League tweeted: "This is alarming. BDS doesn't just criticize Israel's gov., it denies its right to exist as a Jewish State. @IlhanMN also said she supports a two-state solution. Rep-Elect Omar, you owe it to your new constituents to clarify your views."
On the other hand, Arizona-based civil rights activist Imraan Siddiqi responded to the ADL on Twitter that Omar had similarly called out a Muslim nation, Saudi Arabia, for its role in massacres in Yemen and the murder of Washington Post journalist Jamal Khashoggi: "If boycotting based on human-rights violations makes her anti-Semitic, then boycotting Saudi based on human-rights violations makes her Islamophobic too."
Omar will be sworn in as a House member in early January. She will become the first member of Congress to wear a hijab, the head scarf worn by many Muslim women.