By ADRIAN GLASS-MOORE / Assistant Editor
A letter sent by National Republican Congressional Committee (NRCC) Chairman Tom Emmer that said wealthy Jews "bought" Congress has been called anti-Semitic by local Jewish leaders.
NRCC spokesman Chris Pack defended the letter. "There is nothing anti-Semitic about drawing attention to billionaire donors and who they are giving money to," he said in an email to the Jewish World.
The letter by Rep. Emmer, who represents Minnesota's Sixth District in the U.S. House, says "the news of impactful, real progress on turning our nation around was undercut by biased media and hundreds of millions of dollars of anti-Republican propaganda put out by liberal special interests, funded by deep-pocketed far-left billionaires George Soros, Tom Steyer and Michael Bloomberg."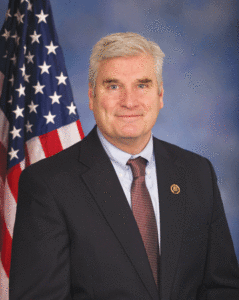 "These left-wing radicals essentially BOUGHT control of Congress for the Democrats," the letter continues. Soros and Bloomberg are Jews; and Steyer had a Jewish father.
Carin Mrotz, executive director of St. Paul-based Jewish Community Action, called Emmer's language dangerous.
"The idea that Jews are behind a conspiracy to undermine society or control government is pretty classic anti-Semitism, and we know that these words can lead to real violence — recall that the Pittsburgh synagogue shooter was motivated by the belief that Jewish money was behind the migrant caravan approaching our southern border," she said in a statement. "It's language that puts Jews in real danger and has unfortunately become too frequent of a go-to for those seeking to undermine and combat progressive advocacy."
Steve Hunegs, executive director of the Jewish Community Relations Council of Minnesota and the Dakotas, criticized Emmer's letter but called the congressman "a good friend to the Jewish community in Minnesota."
"In my conversations with Rep. Emmer, I asked for refraining from the recitation of 'George Soros, Tom Steyer, and Michael Bloomberg,' as it evokes anti-Semitic stereotypes of Jewish plutocracy," Hunegs said in a statement. "Robust speech is the hallmark of American democracy, but let us all abstain from incendiary political expression."

The letter appears to have been circulated around March of this year as part of a "Truth About Republicans Survey." A copy of the first page of the letter was sent to the Jewish World in July by a reader who described it as anti-Semitic. The NRCC ignored a request for a full copy of the letter and details about when it was sent.
Emmer's letter mirrors a controversial message posted on Twitter in October 2018 by Republican Rep. Kevin McCarthy, who wrote, "We cannot allow Soros, Steyer and Bloomberg to BUY this election!" The tweet came a day after a pipe bomb was sent to Soros' home. McCarthy quickly deleted it.
Later that week, a pipe bomb was sent to Steyer, too. Then, on Oct. 27, a gunman killed 11 people at the Tree of Life synagogue in Pittsburgh.
Steyer, a candidate for the Democratic Party's presidential nomination, called McCarthy's tweet anti-Semitic, which McCarthy denied.
Mrotz noted the connection between Emmer's letter and McCarthy's tweet: "We've seen it before, not just with Rep. McCarthy's tweet but throughout the 2018 election cycle. When Jim Hagedorn ran for Congress in Minnesota's First Congressional District, he ran an ad that portrayed George Soros as the sinister puppeteer behind his Democratic opponent."
Under Emmer's leadership, the NRCC has repeatedly accused Democrats of anti-Semitism, especially Rep. Ilhan Omar of Minnesota. "When it actually does come to anti-Semitism, the NRCC will continue holding the Democrats in Congress accountable for turning a blind eye to the rabid anti-Semites within their ranks," NRCC's Pack said.
In an unprompted follow-up email to the Jewish World, Pack added: "And one more thing — with anti-Semitism on the rise, it's important for all sides to be sensitive with regard to this serious issue."
(American Jewish World, August 2019)