by MAX SPARBER
Community News Editor
Composer, designer, performer and writer Craig Harris is telling a story of Israel. Properly, he's telling a pair of stories, one about the prophet Elijah, one about the modern state and its complicated relationship with its Palestinian residents.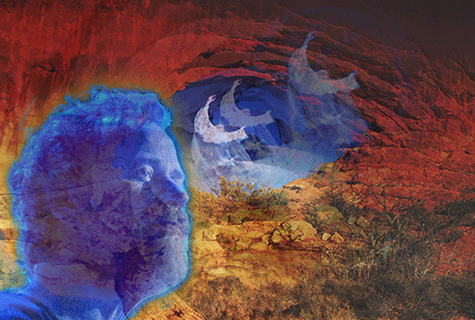 The multimedia show, titled SenseAbility, which Harris will perform at the Open Eye Figure Theatre Sept. 29-Oct. 1, began with the tale of Elijah, which Harris adapted to the stage in 2016 as Elijah in the Wadi, performing it at the Cowles Center.
"He is a witness, and an activist," Harris wrote about the prophet at the time. "He speaks truth to power, has a deep connection to his people, and is a fierce advocate for those who are disenfranchised."
Harris decided to partner this project with another, one inspired by his own relationship with Israel. This came to the forefront when his daughter married a Palestinian man who lives in a refugee camp in the West Bank, which caused Harris to make repeated trips to the region.
"I was always thinking of things in a certain way, based on how I was taught," Harris explained to the American Jewish World. Harris explains that he found his preconceptions about Israel and the Palestinian experience challenged by his trips to the West Bank, and it forced him to confront his own ethical principles. "How do we respond to alliance of values that we were taught?" he asked himself. "It really is the core of who we are."
The Palestinian people he met were different than he had been led to expect. His trips to the West Bank "showed me the human side of the story. What was really striking for me was how exuberant and resilient the Palestinians are. They have large families, very close-knit."
"To see people that actually found a way to be together even in very difficult situations," he adds, "it's really striking, just stays with you.
"So one of the things that I explore in the piece is this idea the contrast between a difficult situation and way you respond to it." Which is, as it turns out, both the story of the Palestinians and the story of Elijah.
Originally, Harris envisioned his show as a two-act piece, the first telling of Elijah railing against injustice, the latter telling of Harris' own efforts to come to terms with his sense of Jewish ethics in relation to the Israel-Palestinian conflict. But in rehearsal, his director, Kym Longhi, repeatedly declared "This is the same story!"
They came up with a mechanism to weave the stories together, in which Harris, accompanied by his own music, addressed each of the human senses, and how they relate to the world of the story. "I'm kind of Elijah in the tent in the Wadi," he explains, "but I am also a performer in my studio, both playing live and exiting my tent to tell Elijah's story."
"I start with sound," he continues. "I talk about how we perceive sound when we come into the world, and how we learn to filter and clarify what we hear, and this works as an entry point into talking about different aspects as it relates to the Elijah story.
"I talk about site. What we see. What I saw." On the West Bank, Harris explains, "you see wonderful great roads, pathways, but they are separated. Only some people can use them. And there are different roads," roads that are in disrepair, or with garbage alongside them, and these are the roads that everyone uses.
SenseAbility will play Sept. 28 – Oct. 1 at Open Eye Figure Theatre, 506 E. 24th St, Minneapolis. For information visit openeyetheatre.org.
(American Jewish World, 9.22.17)