Joe Rozenberg, a survivor of the Shoah from Poland, lived an extraordinary life
By MORDECAI SPECKTOR
Joe Rozenberg lived through the nadir of humanity, the Nazi destruction of European Jewry in the Shoah.
Specifically, the native of Lodz, Poland, whose mother and brother were killed by German soldiers, survived the Lodz Ghetto; several weeks in Auschwitz; three months at the Continental Gummiwerke Rubber Factory at Stöcken, near Hannover, Germany; and the brutal Ahlem slave labor camp.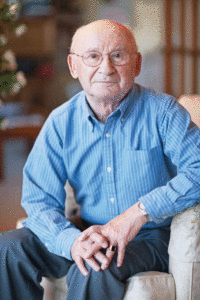 At Ahlem, about 1,000 Polish Jews worked in underground asphalt tunnels for the war industry. Later, 500 men of other nationalities bolstered the enslaved work force. A memorial at the site of the Ahlem camp notes that 750 prisoners died there: "They starved, froze, or they succumbed to infection, the hard work, by abuse, or were murdered."
"At Stöcken, only four or five people died," Rozenberg told the AJW's Erin Elliott Bryan, in 2009. "At Ahlem, it was like flies. People died right and left."
In April 1945, Rozenberg became ill and was no longer able to work. German soldiers took the inmates healthy enough to march away from Ahlem, and abandoned the others in the barracks. Those left behind looted the camp kitchen.
"It was really like nature, survival of the fittest," Rozenberg recalled, regarding the chaos at Ahlem. "Maybe I got a few crumbs."
After hiding in a cottage near the barracks for several days, Rozenberg and some other camp inmates heard the sound of trucks. The camp was liberated by American soldiers, April 10, 1945.
Josef Hirsz "Hershel" Rozenberg lived an extraordinary life and raised a family in St. Louis Park. Rozenberg died Sept. 5, in Poway, Calif. He was 91.
After being freed from Ahlem, Rozenberg was transported by the Red Cross to Sweden. That part of his journey is recorded in a 2011 Swedish documentary, Harbour of Hope. Rozenberg was one of three Holocaust survivors featured in the film, which focuses on a small part of Sweden's efforts to rehabilitate Jewish survivors of the Nazi atrocities. Using archival footage of the survivors arriving aboard a ship from Denmark, in the tranquil harbor town of Malmö, along with contemporary scenes, Harbour of Hope shows how some survivors managed to heal from their horrific and unforgettable experiences.
In 1945, while he was living in Mölle, a group of young women, Jewish survivors, arrived. Among them was 15-year-old Rajzla, who caught Joe's attention. When they met, Rajzla (who later became known as Rose) told him: "Mr. Rosenberg, I saw you on the boat from Germany. We came together to Sweden." They became a couple and married in 1949. Rozenberg lived in southern Sweden for 13 years. The couple's two eldest children, David and Mary, were born in Sweden. The family moved to Minnesota in 1959.
When the documentary Harbour of Hope had its gala world premiere, in Malmö, the Rozenbergs all traveled back to Sweden.
"It was really quite amazing," recalled Mary Feldman, Joe's daughter. "They had a big reception, and the crown prince of Sweden was there and was seated next to my father for dinner. His name is Carl Philip."
Joe Rozenberg and the other survivors featured in the film attended the screening. After the film was shown, they were presented with flowers, and Rozenberg gave a speech, "in Swedish," according to Feldman, who lives in St. Louis Park. The family also rented a van and visited all of the places that Joe, and later Joe and Rose, had lived.
During the visit to Sweden, Rozenberg also reunited with his old friend, Stig Kinnhagen, a 15-year-old Red Cross volunteer who befriended the young Holocaust survivor in 1945.
"Stig invited me to have a dinner in his home," Rozenberg told the Harbour of Hope filmmakers. "Seeing a normal family like his made me dedicate my life to building a new family."
Feldman, 62, left Sweden at the age of three, so she does not recall her early years in Sweden.
In Sweden, Rozenberg, whose formal education was interrupted in the seventh grade, became a machinist, according to his daughter. He later advanced to become a tool designer.
And after his retirement, Rozenberg began writing a memoir. "It was a 30-year project," remarked Feldman. He also started doing public speaking, first in Jewish venues and then to church groups, schools and organizations. He continued to speak about his experience in the Holocaust when he moved to San Diego, about four years ago.
Late in life, Rozenberg also met one of the American soldiers who liberated the Ahlem slave labor camp. As the AJW reported, in 2009, Rozenberg was watching TV one evening and saw a TV report about Vernon Tott, a World War II vet living in Sioux City, Iowa. He was with the 84th Infantry Division, when the army unit discovered the ghastly scene at Ahlem.
"[Tott] was working at a slaughterhouse in Sioux City, Iowa, but he was retired at the time, and he started to spend all of his time looking up survivors of that concentration camp," Rozenberg told the Jewish World. "When I found out, I started to correspond with him, and I wrote him a letter, and he wanted to know everyone's past history. So I wrote him my letter, how I remember liberation."
Rozenberg and Tott met twice in person, including a visit during the 10th anniversary festivities at the U.S. Holocaust Memorial Museum in Washington, D.C. Tott, whose story is depicted in the documentary Angel of Ahlem, died of cancer in 2005.
In his retirement years, Rozenberg also was a regular attendee of Yiddish Vinkl meetings.
Annalee Odessky wrote on Hodroff's online memorial page for Rozenberg: "Joe was a beloved member of our Minneapolis Yiddish Vinkl group. He was a Yiddishist extraordinaire. We all held him in high esteem. He was our 'go-to-guy' for translating or typing something in Yiddish."
And it should be mentioned that Rozenberg cared deeply for his beloved Rose, who developed Alzheimer's disease. His gentle and loving devotion to his wife, as her memory faded away, is documented in Harbour of Hope. Rose died in 2010.
"He could have been an angry, bitter, depressed person, but he wasn't," said Mary Feldman, regarding her father's harsh lot early in life. "He always saw the positive in everyone and every experience. He was adventurous, not afraid to try new things."
"And one of the reasons he was able to survive," she added, "was that he was always able to adapt. When my mother was very sick — she had Alzheimer's — he didn't know how he would care for her, but he did. He didn't know how he would eat because he never cooked, but he learned how to cook."
Rozenberg also managed to care for his wife when she went into a nursing home, and then adapted to life after his Rose died, according to Feldman. "He didn't know how he would live without her; and he just reinvented himself, moved to San Diego and started a new life. He just was always very adaptable and down to earth."
Feldman also cleared up a minor mystery: I met her father on a few occasions — he lived for some years in an apartment two blocks away from the Jewish World offices — and knew him as Joe. However, his obituary, in the Star Tribune and in this issue of the AJW, refers to him as Hershel.
His daughter explained that when a double headstone was ordered after Rose's death, it had his wife's "Polish-Yiddish name," Rajzla, and the name that Joe's mother gave him, Hershel. "That's the name I want on my tombstone," Feldman recalled him saying.
In addition to his daughter, Mary Feldman, and son, David Rozenberg, Joe Rozenberg is survived by a son, Allan Rozenberg; nine grandchildren; and five great-granchildren.
(American Jewish World, 9.22.17)