'Til Kingdom Come, a 76-minute documentary recently released on DVD by Kino Lorber, offers a cautionary story about the influence of the religious right in the United States. Of course, the emergence of politicized Christians in national politics can be traced back to the 1950s and Christian anti-Communism.
In the 1960s, Richard Nixon, a clever politician, cultivated a relationship with popular evangelist Billy Graham, with an eye to winning the votes of his flock. Later, Ronald Reagan hitched his wagon to the right-wing Christian televangelists, although he was skeptical of their ideology.
The 2020 documentary by Israeli filmmaker Maya Zinshtein provides a rare look into how the religious right is flexing its political muscle in recent years, with a particular emphasis on U.S. policy toward Israel. Trump's decision to move the U.S. embassy to Jerusalem is covered in the documentary; the ceremony dedicating the new embassy building drew a number of influential, right-wing Christian leaders, including Pastor John Hagee, who initiated the Night to Honor Israel events that have spread around the U.S. Trump's daughter and son-in-law, Ivanka Trump and Jared Kushner, also attended the embassy christening in Jerusalem.
Back in Kentucky, the Binghams, a dynasty of evangelical ministers, exhort their parishioners to donate sacrificially to Israel. The existence of Israel is integral to their "end times" theology in which believing Christians will be catapulted to heaven in the Rapture, while two-thirds of Jews will perish in the Tribulation. It's not a happy story for Jews who stick with their religion.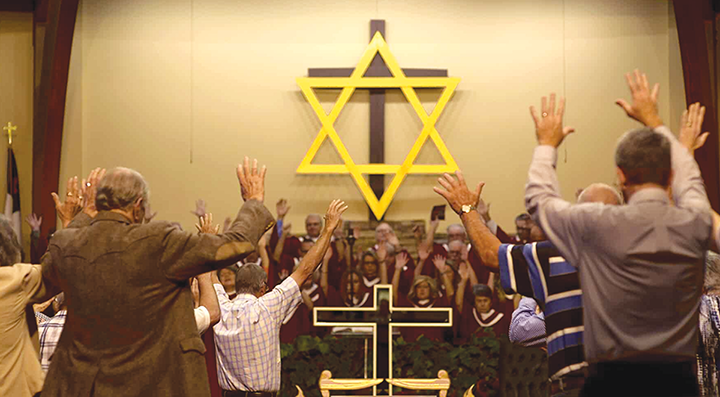 "The apostle Paul said Jesus will come back to the Holy Land, and that's what the evangelicals believe and they want to support it," televangelist, media mogul and former presidential candidate Pat Robertson explains in the film.
Although the Binghams' congregants don't have much money, they give generously to their church's designated Israel charity, the International Fellowship of Christians and Jews. The group's founder, the late Rabbi Yechiel Eckstein tells a "pro-Israel" gathering that "Christians have given through us $1.4 billion to help Israel and the Jewish people." After Eckstein's death, his daughter, Yael Eckstein, becomes the IFCJ director and visits the Binghams' church in her new role.
Beyond Israel, evangelical Christians support right-wing Republicans in the expectation that they will legislate on certain social issues, like banning or restricting abortion. Evangelical Christian support for Trump, a person who admitted to assaulting women and cheated on all of his three wives, confounded many political observers; but through Trump the Supreme Court moved decisively rightward and in its June decision in Dobbs v. Jackson Women's Health overturned the 1973 Roe decision that legalized abortion across the U.S. The so-called pro-life movement persisted in its activism for nearly 50 years and saw its hopes realized through the agency of the Make America Great Again apostle.
"American evangelicals are a voting bloc of 25 percent of the American population," Rev. Johnnie Moore, Trump's evangelical adviser, comments in 'Til Kingdom Come. "Wouldn't we expect to be better represented in government?"
Returning to the issue of Israel, the evangelical Christians were the go-to group when Benjamin Netanyahu ruled the Jewish state. Politicians aligned with Netanyahu's Likud basically gave up on liberal American Jews who vote for Democrats. In the religious right faction, Israeli politicians found a reliable group to pressure the U.S. government on behalf of the Jewish state.
(If readers are interested in exploring the ascendancy of the evangelicals, I suggest the 1996 six-part series With God on Our Side: The Rise of the Religious Right in America. The documentary series, which originally aired on PBS, traces the trajectory of right-wing Christians from skeptical observers of politics to eager workers in the trenches. With God on Our Side also covers the violent fringe element of the anti-abortion movement, which torched abortion clinics and murdered doctors.)
The ascendant, politicized evangelical Christian movement is also flexing its muscles in Minnesota, a state with a long tradition of DFL liberalism (Hubert Humphrey, Walter Mondale, Paul Wellstone, et al.).
In my September editorial, I discussed some problems with the Republican-endorsed candidates for state constitutional offices. I wrote: "In Minnesota, the GOP has fielded a slate of extraordinary right-wing extremists to compete against DFL incumbents. One is worse than the next."
I stand by that assessment and urge Jewish World readers to vote for the DFL incumbents for governor, attorney general, secretary of state and auditor. The Republican contenders are a veritable wrecking crew, as far as maintaining any semblance of honest and effective government.
I will remind readers that Dr. Scott Jensen, the Republican-endorsed candidate for governor, compared public health measures to contain the COVID-19 pandemic to the rise of the Nazi regime. In his mind, masking and vaccinations add up to Kristallnacht, the 1938 pogrom against German and Austrian Jews. Jensen was chided by our local Jewish officials about this noxious analogy, but he hasn't relented in what can be seen as a kind of Holocaust denial, or minimization of the destruction of European Jewry by Hitler and his henchmen.
And on Oct. 4, the Star Tribune reported that Jensen brought up a Republican claim that's been making the rounds on social media: that schools are providing litter boxes for students to urinate in. There is a sexual predilection for "furries," folks dressed up as cats and furry animals, and some right-wing pundits assert without any supporting evidence that this behavior is being catered to in elementary schools.
The Star Tribune quoted Jensen speaking during a Sept. 29 campaign stop in Hutchinson, in a video disseminated on social media:
"What are we doing to our kids? Why are we telling elementary kids that they get to choose their gender this week? Why do we have litter boxes in some of the school districts so kids can pee in them because they identify as a furry? We've lost our minds. We've lost our minds."
The newspaper reported: "Asked multiple times to identify which schools Jensen was referring to, his campaign declined to do so, responding instead with, 'The campaign has no comment.'"
Scott Jensen seems to be clinically meshugge (crazy) and certainly is unfit to hold any public office.
Jews have prospered in the U.S., which maintains the separation of church and state. We do not need the imposition of an extremist and inhumane ideology by legislators at the local, state or federal levels. Joe Biden recently spoke of the Trump faction's espousal of "semi-fascism." I would say that our community is threatened by the rise of intolerance, extremism and Christian fascism.
We should make our voices heard by voting blue on Nov. 8 and continuing to defend democracy in the face of myriad threats.
Mordecai Specktor / editor [at] ajwnews [dot] com
(The opinions expressed in this editorial are those of the author and not those of the owners of Minnesota Jewish Media, LLC, the American Jewish World's parent company, or the newspaper's staff.)
(American Jewish World, October 2022)