Reviewed by MORDECAI SPECKTOR
The Dylanologists never sleep.
At least it seems that way for the coterie of Bob Dylan fans that continually excavate the history and oeuvre of Bob Dylan, who traveled down Highway 61 many years ago, wrote a slew of memorable songs and entered the pantheon of esteemed American songwriters.
In addition to the Minnesota Nobel laureate's writings, Dylan biographies have been rolling off the presses for decades. One of the latest tomes for the Dylan bookshelf is Bob Dylan in Minnesota: Troubadour Tales from Duluth, Hibbing and Dinkytown, from British publisher McNidder & Grace.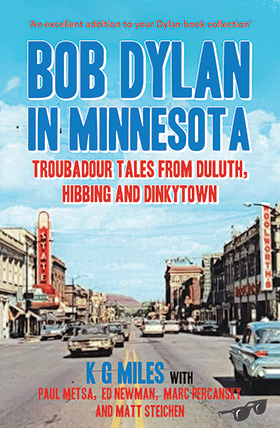 The lead author is K G Miles, who also wrote Bob Dylan in London and Bob Dylan in the Big Apple. Miles is co-curator of the Dylan Room at London's Troubadour Club and "through writing, podcasts and Dylan tours … shares his knowledge with Dylan fans throughout the world," according to a press release for the new Minnesota-centric book.
Miles enlisted four local authors as collaborators for Bob Dylan in Minnesota: singer-songwriter Paul Metsa, Ed Newman, Marc Percansky and Matt Steichen.
The reader learns about the mysterious rabbi who appeared in Hibbing to serve as Bobby Zimmerman's Bar Mitzva tutor, in the chapter "Shabtai Zissel and the Rabbi from Brooklyn." (Shabtai Zissel is Dylan's Hebrew name.) This chapter, which includes references to articles in the American Jewish World, mentions that there is a tape recording of Dylan's Bar Mitzva — and that the rabbi who tutored young Bobby was Rubin Maier, a native of Germany, son of the chief rabbi of Romania and a highly regarded scholar and author.
Marc Percansky — who personally delivered a review copy of the book to the Jewish World offices — has a unique perspective on Dylan.
In chapter 33, "Impressions of Infidels," Percansky writes: "My mother, Marilyn, was a long-time girlfriend of Bob's. Most of her family and friends in Minnesota knew about this relationship, as that is where most of their time together was spent. If not for her, I would not have Dylan stories to tell and there are many."
Marilyn Percansky passed away on Feb. 28, 2022. She was 81.
Mark Percansky mentions that Dylan's song "Sweetheart Like You" is "most definitely written" about his mother, Marilyn. He writes about visiting with Larry Kegan — a St. Paul native who met Dylan at Herzl Camp when they were young teenagers — when Dylan happened to call and requested that Larry "put out a call for local artists to draw the cover for his new album." The album, A Wolf in Sheep's Clothes, ultimately was released with the title Infidels, and the cover featured a photograph of Dylan shot by his daughter, Maria Dylan, at his farm west of Minneapolis.
"The back cover [of Infidels] featured a black and white drawing by Bob of a man kissing a woman on the cheek," Percansky writes. "The woman had a striking resemblance to my mother. It was easily identifiable by the arched eyebrows, and when Bob asked her how she liked the drawing, she had no doubt that it was her."
In the way of a personal reminiscence, I met Larry Kegan in December 1972. I was planning to visit Mexico and ended up driving Larry's Chevrolet sedan from Minneapolis to Guadalajara. We were accompanied by Angel, a young Mexican who was Larry's personal care assistant (Larry was quadriplegic and moved about in a wheelchair), and Eve MacLeish, a student in the University of Minnesota's studio arts program in Tlaxiaco, a town in Oaxaca state. On the way south, Larry announced that we would travel to Durango, where Dylan was acting in and writing songs for the Sam Peckinpah film Pat Garrett and Billy the Kid. On New Year's Day, 1973, we drove over to Dylan's rental house and met his family. Larry introduced me to his old friend.
Larry Kegan died on Sept. 11, 2001, in St. Paul. Due to the 9/11 terrorist attacks, civil aviation was shut down, so Dylan was unable to attend Larry's funeral.
Marc Percansky, a teenage magician billed as "Magic Marc," also writes about teaching Dylan magic tricks, and about the Minneapolis recording sessions that involved some stellar local players contributing to songs on Dylan's highly regarded Blood on the Tracks album.
The book's afterword, penned by Percansky, includes a list of various local sites that figure in Dylan's history hereabouts. I happened to attend a show mentioned by Percansky, in the early 1980s, when Larry Kegan, Gene LaFond and violinist Scarlet Rivera played the Coffeehouse Extempore, a hub of folk music on the Minneapolis West Bank. Dylan was in attendance, accompanied by the late great blues harpist Tony Glover.
"Whenever I am traveling and someone asks me where I am from, it doesn't take very long in the conversation for Bob's name to come up as being from the same place," Percansky writes in his afterword. "As with the other writers of this book, it is clear to see how proud we are of him and how  much he influenced all of us."
Percansky notes that Dylan "will always be proud of his roots and where he came from, and Minnesota — whether it be Duluth [his birthplace], Hibbing or Dinkytown."
(American Jewish World, July 2023)