By DORIS RUBENSTEIN
Most people don't think of the harpsichord as a very Jewish instrument, but the revival of the harpsichord for contemporary audiences was initiated and promoted by the Polish Jewish musician Wanda Landowska (1879-1959). The Twin Cities has produced its own Jewish harpsichord virtuoso: Richard Siegel.
Siegel, born ten years after Landowska's death, may have left the Twin Cities 50 years ago, but his Minnesota roots are still alive and well. That includes his mother, Lois, of St. Louis Park; and sisters Janet Siegel Leavitt and Linda Siegel Friedman and their families in the Twin Cities area. (Brother Mark is in California.)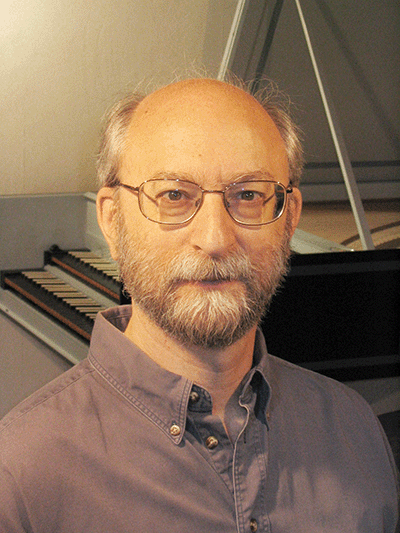 Siegel's roots are typical of Twin Cities Jews of that era. He studied at the Talmud Torah of Minneapolis for his Bar Mitzva at Beth El Synagogue in 1962 (on the North Side) and graduated from St. Louis Park High School in 1967. Throughout his childhood, music — piano in particular — was his main passion and he loved to perform.
At the University of Minnesota's School of Music, he made the switch to harpsichord. "The greatest influence of all was my harpsichord – and music history – teacher, Dr. Robert Laudon," Siegel said. "He pretty much shaped me as a musician. We became close friends and were in touch for 50 years or so, until he passed away."
Siegel set his sights on getting his advanced degrees at one of Europe's premier music academies: the Paris Conservatory. He was accepted there in 1971 and obtained degrees in Harpsichord, Figured Bass (Accompaniment) and Chamber Music in 1975 and 1976, finishing with an International Prize in Paris in 1977.
The Paris Conservatory wasted no time in snapping him up as a faculty member. He taught there for ten years before moving over to the Sorbonne for another five or six years. Before retiring six years ago, he'd taught at various conservatories for some 40 years.
Throughout his teaching career, there still was plenty of time and opportunity for the performing that Siegel had enjoyed since his Minnesota childhood. He spent some 30 years with the renowned Jean-Francois Paillard Chamber Orchestra. As an orchestra member and accompanist, he has made over 30 recordings.
"I've played some 2,600 concerts all over the world," Siegel said, "with concert tours in many countries including the U.S. I've been to Japan with orchestra, with a flutist friend, and as a soloist 23 times. I've played in many of the important festivals in France and elsewhere."
Siegel has another concert tour booked for Japan in 2022, if conditions relating to COVID-19 are improved. He's been booked to perform in Japan every year between 1988 and 2022.
Siegel counts playing concerts with Pinchas Zuckerman and the Paris Orchestra as high points; he's played and recorded with Daniel Barenboim and many of the best musicians in the world. While Siegel has not participated actively in Jewish life since moving to France, he recalls fondly a 1987 tour in Israel where he played five concerts.
Siegel said his parents visited him in France many times. "While they were here once, I had a concert in a major Parisian concert hall with the flautist Jean-Pierre Rampal, and of course my parents were thrilled to be there. Apparently, during the concert, my dad Wesley leaned over and said to my mother '…and that's why we paid for all those lessons!'"
Siegel's peripatetic career has brought him back to Minnesota dozens of times.  Early on, he performed a concert at the Minneapolis JCC, joined by one of Minnesota's favorite tenors, Vern Sutton. In 2005, he performed two different concertos in and around Duluth with full orchestras.
Regardless of his heavy schedule of performances around the world, Siegel made it a point to come back to Minnesota nearly every two years to see his family, often joined by his wife Catherine Dufrenois Siegel and their son Joseph.
Needless to say, his plans for their most recent visit were upended by the COVID-19 epidemic.
Now that Richard Siegel is officially retired, does he have any plans to return to his roots in his home town?
"I'll no doubt come to Minnesota to see my family there," he said, "if and when things (COVID-19) get better. I have no plans at all to move back to the U.S.  I've been in France for 50 years and this really is my home."
To hear Richard Siegel in performance, go to Youtube.com and search for "Richard Siegel".