Local musician (and former AJW intern) Danny Hechter will donate a portion of the proceeds from the sale of his music to victims of the Colorado movie theater shooting
By BRANDON KLUGMAN
Local musician Danny Hechter, 18, who performs and records music under the name Dizzy Joan, released an EP consisting of five original tracks in April. Dizzy Joan & the Fairfax Urchins–EP is now available on iTunes, Spotify and Amazon. Hechter said his biggest influence is Guns and Roses, and he tries to capture classic rock sounds in his music.
In the wake of the Colorado theater shooting on July 20, Hechter has decided to donate 25 percent of the profits from iTunes downloads of the album to the New Venture Fund, which is working with the Huffington Post to raise money to support the survivors of the shooting and families of the victims. Hechter said his EP first appeared on iTunes around the same time as the shooting occurred, which prompted this decision.
"I started thinking that I really want to do something for these people," Hechter told the AJW. "I want to raise awareness and I want to do something to raise money for the families whose loved ones were in the shooting and the survivors of the shooting."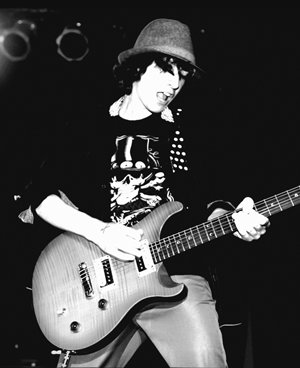 Dizzy Joan
As he goes forward with his music career, Hechter said his primary goal is to find musicians with whom he can form a band to perform his music. On the EP, Hechter recorded all of the instrument tracks himself, while a singer provided the vocals.
"I have done a lot of solo shows under the name Dizzy Joan but ideally I'm looking for musicians to learn my music and play shows with me so we can go under the name Dizzy Joan and the Fairfax Urchins," he said. "I don't want to be seen as a solo artist and I don't want to be seen as a solo project; I want to be seen as the leader of a really great band."
For information on the music, visit: dizzyjoan.com. For information on the New Venture Fund visit: crowdrise.com/helpaurora.
***
Brandon Klugman is an editorial intern at the American Jewish World.
Below is Dizzy Joan performing "California Kings" with Nicole Rudisill on April 14 at the High Noon Saloon in Madison, Wisc. The song is included on the new album.