Fourteen classmates gathered for lunch to reconnect and reminisce
By ERIN ELLIOTT BRYAN / Community News Editor
Marian Lavintman Resnick celebrated her 94th birthday on Thursday, July 19 — with 13 of her classmates from North High School, in North Minneapolis, class of 1936. As the group gathered for a photo, everyone in the room, including spouses, caregivers and other guests, sang "Happy Birthday" and remarked how wonderful it was that these former classmates were still able to meet for their annual reunion.
"They're intelligent, with it and interested in everything," said Geri Wick Nelson, whose mother, the late Lordean Stattine Wick, was a member of the class. "They have these great conversations. It's amazing."
Nelson has been helping with the annual reunion for the last 25 years (the classmates have gotten together each year since their 40th reunion). And though her mother passed away in May 2011, she continued to assist with the invitations and planning this year's lunch, which took place at Perkins in Golden Valley.
Classmate Lillian Himmelman Raen, who organizes the reunions, said it is a "great experience" to gather each year.
"It's just so nice to see classmates," Raen said. "A lot of these people I never knew in high school. We've just gotten to be good friends through the reunions."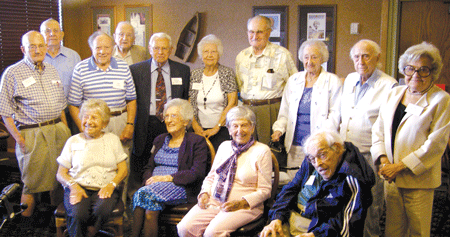 Members of the North High School Class of 1936 met for their annual reunion on July 19 at Perkins in Golden Valley. (Photo: Erin Elliott Bryan)
The North High School Class of 1936 had 900 students, which forced the school to hold two graduations — during one of the coldest winters and one of the hottest summers on record. Students also lived through the Depression and World War II.
"We had all kinds of things happening, but we just kept on going," Raen said.
Raen described her high school years as a "wonderful, happy time," and was friends with Jewish and non-Jewish classmates. She recalled that the Jewish girls belonged to Kadima, but said, "we were all friends."
As a young girl, she and her friends enjoyed walking, playing tennis and pulling toboggans to Glenwood Park, what is now Theodore Wirth Park.
"We did simple things," Raen said. "They were good days. We were not sophisticated, we were down to earth and happy with whatever we had."
Raen said as long as she is able, she will continue to plan the annual gatherings with her fellow classmates.
"The class of '36 is, I think, a special class. How many other classes have kept in touch as the North High class of '36?" Raen said. "They're a lively bunch and I'm very proud of them."
And, Raen said, she and her classmates share a special bond.
"There is a camaraderie among the kids who up in that time and place," she said. "There will never be another place like North Minneapolis."
(Brandon Klugman, the AJW's editorial intern, assisted with this story.)