JTA reports that demonstrations took place in a number of Israeli cities, after the Saturday shooting attack at the gay and lesbian community center in Tel Aviv, in which a man and woman were killed and 15 others wounded.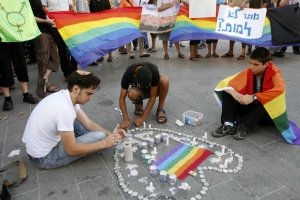 "The demonstrations spread to Haifa in the north and Beersheba in the south, as well as to Jerusalem's Zion Square," JTA reported. "Police have swarmed the Tel Aviv area in search of the gunman, who was wearing black. They are treating the attack as a hate crime."
On Sunday, hundreds of people turned out for the funerals of the two victims, Nir Katz, 26, and Liz Trobishi, 16, according to Haaretz.
Haaretz reported on the funeral for Katz in Modi'in:
His sister, Chen, who had lived with him for the last seven months, arrived with a gay pride flag, which she placed on his grave at the end of the funeral.
"I am carrying this flag because we don't need to lift it up but rather to fly it and to show what hate without purpose can lead to," she eulogized, adding that "the struggle started here and we will extract it at its roots… because everybody is equal and it doesn't matter what their leaning is."