By DORIS RUBENSTEIN
Collected Stories, opening Feb. 24 at the Minnesota Jewish Theatre Company, has only two characters, but the accolades it has garnered over the years since its 1996 debut pack a mighty theatrical wallop.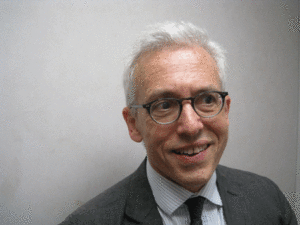 To start with, David Margulies' play won the Los Angeles Drama Critics Circle Award for Best Production of a Play and Best Original Play after its 1996 debut at the South Coast Repertory in Costa Mesa, Cal., and then became a Pulitzer Prize finalist in 1997.
It's been more than 20 years now since the play's debut. Is it still relevant?
In an interview posted on the MJTC blog, Margulies says, "I suspect that the themes explored in the play are just as resonant today as they were when it was first produced over 20 years ago, arguably even more so. Cultural appropriation, intellectual property, who has the right to tell certain stories and who doesn't — all of these topics may be more part of our social discourse than they were in 1996. Set in the 90s, it even contains a then-current discussion of Woody Allen's boundary issues, which are very much back in the news."
This reporter thinks that the recent #MeToo movement makes it even more relevant since the play's two characters are both women — strong women with their own careers and their own minds.
The list of actresses who have performed one of the two roles, that of a mature woman of a certain age (who happens to be Jewish as well) named Ruth Steiner, reads like a Who's Who of late 20th century theater: Uta Hagen, Linda Lavin, Lynn Redgrave and even Helen Mirren. Who in our community would have the strength and experience to take on this role?
Maggie Bearmon Pistner steps up to the plate. "When I read the script, I wanted to be in it! I love everything about it. It's an honor to perform the role of Ruth in this play," she declared in an interview with American Jewish World.
Ruth Steiner is a teacher and respected short story writer. Her student and protégée is Lisa Morrison (played in this production by Ashley Rose Montondo). Over the course of six years, Lisa journeys from insecure student to successful writer. After publishing a well-received collection of short stories, Lisa writes a novel based on Ruth's affair with the poet Delmore Schwartz. The women deal with the moral dilemma of whether a person's life events are suitable for another to use in their own creative process.
Here's where the character/actor comparisons start. Pistner recently retired from 25 years of teaching English at Minnetonka High school.
"I love working with young people. In that way, I'm similar to Ruth," she admitted.
Ruth Steiner is a mentor to Lisa, and the youthful Pistner had her own mentors who helped mold her theatrical skills. She studied theater with one of the masters: Alvina "A.K." Krause. Krause developed the Theater program at Northwestern University. After retiring from academia, she went on to develop her own program in rural Pennsylvania.
"I went out there to study with her and lived in a condemned icehouse on her property. I thought it would be a two-week stint, but it turned out to be two years! She taught theater — not acting! A.K was brilliant," Pistner said. She later studied with the legendary Stella Adler in New York.
Teaching is an element that also ties Pistner to the play — not only to the character of Ruth Steiner, but to the author of Collected Stories as well. Margulies is an adjunct professor of English and Theater Studies at Yale University; he was teaching at the time that he began work on Collected Stories.
As Margulies commented in the MJTC blog interview, "… at the heart of the play is the universal relationship between a mentor and her protégée, which I think reveals as much about the parent-child dynamic as it does the teacher-student."
There's a lot to learn in Collected Stories, but with teachers such as Maggie Bearmon Pistner and David Margulies, we'll all end up being teacher's pets.
***
Collected Stories plays Feb. 24-March 18 at the Minnesota Jewish Theatre Company, 1978 Ford Pkwy., St. Paul. For information visit mnjewishtheatre.org.
(American Jewish World, 2.9.18)