By ERIN ELLIOTT BRYAN / Community News Editor
In the 1930s, Ida Arbeit lied about her entire life story — all in an effort to dance. She changed her name and address, and appeared unemployed and destitute in order to join a new dance group that had been created under the Federal Theatre Project (FTP), a New Deal initiative to fund theater and other artistic performances during the Great Depression.
"I wasn't ashamed of what I did, because I wanted to dance so badly that I made up a story of my life that changed my whole life," Arbeit told the AJW in 2009. "So I lied. So what if I lied? I gave something to the world. I danced."
Remembrance
Arbeit, who danced with legendary choreographer Helen Tamiris' company for 12 years, died March 15 at her home in St. Paul. She was 101.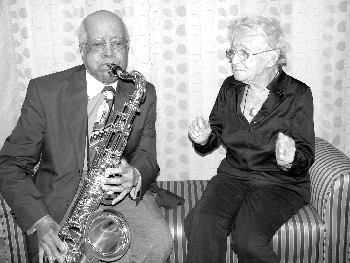 According to the Star Tribune, Arbeit left professional dancing behind to get married in 1941, later raising two children and teaching music to kindergartners. In 2008, her son, David, persuaded her to move from Long Island to St. Paul, where she eventually became a member of Kairos Dance Theatre (KDT).
In 2009, KDT presented "Dancing with Ida," a program that was presented at the St. Paul JCC.
"I'm back to where I was when I first started dancing," Arbeit said at the time. "For me, it's just like going back again. It's just giving back to me what I gave to others."
Carla Vogel danced with Arbeit during that performance and in several other shows.
"Growing up in an immigrant family — her parents were from Eastern Europe — Yiddish, being Jewish was really important to her," Vogel told the AJW last week. "And the arts and social justice is really weaved into who she is, and what kept her so alive and lively was Yiddishkeit."
Arbeit also did choreography work for KDT, and Vogel said those pieces will still be danced as a legacy to who she was.
Arbeit's last public performance with Kairos was in December. She danced "The Harlem Twist" with KDT artistic director Maria DuBois Genné to the music of 91-year-old tenor sax player Irv Williams.
Eight days before her death, however, Arbeit, Williams and Kairos performers were filmed for an upcoming episode of Twin Cities Public Television's Minnesota Original.
"Ida wowed us all once again — even if she was in a wheelchair," Genné wrote on KDT's blog. "She thanked us that day, many times. She told us how much it meant to her that we danced with her. And we tried to tell her, many times, how much she had gifted us — and how much we loved her."
Williams performed Arbeit's favorite song, "Fly Me to the Moon," during a March 26 memorial service at the Wellington in St. Paul, where Arbeit lived. KDT members also performed.
"She had chutzpa, such fierce chutzpa until the day she died," Vogel said. "She was very free, fearless. I loved that about her. As we age, we tend to contract, and she expanded as she aged."
Arbeit was preceded in death by her husband, George; and daughter, Ruthanne. She is survived by her son, David.
(American Jewish World, 4.15.11)