By DORIS RUBENSTEIN
Which Jewish musician has roots on the Iron Range and has a new recording coming out soon? If you guessed the obvious, you're wrong! The answer is Dan Israel.
Dan Israel was born in St. Louis Park, but his mom, Marilyn Israel, was raised in Virginia, Minn., and her father, Frank Bourgin, was born in Ely. Israel inherited not only Jewish genes but musical genes from both sides of his family: Grandma Dorothy Bourgin was a concert pianist before her marriage, and Grandpa Ben Israel played the accordion in the Catskills (although he's an adoptive grandpa, the influence of nurture on nature is a questionable possibility).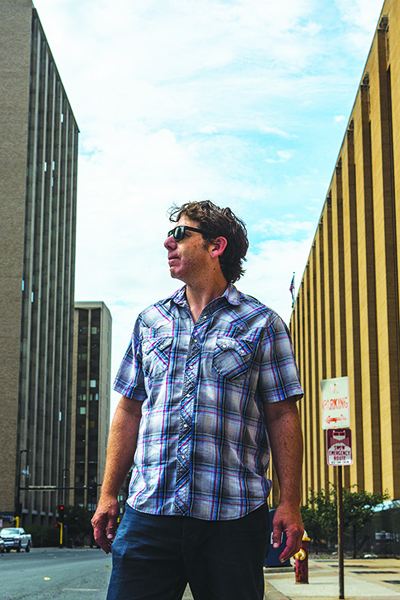 All three of the Israel siblings dabbled in music, but it was the middle child, Dan, who developed and followed that passion. Israel stayed close to home in St. Louis Park for his early musical explorations, especially in acoustic and electric guitar. His high school garage bands played gigs at Adath Jeshurun Congregation and other local venues.
Inspired by St. Louis Park's own Mark Rosen, late of WCCO-TV, he applied to and was accepted into Northwestern University's prestigious program in radio, television and film. Still, music continued to have a hold on him, and he started writing his own.
"I got more and more into Bob Dylan's music, and he became a huge influence on my music — but I also still loved the Beatles and the Rolling Stones and other artists from the '60s along with a fair number of newer artists," Israel recalled.
Israel formed a band with a fellow student that enjoyed substantial success. After graduating in 1991, he moved to Austin, Texas, and took advantage of all that the renowned music town had to offer. There, he recorded his first CD, Esperanto, in 1993.
Most fledgling musicians need a day gig to pay the rent. Israel's degree in media got him a job with the Texas Legislature, and he built on that when he returned to Minnesota in 1995, working for the Office of the Revisor of Statutes at the Minnesota Legislature.
Early on, Israel's music was good enough to win him kudos in Minnesota: He was the very first guest on The Local Show on 89.3 The Current, in 2005. His tune "Come to Me" won Song of the Year in the 2005 Minnesota Music Awards; and then Israel was voted Songwriter of the Year in the 2006 Minnesota Music Awards competition.
His band, Dan Israel and the Cultivators (sometimes called just The Cultivators), played widely in the Twin Cities, touring to Chicago and Austin. They produced CDs. By 2000, he'd gotten a four-star review in the Pioneer Press for his breakout solo album, Dan Who? The critic raved, "Well, somebody buy a billboard, hire a blimp and give this guy his due already. His name is Dan Israel, one of the mad ones, one of the strugglers, and he just made the record of his life."
Israel was on a roll. Since then, he has released 16 albums of his own music and played thousands of shows in the U.S. and Europe. He's opened shows in Minnesota for some well-known artists like the Steve Miller Band, Morrissey, Loudon Wainwright III, Paula Cole, Ramblin' Jack Elliott, Rick Springfield, Blue Oyster Cult, fellow St. Louis Park native Peter Himmelman and many more.
All of this happened while Israel pursued music in the evenings. He left the Legislature in 2017 to face the music full time. Israel's music reflects the effort and time, not to mention talent, that lie dormant at a desk in the State Office Building. His 2018 and 2019 albums, You're Free and Social Media Anxiety Disorder, both garnered critical acclaim.
You can catch Israel performing live on Saturday, Sept. 18, as part of the MCN6 Bands on Vans series in northeast Minneapolis. Or, to listen to some of his music for free, go to his website: danisraelmusic.com. His latest single, "The Hang of It," is waiting for you, dear reader, to make your own judgment on it.
Music isn't all that Israel has produced. The products of his former marriage to Lisa Fankhauser are Isaac and Hannah Israel, both of whom have had their B'nai Mitzva ceremonies with Rabbi Michael Adam Latz of Shir Tikvah. Both, of course, are musical. They live in St. Louis Park, and they'll never be mistaken for Bob Dylan.
(American Jewish World, Sept. 2021)