Reviewed by NEAL GENDLER
People in Ellen Feldman's new novel, The Living and the Lost, are full of secrets.
We learn most of them, and how they shape behaviors, as we go rapidly along in this mostly historical but partly romantic fiction.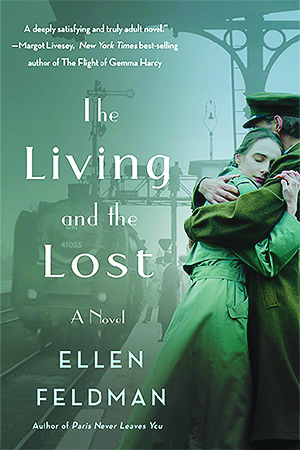 It's November 1945, and Jewish Millie Mosbach, 24, has arrived in the Berlin she escaped with younger brother David in 1938. Dismissed from her magazine job in New York when a
veteran returned, she's wangled U.S. denazification work.
Berlin's map remains what she knew as a teenager, but little else was the same.
"People trudged the streets dour and mute," writes Feldman, a 2009 Guggenheim Fellow. "The rest of Germany had been bombed. Berlin had been obliterated…. Some neighborhoods looked like moonscapes."
Hungry, near-silent Berlin is full of drunken soldiers, sex-filled fraternization, thieves, black marketeers and groups of "sullen, silent women" passing debris "hand to hand in a weary assembly line of forced labor" to earn ration cards.
A civilian attached to the U.S. Army and wearing its uniform, Millie's first act is to evict a scrawny, ill-dressed woman — rancid from Berlin's soap scarcity — and her small daughter from an undamaged two-bedroom apartment. Millie will live there, working for the army's Press and Publishing Clearance Office.
Despite her hatred for all things German, Millie feels some unwanted sympathy.
"It was easy to hate from a distance. She was surprised at how much energy it took close up."
The apartment contains a handsome breakfront copied from the Biedermeier in the home her family abandoned for its attempted escape to Holland. Her parents and younger sister Sarah were arrested at the station. Millie and David got on the train.
Reaching the United States, they were taken in by a family that enrolled David in a boarding school and Millie — formerly Meike — at Bryn Mawr.
Enlisting, David is transferred to Camp Ritchie, where the army has collected refugees like him for training in intelligence work, valuing their native German and intimacy with German behavior. (The "Ritchie Boys" were real.)
He surfaces in Berlin as Millie arrives to move into her apartment, calming a German crowd threatening members of parliament (MPs) over a dollhouse among possessions being removed. Now a captain, on the council for displaced persons camps, he says his presence wasn't a coincidence: "I hear you're in the market for a roommate, Mil."
He moves in but frequently is out until near dawn. She's puzzled, doubting that he, too, has taken up with the fräuleins pliable for American food, cigarettes and chocolate.
Millie's small team reviews background questionnaires, seeking Germans sufficiently stain free to work in publishing. Now, none was a believing Nazi, of course, but they are transparent to her team, all but one former German Jews.
The boss, Maj. Harry Sutton, also fluent in German, seems to lack the Jews' fierce hatred and speaks like a well-bred Briton. Millie finds him a mildly condescending enigma.
One day, one of the frosty German office workers tells Millie that someone insists on seeing her.
In limps an emaciated, white-haired, foul-smelling woman Millie doesn't recognize until she reveals herself as Anna, Millie's once-attractive cousin five years her senior, with whom she'd shared vacations and confidences.
Anna wants Millie's help. Before her arrest, she'd entrusted a neighbor, Frau Kneff, with her infant daughter Elke. Anna wants to get Elke back. Kneff has vanished.
Millie stocks cellar-dwelling Anna with soap and boxes of post exchange foods and seeks help from Sutton, who takes advantage of the German penchant for record keeping to search for Kneff.
That penchant also provides Millie a shock later, when Sutton shows her her parents' Auschwitz intake photos. There's none for Sarah, likely killed on arrival.
Ah, yes, the romance: The first is with German-born teammate Theo Wallace, who lost his large family. One day, with Millie and Anna at a flea market, Anna spots a Sachsenhausen guard known as "The Butcher." Theo flattens him and kicks his head bloody, shouting curses until MPs pull him away. Theo gets sent home.
For the second, you'll have to read the book, which also answers the questions of whether Kneff is found, whether Elke returns to Anna, what clandestine activity consumed David's nights, how Millie is injured three times and who Sutton really is.
I don't recall learning why Sutton is missing two fingers.
Separately, Millie and Sutton return to the States. Sutton says (which I can't confirm) that the U.S. occupation won't renew contracts of denazification officers who weren't U.S. citizens before 1933. In other words, the German-born Jews that Germans complain are too harsh.
But no matter. The Living and the Lost is educational, entertaining and charmingly told — if with too many untranslated German words — with several good turns of phrase. For example, a chilly Berlin morning has gray clouds "that pressed down on the city like a lid." And Millie and David stand on the ship's deck approaching New York, "side by side as the steel towers of the city sailed down to meet them."
You'll sail through this story quite smoothly.
***
Neal Gendler is a Minneapolis writer and editor.