Reviewed by NEAL GENDLER
In 1654, the first Jews reached what would become the United States, and — surprise, surprise — it didn't take long for those who followed to start disagreeing about ritual and belief.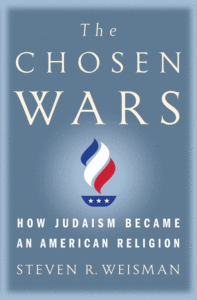 "In short order, there arose fierce disagreements … between traditionalists and those who wished or needed to adjust and even discard Jewish practices and doctrines," says Steven Weisman in The Chosen Wars, on sale Aug. 21.
Journalist Weisman tells how Judaism became what he calls an American religion, a transformation influenced by the following factors: living in America, free of state persecution or state religion, but often earning a living outside a Jewish milieu; "the determination of Jews to conform to American culture"; and, perhaps most importantly, education of Jews in matters outside their religion.
He cites a 1790 census estimate of 1,300 to 1,500 Jews in America, particularly in New York and South Carolina, people who "sought to maintain traditions while adjusting to lifestyle and business realities."
External adjustments included the reality of Saturday work and discarding of traditional Jewish attire. Ritual adjustments were more controversial: shortening services by dropping traditional prayers; including choirs, organs and mixed seating, and discarding the kipa, tallit and tefillin. Dissenters quit, creating new congregations.
"The thesis of this book is that the Judaism in America today — even as practiced by many in the traditionalist Orthodox branch — bears witness to a spirit of dynamism and change similar to what had existed among the rabbis and scholars throughout Jewish history," Weisman says.
That spirit, seen in 19th century German reformers, led in the United States to a response influenced by a culture of disdain for religious hierarchies while encouraging citizens "to create institutions reflecting their own, distinctive paths to God."
Chosen Wars focuses on the 19th century and Rabbi Isaac Mayer Wise's attempt to create a single, unified American Judaism.
Wise, who came to Albany, N.Y., from Bohemia in 1846, "changed the course of Judaism as it settled and integrated into the fabric of religious life in America," Weisman says. But not without opposition from both directions.
On Rosh Hashana, 1850, disagreement over Wise and his changes led to a fistfight and riot at his Albany synagogue. Sheriff's deputies cleared and closed the building.
Many congregations changed not only liturgy and custom but ideology, as shown at Beth Elohim in Charleston, S.C. The walls displayed 10 of Maimonides' 13 Articles of Faith. Missing were belief in the coming of the messiah, resurrection of the dead and restoration of the Temple.
At Beth Elohim's installation of an organ, leader Gustavus Poznanski is reported by a newspaper to have said: "This synagogue is our temple, this city our Jerusalem, this happy land our Palestine."
Wise didn't achieve his unification goal, but he and others consolidated sufficient success to create Reform's institutions: the Union of American Hebrew Congregations (now Union for Reform Judaism) in 1873, the Hebrew Union College seminary (1875), and the Central Conference of American Rabbis (1889).
"The seeds of a counterrevolution" against Reform had been planted earlier, but the "emerging schism" was deepened by a 100-guest celebration of the installation of HUC's first four graduates in 1883 that became notorious as the "Trefa Banquet." The menu for guests of several Jewish persuasions included treif, forbidden foods: clams, crabs, lobster bisque, frog legs, shrimp, non-kosher beef and milk. Some rabbis walked out, others ate nothing.
Reform leaders had disagreements, which Weisman describes quite engagingly, although a sharp editor could have tightened the writing considerably. He briefly mentions development of the Conservative movement, calling it "an attempt by traditionalists to Americanize Orthodoxy."
But Chosen Wars is more broadly interesting than only the development of Reform. It's a contextually rich story of Judaism's evolution in early America, containing surprises such as New York Jews' sympathy for the Confederacy, source of cotton for trade and clothing.
A central theme is tension from Jews wanting simultaneously to lose and to retain their distinctiveness — to be part of the "melting pot" while not letting their identity, heritage and traditions melt away.
Jews he says, have wanted to be both a part of America and a people apart.
***
Neal Gendler is a Minneapolis writer and editor.