David Weiss discusses his campaign to gain greater recognition for some journeymen of jazz, America's unique art form
By MORDECAI SPECKTOR
David Weiss, a talented jazz trumpeter, composer, arranger and bandleader, is back in New York City, after an "exhausting" European tour with The Cookers, a group of veteran jazz musicians.
The Cookers have been together for seven years, and have released four albums. Their sensational new CD, Time and Time Again (Motéma), will be out next week, ahead of their Sept. 25 performance at the Dakota Jazz Club in downtown Minneapolis.
The gig here, the only show by The Cookers in the Midwest, kicks off a two-week U.S. tour promoting the new album.
During a recent phone conversation with the Jewish World, Weiss talked about the top-flight band, his rise in the competitive world of jazz performance, and his mission to bring notice to talented older musicians who often gain acclaim only upon their passing.
The Cookers play the Dakota, Sept. 25
In August, The Cookers played music festivals in France (Jazz in Marciac), Norway and Serbia. It went pretty well — except in Serbia.
"Serbia… it started off like, 'What's this?'" Weiss recalls. Then the mood shifted to, "Oh, this is kind of cool" and ended up with "Wait, this is a lot of fun!"
"It was a jazz festival, per se; but we followed a very old, Django [Reinhardt], French hot-jazz thing," he explains. "And the band after us was a local brass band. So, [The Cookers] was the only acoustic jazz they heard."
Weiss concludes, regarding the audience in Serbia: "Sometimes it's them. They're a little wary about how they're supposed to be reacting to it… then they lighten up and have a ball."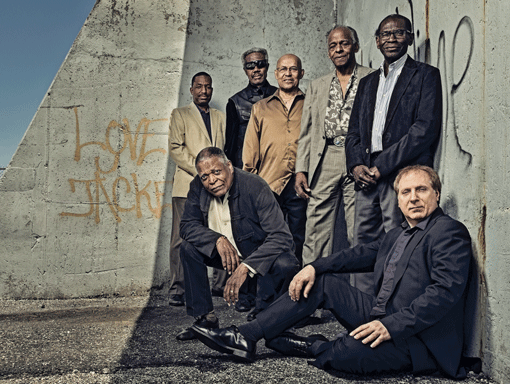 So, let's introduce the band: Weiss plays trumpet, along with Eddie Henderson; Billy Harper, tenor sax; Donald Harrison, alto sax; George Cables, piano; Cecil McBee, bass; and Billy Hart, drums.
Jazz fans have been enjoying most of these players for the past 30 or 40 years. I remember seeing Cables, in 1980, with the late great tenor saxophonist Dexter Gordon, at the Longhorn Bar, a long gone, downtown Minneapolis club that hosted both jazz and rock acts.
"The band has grown immensely as a band, as an ensemble," says Weiss, about The Cookers. He notes that, after picking some of his favorite tunes composed by members of the group for The Cookers' first two albums, "the guys started writing for the band."
Time and Time Again features "a lot of new music that was written specifically for the group, as opposed to me going back and pulling my favorite tunes." A notable exception here is "Sir Galahad," which Billy Harper recorded for his first record, Capra Black, in 1973. The tune "at this point is sort of our anthem," Weiss remarks.
The Cookers are both great players and composers, in the view of Weiss, who is on sort of a "mini-crusade" to gain recognition for these musicians before they leave us.
Weiss says that "part of the reason we do this group is, to me, to get these guys, who I think are a little unsung, a little more attention and notoriety in their lifetime."
For example, a George Cables composition on the new album, "Farewell Mulgrew," a haunting elegiac tune, is a remembrance of pianist Mulgrew Miller.
"Everybody agreed that he was probably the pianist of his generation, a consummate professional, an amazing pianist, and a strong influence on every piano player that came since him, etc., etc.," comments Weiss, about Miller, who died a little more than a year ago, at 57. "But nobody wrote about him. They took him for granted; they're always looking for the newest this and the hottest this and the greatest that. And then he died, and everybody wrote about how great he was."
The kicker, according to Weiss, is that a month after Miller died, "the Downbeat critics' poll came out, and Mulgrew wasn't even on the list."
Weiss says that putting together The Cookers was not primarily about increasing the profile of these jazz legends; "but once you put the band together and see what the band is, well, there's another reason to do it."
The trumpeter says he's "getting sick" of the hypocrisy involved when great players are largely ignored, then lionized after death. He thinks a lot of attention is paid to "context," where someone's from or some novelty aspect, rather than "content."
"In the end, most people who want to listen to music want to hear really good music," Weiss argues. "I don't know if they care as much if it's innovative or changing the world, they want to hear well-done good music…. People get neglected who are still doing important work."
Regarding the members of The Cookers specifically, Weiss says, "Look, there are five guys in their 70s, still writing new music, still playing in a very innovative, exciting and fresh way every night, with a passion and dedication that you don't hear anymore. It's quite a unique thing…. And I want to read about them now — not just because I'm involved with it, because they're still doing it."
Actually, Cables has been on the scene for a long time, but he's just 69. Weiss is just shy of 50; Donald Harrison, the newest member of The Cookers, is 54. Bassist McBee is the eldest member of the group, at 79.
Weiss is from New York City, but he wasn't attracted to the renowned Manhattan jazz milieu at an early age. He says that he enjoyed sports, and his tastes gravitated to rock. "I was into Kiss and Aerosmith and Black Sabbath."
He took piano lessons, at his mother's behest; but quit after about two years. His parents rejected his alternative choices of bass or drums; then the budding musician took up the trumpet.
While attending California Institute of the Arts for photography, Weiss began to appreciate jazz. He then "did a complete about-face," and decided on music. He enrolled at North Texas State University, where he studied music and got his degree, in 1986.
Returning to New York, he discovered the jazz scene, and took trumpet lessons from Tommy Turrentine and Bill Hardman.
During the course of a nearly hour-long phone interview, Weiss recalled some amusing stories about his encounters with various jazz luminaries, including famed drummer Art Blakey, whose Jazz Messengers group was a sort of college of jazz for upcoming players.
Various jazz musicians guided Weiss in his career. "In the end, you wind up with the people who are nice to you," he says.
Weiss formed The New Jazz Composers Octet, which brought together a crew of talented jazz musicians. The group's debut album, in 1999, was First Steps into Reality. The group also became the supporting band for Freddie Hubbard, recording two albums (New Colors and On the Real Side) and touring with the iconic jazz trumpeter.
As a bandleader, before The Cookers, Weiss has recorded albums under his name, most recently, Endangered Species: The Music of Wayne Shorter and When Words Fail (7-8-14 AJW).
Jazz is a particular language, and to rise from the crowded field involves "mastery of the language," comments Weiss. "It's always been… speaking a certain language a certain way, coming together and doing your thing."
So, I circled around to the question of how Weiss, a Jew, fits into this great American art form based in black culture.
"It's been an interesting journey," says Weiss. "I didn't start this way; I started listening to rock 'n' roll — I guess, listening to music of my people…. But I always loved music; so once you get hungry for a certain thing, ideally you evolve…. It's hard to know how I really wound up where I wound up, but that's what happened. It was a journey, a journey of enlightenment. As a musician you challenge yourself and try to get to the highest level possible; this is where that search got me. This is the most challenging stuff at the highest level that I can achieve."
And some masters of the craft brought Weiss to this point.
"Jazz is clearly an Afro-American art form. It's their music, it came out of that experience… it came out of some not so pleasant things…. But in the end, it's all music."
Jazz has become ubiquitous around the world; again, it comes down to who can play, says Weiss, who emphatically doesn't care where anybody's from.
"Are they good? Are they doing something interesting?"
He concludes, "Jazz is now a universal music. It's everywhere. If you get the spark, if you get the light, whatever it is, at this point it's there for everybody, and anybody of any ethnicity can get the education or surround themselves with the people to make them learn this music. That's what happens when music evolves, when it goes out in the world. "
***
The Cookers perform 7 p.m. Thursday, Sept. 25 at the Dakota Jazz Club and Restaurant, 1010 Nicollet Ave., Minneapolis. For tickets, call 612-332-5299, or go to: dakotacooks.com.
(American Jewish World, 9.12.14)