Such Good Girls: The Journey of the Holocaust's Hidden Child Survivors, by R.D. Rosen, Harper, 280 pages, $25.99
Reviewed by NEAL GENDLER
Until 1991, children hidden during the Shoah were "members of a secret society of silence, a diaspora that had gone unnoticed and unknown for decades," says R.D. Rosen.
That year, Carla Lessing, one of the three hidden children portrayed in Rosen's Such Good Girls: The Journey of the Holocaust's Hidden Child Survivors, helped organize the First International Gathering of Children Hidden During World War II, "a group that, by its very nature, had not been in touch since the war," most "members" not knowing of each other's existence.
To this day, people still discover that they were born Jews.
The gathering was life changing for many participants, some affected all their lives by childhoods in which their identities had been hidden, altered or erased, Rosen says. An example is Sophie Turner-Zaretsky, whose father Daniel Schwarzwald was taken by the Russians. Her resourceful, multilingual mother Laura obtained false identity documents with which they lived openly as Polish Catholics in Busko-Zdrόj, where sidewalks were paved with Jewish gravestones and poor Catholic girls wore dresses made from Jewish prayer shawls. Laura became Branislawa Tymejko, bookkeeper to a Nazi official running an agricultural cooperative.
Preschooler Sophie — originally Selma — became Zofia, drilled by Laura in the doctrine a Catholic child recites automatically. Zofia became a devoted, anti-Semitic Catholic who reacted badly to learning at age 11 that she really was a Jew.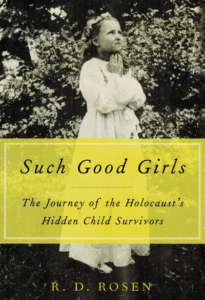 The first part of Rosen's book also tells of the French Flora Hillel (now Hogman) and the Dutch Carla Lessing.
Sophie was Rosen's portal to the book. Meeting at a seder, they discovered each had owned a Steiff bear in childhood. He began interviewing her to write a children's book but realized that the bear story was inseparable from one "infinitely more complex and tragic" about hidden children, "our last living witnesses to the Holocaust."
Flora Hillel, an only child, lost everything to the Nazis, Rosen says. Though her grandfather was a rabbi and a descendant of the Jewish sage Hillel the Edler, Flora's Czech parents didn't practice Jewish rituals. They moved to Italy because of her father's tuberculosis, and he died in 1936.
Flora's pianist and writer mother then moved them to France, where Flora, 6, saved her life by not responding when her teacher asked Jewish pupils to raise their hands.
Flora was moved to a convent school with other refugee children and given the name Marie Hamon. Escaping a raid, the children were placed privately. Flora, who had lost touch with her mother — who later was deported — was in three homes, the last with a couple that adopted her.
Lessing, who was 10 when Germany invaded, has stronger family memories. Her father had killed himself in 1936. When young Carla, her brother and their mother were ordered to report for deportation, a Jesuit priest hid them with a family for three months, then for the duration with Walter and Corrie Van Geenen, parents of seven in an already overcrowded home above Walter's barbershop in Delft.
"The experience of hiding was with Carla always in one form or another," the world seeming unsafe, Rosen says.
Sofie became a radiologist, Flora a psychologist and Carla a social worker. But Rosen found that "hidden children had come out of the war burdened by the very silence they had needed to survive… in psychological pain, quietly excluded from the world around them." Most "had endured their misery alone."
The second part of the book is about the gathering, its effect on participants and growth into a foundation, brief accounts of others and how they dealt with the consequences of losing family, being hidden and struggling with issues of identity and trust.
Former reporter Rosen writes clearly and well, although not without erroneously saying FDR was president in 1946, and apparent gender confusion in an account of a girl hidden from Nazis in a cave under a pigsty with her mother and sister. In 1944, four months after the Russians returned, "Polish partisans shot her mother and younger brother."
But the book's real point follows: An uncle took her to Palestine, "where she discovered there was no audience at all for a hidden child's grief."
***
Neal Gendler is a Minneapolis writer and editor.
(American Jewish World, 9.12.14)