By MAX SPARBER
Community News Editor
Charles Sandor Fodor, who died June 9 at age 81, was eight years old when the Nazis invaded Hungary in 1944. He had a vivid memory of being with his grandmother, crossing the Danube to seek an international safe house.
Fodor's mother had already been taken to a work camp; she would spend the war in the Lichtenburg concentration camp, dying of typhus shortly after it was liberated. His father had been conscripted into the Hungarian military, where he was being used as a living mine detector, sent with other Jews into fields to check for mines. "If they blew up, there were mines over there," Fodor said in an interview posted on the Mount Zion synagogue webpage.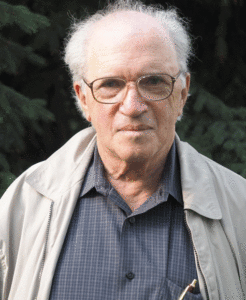 As a result, Fodor was with his grandparents, and this particular day in 1944, on the Danube, a man grabbed his grandmother. The man told Fodor and his grandmother, "You don't belong here; get lost," and the two fled.
He later found out that Jews in the area had been rounded up by the Hungarian fascist militia. Under cover of dark that night, they were shot and thrown into the Danube. There is a monument now along the river in Budapest comprising 60 pairs of iron shoes, representing those who were murdered.
Had it not been for the interference of this stranger, Fodor and his grandmother would have been among them.Fodor was eventually moved into the central Ghetto in Pest and remained there until he was liberated by the Russians in 1945. He remained in Budapest until the Hungarian Revolution of 1956.
He escaped Hungary and immigrated to America, quickly finding work with the Red Cross, working for them for 28 years. In interview with The American Jewish World, Fodor's widow Victoria explained that Fodor was a field service manager, consulting with and overseeing a large number of local chapters of the Red Cross.
According to Victoria, this gave Fodor a great deal of public speaking experience. He would put that experience to a different use in the mid-1980s when his son David was preparing for his Bar Mitzva. David's Bar Mitzva class requested that Charles speak about his experiences in the Holocaust.
It was the first time he had spoken about the subject, but Fodor went on to regularly tell his story to groups. "He particularly liked talking with middle school," Victoria said. "He felt a better rapport.
"He especially appreciated speaking with students who were from diverse backgrounds. Refugee kids, children of refugees. He would urge them to speak with parents and grandparents and urge them to learn their stories."
When Fodor was first asked to speak about his experiences, it was suggested he include five lessons he learned. Fodor was so struck by this that he included it in every talk he gave, and his widow shared the list with AJW:
Life is most precious.
Whatever food sustains life is kosher.
Do a mitzva — a good deed — each day to thank God for the gift of life.
All humans are our brothers and sisters; we are one human family, and we need to take care of each other.
Never forget.
Charles Fodor is survived by his wife, Victoria; son, David; David's mother, Gale Foreman Toensing; and grandchildren, Adam and Laila.
(American Jewish World, 6.29.18)