Reviewed by NEAL GENDLER
Fondness for detective stories isn't necessary to enjoy Matt Goldman's clever, funny second Nils Shapiro murder mystery, Broken Ice.
Goldman, a Minnesota stand-up comic turned Los Angeles playwright and Emmy-winning TV writer, has the genre's clichés down pat — almost to the point of parody.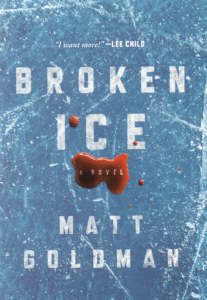 His first sentence: "I saw Roger Engstrom three times — the second two times he was dead."
Your mind can't help hearing that in the growling of Humphrey Bogart or any other actor in a black-and-white, first-person private eye movie.
On the next page, Shapiro describes Engstrom's wife, Anne: "She was dressed like a roofer but was far more feminine than her not-so masculine husband."
And on the same page, about Anne's glasses: "The lenses were so big I was worried birds would fly into them." Then: "Her hair color looked expensive and almost real."
You get the idea.
The Engstroms, recent and unpopular residents of tiny, hockey-crazed Warroad, Minn., have hired Nils to find their teenage daughter Linnea. While in St. Paul for the state high school hockey tournament, she disappeared from a group of Warroad high schoolers during a two-block walk from the arena to Burger Moe's.
The Engstroms chose the oddly named detective and his partner, former Edina cop Anders Ellegaard, because of Nils' fame for solving a crime that baffled police; they despise him for showing them up. Nils' name might be explained in Goldman's first Nils Shapiro book, Gone to Dust.
(There are Jews in Scandinavia, but Nils is from Michigan.)
The day after Nils is hired, another Warroad student, Haley Housh, is found dead in a cave near the Mississippi River.
At the scene of Haley's death, Nils is shot through the shoulder with an arrow tipped by a very deadly four-blade head. His life is saved by the Ramsey County coroner — herself an archer — who'd just crawled from the cave where Haley's body lay.
In the hospital, Nils receives a bouquet of sorts: a vase filled with 11 arrows with the same $135 heads that shot him — $1,500 worth — and a note saying the next arrow will be more accurate.
As Nils investigates, his painful arm in bandages changed three times daily by a nurse practitioner hired by Nils' wealthy ex-wife, he gets a text from Winnie Haas. Her son Ben is a Woodbury student who'd been having sex with Haley during her trips with Linnea to the Twin Cities. Winnie wants to talk with him again — without Ben present.
Nils finds her front door ajar. Inside are Winnie and Roger Engstrom, shot dead with the same kind of arrows that went through his shoulder.
An early suspect is Warroad's hockey coach, Gary Kozjek, a coarse former NHL player and bow hunter whose fingerprint was on the arrowhead removed from Nils' arm.
A few more twists: The coroner is an exceptionally tall, beautiful blonde lesbian being fired after suing St. Paul police for harassment. A teenage boy hanging around outside Nils' home — a former Minneapolis coat factory — hands him a note warning him to lay off the case. And Nils gets romantically involved with Anne Engstrom's widowed sister, "Mel" Rosenthal, who'd been like a mother to Linnea because of Anne's parental inadequacy.
Goldman manages to get them — and his nurse practitioner and an employee's retired-cop father — involved in solving Linnea's disappearance, and that's all I'm going to reveal because the rest is too delicious.
OK, one more quote: There's "the androgynous barista at Dunn Brothers, whose hair changes color more often than bruises."
Great literature? Of course not, but it's a well-written, cracking good tale you can read in three or four evenings — fewer if you have trouble putting the book down to go to bed.
***
Neal Gendler is a Minneapolis writer and editor.
(American Jewish World, 6.29.18)