By MORDECAI SPECKTOR
On the phone with the Jewish World from her home in Los Angeles, Julia Kantor describes the repertoire of her musical group, Paris Chansons: "It's mostly French… our catchphrase is 'French music from A to Z — from Aznavour to Zaz.' Basically what we're saying is that it's from the classics to contemporary."
She adds, "And then we always add in some Russian songs to give the other side of who are, because we're fluent in French and Russian. And it has that Gypsy flair to it."
Paris Chansons, billed as L.A.'s premier French performing group, returns to Minnesota, where the ensemble has built a fan base from disparate communities: French, Russian and Jewish. The group will perform two nights, April 21-22 at the Dakota in downtown Minneapolis. This visit is part of what Kantor called a "mini-tour," with stops in Minneapolis and Chicago.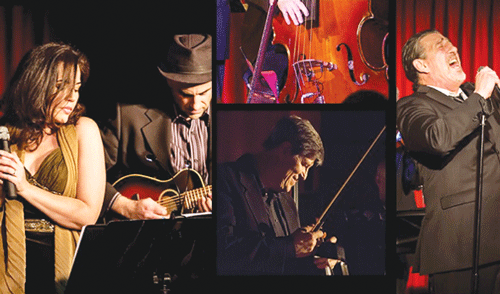 Asked about her background, Kantor says, "I'm Russian-Jewish, but I was born in Lvov, Ukraine. I was about five when we came here." She mentions that it was while living and studying in France that she "really fell in love with the music and the language."
Kantor's husband, Jacob Kantor, who was born in Moscow, sings and plays guitar in Paris Chansons. And the third singer who will be onstage at the Dakota later this month is Max Cohen, a native of Morocco, who grew up listening to French music, especially the songs of Enrico Macias, a globally popular singer of Algerian Jewish ancestry. When Cohen was 16, his family made aliya to Israel.
Julia Kantor comments that Cohen told her that in Israel some popular French songs, by Edith Piaf, Charles Aznavour, et al., were translated into Hebrew "and became staples of Israeli culture to such an extent that people didn't even know they were really French." Such tunes became known as chansonim, a mash-up of the French word for "song," with the Hebrew plural ending.
Adding a central European dimension to the group's sound is violinist Endre Balogh, who's from Hungary. Rounding out the lineup is pianist Jeff Lams, bassist Adrian Rosen and drummer Sinclair Lott.
Paris Chansons recently released a six-song album, Le EP, which I listened to on Apple Music. It takes just a few bars of the opening number, "Zingarella" — a song made famous by Enrico Macias — to get your foot tapping and your body swaying. This lyrical music is fun and accessible to a broad audience, with a particular appeal for those who heard the songs from way back.
"It's the Lebanese, the Israelis, the Russians, the Romanians, the Armenians, the Persians — obviously, the French people, as well — all of these cultural groups, this is the music that they grew up with," Kantor explains.
We're not just giving them the songs the way they heard them; we're giving them original renditions of these songs, and giving them a fresh take on them, so they're really experiencing it in a way that they never did before."
After a Paris Chansons show, members of the audience often tell Kantor about their "deep, deep personal connection" to these songs. And she points out that despite the myriad geopolitical problems today, which pit one group or one nation against another, the group's songs bring everybody together. "There's this experience of unity. That's what makes me want to just do this over and over again everywhere."
Kantor studied French in middle and high school, then in college she lived in Brittany, "the northwest province of France," and attended a university. "That's when I really became fluent, because you have to have the complete immersion to get there. I always felt a resonance with this language… I would say I was French from a former life."
The love affair with French culture continued and Kantor formed Paris Chansons four years ago to "bring this joyful music to people."
The group's first gigs were at Ohr HaTorah, a Los Angeles shul, where Jacob Kantor is a cantorial soloist. The wife of the rabbi introduced the Kantors to Max Cohen, and the trio began performing evenings of French music in the synagogue's café. "And all of a sudden, there are 150 people there," Kantor recalls.
Although the band performs mainly their renditions of famous French songs, they also have some original numbers in the repertoire. These songs were written in English by Jacob Kantor and translated into French.
The April 21-22 Paris Chansons shows will be the group's third visit to the Dakota. They also performed here for a private event.
Kantor mentioned that local French culture and Russian-Jewish groups are helping to promote the upcoming Dakota shows — along with the Jewish World. She said that Ilana Volodarsky and RAJMN–Russian-American Jews in Minnesota have been especially energetic in their support.
"There are so many divisions right now in the country, politically and in so many ways," she comments. "And when you have this experience where… people from literally across the globe are united through this music, it just lifts the spirits. It's incredibly rewarding and it makes me so happy to connect with these cultural groups."
***
Paris Chansons will perform 7 p.m. Saturday, April 21 and Sunday, April 22 at the Dakota Jazz Club and Restaurant, 1010 Nicollet Ave., downtown Minneapolis. For tickets, call 612-332-1010, or go to: dakotacooks.com.
(American Jewish World, 4.6.18)