By MORDECAI SPECKTOR
A conversation with Les Block, our local music maven, wends through time and space, and touches on a variety of Jewish show business luminaries: George Gershwin, Jerome Kern, Harold Arlen (né Hyman Arluck), Ann Ronell, Vernon Duke (né Vladimir Dukelsky), et al.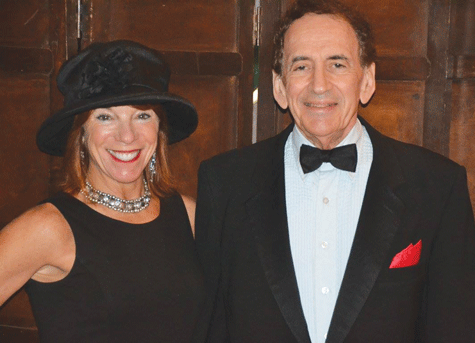 A detour in the chat might go to Los Angeles, and a recollection by Block of his old friend Bill Marx, the son of Harpo Marx. Then the subject turns to Herb Jeffries, the "Bronze Buckaroo," a cowboy singer of mixed ancestry, perhaps African American and Sicilian.
Block has had a career as a bandleader — and as a dentist, teaching at the University of Minnesota — and has produced musical shows highlighting Cole Porter, Duke Ellington and Irving Berlin. And Block also dropped off a CD during a recent visit to the Jewish World offices, an hour-long interview he conducted with the legendary Tony Bennett, who talked about the highly regarded but little known singer David Allyn.
Also, a national audience is familiar with Les Block from mentions of his name on the syndicated radio show Car Talk. The show's hosts, brothers Tom and Ray Magliozzi — aka "Click and Clack, the Tappet Brothers" — had a question for anybody calling in from Minneapolis: "Do you know Les Block?" (Tom Magliozzi passed away in 2014.)
On April 20, Block and his longtime singing partner, Heidi Ziman, will present "A Musical Tribute to George Gershwin: Featuring Songs of Gershwin and His Friends." The performance will take place as part of Or Emet's Friday night service at the Sabes JCC.
Gershwin had a reputation as an overbearing egotist, according to Block. He quoted the question attributed to Oscar Levant, a pianist, composer and author, and a friend of Gershwin: "Tell me, George, if you had it to do all over, would you fall in love with yourself again?"
At the same time, Gershwin was known to help friends in need, and do whatever he could to boost the career of a talented younger composer. For example, Gershwin took in interest in Ann Rosenblatt, "who became a very well-known songwriter, she became the first woman to write scores for movies," said Block. Rosenblatt became famous as Ann Ronell, a composer and lyricist who wrote "Willow Weep for Me" and "Who's Afraid of the Big Bad Wolf," in the early 1930s.
The show for Or Emet will feature "songs from Gershwin and then songs from his friends who he helped," Block explained, during an interview with the Jewish World.
Block offered another story to illustrate Gershwin's generous nature.
The famed composer ran into Jimmy McHugh, a fellow songwriter who wrote "I Can't Give You Anything But Love," and hundreds of other tunes. It turns out that McHugh lost all of his money in the Great Depression. He told Gershwin that he was about to buy a piano, but now couldn't afford it.
"The next day there's a piano delivered to Jimmy McHugh's house, compliments of George Gershwin," Block said. "I start reading this kind of stuff, and I said, 'There's a different guy than I ever thought about or ever read about.' This was a nice guy in a way, but he was a little full of himself."
Block hit upon the idea of a show featuring Gershwin songs, along with songs by his friends, such as Arlen, McHugh, Ronell and Duke. The latter wrote "April in Paris" and "I Can't Get Started," which are both part of the Great American Songbook. And Gershwin suggested that the Jewish native from Minsk change his name from Vladimir Dukelsky to Vernon Duke, and helped nurture his brilliant career.
A native New Yorker, Block told the Jewish World's Erin Elliott Bryan, in 2011, that he grew up on Cherry Street, in a Jewish and Italian neighborhood on the Lower East Side — the same street on which Irving Berlin lived. At the age of five, Block began exploring the piano and started taking lessons.
He attended what was then the High School of Music and Art in New York (now part of LaGuardia School of the Arts), from 1948-1952. In junior high school, he was playing swing and jazz music. When he was in college, he learned about how Jews predominated in the world of popular music.
"We had this teacher, who was not Jewish but he loved American popular songs, and he said something like 'If it weren't for the Jewish songwriters, we wouldn't have the kinds of songs we have, because the vast majority of those people were, or are, Jewish.'"
Block also mentioned that Gershwin had attained a rare global popularity, and people mourned his untimely death as if a personal friend had died.
"There's never been another composer… as beloved by the public who knew nothing about him. They just know the name — everybody knows Gershwin."
***
Les Block and Heidi Ziman will perform their show about George Gershwin and his friends for Or Emet's Shabbat service 7:30 p.m. Friday, April 20 at the Sabes JCC, 4330 S. Cedar Lake Rd., St. Louis Park. A short Humanistic Jewish Shabbat service will precede the program, which is free and open to the public. An Oneg Shabbat reception will follow. Donations are welcome.
(American Jewish World, 4.6.18)