Sholom will host public events on Aug. 7 and 8 to celebrate those who have composed life stories and legacy letters
By ERIN ELLIOTT BRYAN / Community News Editor
In her legacy letter to family and friends, Sholom Hospice patient Miriam Moscato is able to share her thoughts on her love for family, life lessons she has learned and becoming Jewish, which she describes as "a matter of grace."
"Being a part of Jewish events is the most meaningful thing in my life," wrote Moscato, who grew up Catholic. "Hashem has been central in my life. I am now aware of Hashem's supportiveness and love in my life."
Moscato's legacy letter was composed through Celebrating My Life, a Sholom program with St. Paul-based Celebrations of Life, a company that helps individuals and families share their values and wisdom with loved ones and future generations.
"I thought it was such a great idea, to share with family and friends what my life is like and how God has been so good to me," Moscato told the AJW.
Sholom offers two different and ongoing programs for its residents through Celebrating My Life. One is the Legacy Letters for hospice patients, which are composed in one-on-one settings. The other is the Life Story Project, which is more in-depth and crafted in small groups. Both are done with the help of trained Legacy Navigators, who ask questions and facilitate discussion.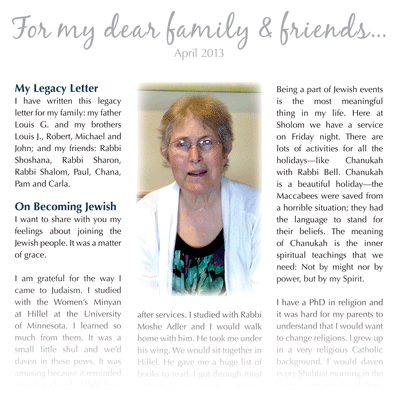 There is no charge for patients and their families to participate in the program, though funding for the preservation of each person's Legacy Letter or Life Reflection Story book is currently being explored by the Sholom Foundation.
Sholom will host two events to celebrate those who have participated in the program, as well as their families and friends. Residents will share their life stories and legacies, and they will receive the finished copies of their books or letters.
Events will take place on Wednesday, Aug. 7 in the Mains Auditorium at Sholom Home East in St. Paul; and on Thursday, Aug. 8 in the Shaller Auditorim at Sholom Home West in St. Louis Park. Both are free and open to the public.
The legacy letters and life stories are comparable to an ethical will (zava'ah in Hebrew), which dates back to biblical times and is generally attributed to Jacob, who gathered his sons as he lay dying and gave them his blessings and strict instructions to bury him in Canaan. Ethical wills were first introduced at Sholom by Dr. Barry Baines, the medical director of Sholom Hospice and author of Ethical Wills: Putting Your Values on Paper (Da Capo Press).
An earlier version of the legacy letters program began shortly after Sholom Hospice opened in 2009 and was run entirely by Carla Vogel.
"It is part of the dying process to reminisce, to reflect, to do the life review — that's our job at the end of life… It was great work, working with families and individuals in hospice, helping them write their legacy letters," Vogel said. "And thankfully, we decided to grow."
At the urging of Jen Zinnel, the former director at the Shaller Family Campus in St. Paul and the current director of therapeutic recreation at Sholom Home West in St. Louis Park, Sholom decided to partner with Celebrations of Life and expand the program to include hospice patients as well as residents in its senior living facilities at both campuses.
Zinnel now facilitates group workshops and oversees the trained Legacy Navigators at Sholom Home West.
"It really allows [residents] to leave their legacy for their family members. Within the group writing workshops, they've shared a lot of information that they wouldn't in general conversation, and sometimes things have come out that their families were unaware of," Zinnel said. "And it allows me to get a glimpse at who these individuals that I was working with truly are… We don't always see those facets of who they are, the things that they've experienced, the things they've gone through, and what they've gained or lost through those experiences."
Celebrations of Life was founded by Tracie Bluse Ward in 2007 as a way to make it easier and more affordable for families to capture a loved one's life story and legacy. Baines, a friend of Ward's, came on board as vice president in 2008.
"A book, a story, a letter is something that we can get to, it's that tangible presence of the other person," Ward said. "It has a really meaningful way of giving people something important that they can keep with them."
In October 2012, Celebrations of Life trained more than 20 Sholom staff and volunteers at both campuses to work with hospice patients on legacy letters and senior living residents on life reflection stories. All trained staff use workbooks specially created by Celebrations of Life to encourage meaningful discussion.
"We're seeing, in every case, a positive impact. Even at end of life, when you don't know that there's much left, they still feel profoundly impacted that they got a chance to share what was in their heart, what was on their mind, and leave something meaningful… And if you can facilitate that, what a blessing, what a wonderful role that is," Ward said. "No one's going to tell you their most intimate things about their life unless they trust you."
For recreational therapist Jim McDonald, working with Celebrations of Life has been an opportunity to get to know the residents with whom he works on a much deeper level.
"This is someone's mom or someone's dad, and they have a whole life history before coming here, and I think it's so important to know about them as you're caring for them, especially," McDonald said. "I do think it's very important, for here in this setting, for caregivers to be in tune with this as well. It's going to improve nursing care."
Ward says she has noticed that the stories of Sholom residents are less about 'Go to the Bible and find your answers,' and more about the deep, historical events that had a profound effect on their lives and the lives of their children.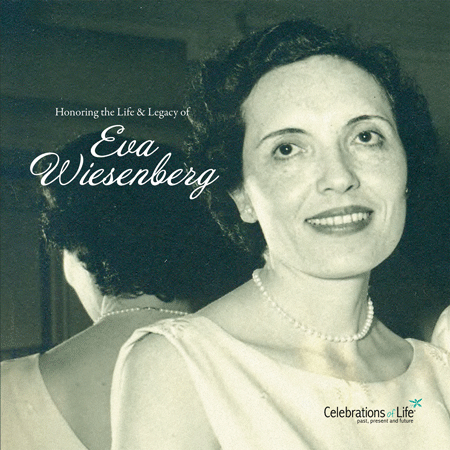 An example of such a story is that of 93-year-old Eva Wiesenberg, who lost her entire family during the Holocaust. Wiesenberg, a resident at Sholom Home West who is in hospice, began sharing her story, and her daughter, Judy Wiesenberg-Neiman, worked on a legacy letter with Vogel.
Wiesenberg-Neiman then gathered additional stories from her brother, her daughters and nieces, and friends, and created a life story book about her mother.
"It was a very meaningful process and it was to the other family members, and my mother would love it. My mother is, fortunately, still with us and I have talked with her about it from time to time," Wiesenberg-Neiman said. "I'm very proud of her and that's part of why this process was so lovely for us, we were able to celebrate my mother and who she is."
Though Wiesenberg was not able to fully participate in the process due to poor memory, Wiesenberg-Neiman says she can tell that her mother feels "affirmed and validated" when they mention something from her life story. And Wiesenberg-Neiman said she will look to the book in years to come as a source of comfort, particularly in times of struggle.
"This whole project has reinforced in me that wonderful trait in my mother that I know will give me strength and comfort as the years go by. Thinking of her very positive spirit, her strength, that's going to help me get through difficult times that I may have, and I think that's the same for my children," Wiesenberg-Neiman said. "I do feel like this project has enabled all of us to really celebrate my mother. To me, that's what this is all about, and to really recognize what she's passed on to us and celebrate that in ourselves."
***
Celebrating My Life events will take place 6 p.m. Wednesday, Aug. 7 in the Mains Auditorium at the Shirley Chapman Sholom Home East, 740 Kay Ave., St. Paul; and 7 p.m. Thursday, Aug. 8 in the Shaller Auditorim at the Joe and Blanche Numero Sholom Home West, 3620 Phillips Pkwy., St. Louis Park. Both are free and open to the public.
For information about the Sholom legacy programs, including scheduling a community presentation, or becoming a Sholom volunteer, contact Jeri Berndt at 651-328-2209 or: jberndt@sholom.com.
For information about Celebrations of Life, visit: celebrationsoflife.net.
(American Jewish World, 7.19.13)