By DORIS RUBENSTEIN
Cantor Tamar Havilio may be new to Minnetonka's Bet Shalom Congregation, but being in Minnesota is a homecoming for her in many ways.
"I'm a 'lake girl,'" she said.
How did this Milwaukee native come to this identity?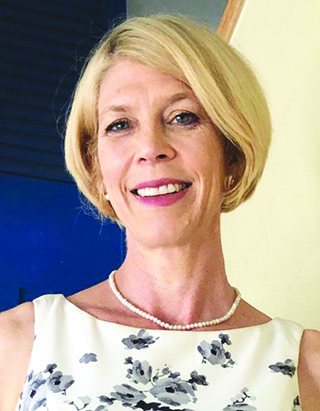 While her earliest years were in the land of the "cheeseheads," Havilio spent three formative years of her childhood living in Brooklyn Park, while her nurse mother worked in Anoka County establishing hospice programs.
She's thrilled that her peripatetic life has finally brought her, her husband Shmulik (a "twentieth-generation Jerusalemite") and her sons Nadav, Tal and Noam back to the place where she happily remembers playing in the snow in a warm snowsuit.
As a teen, Havilio was engaged with the concept of performance. Her preparation for performing on the bima started in the Theater Department at the University of Iowa.
After meeting a female cantor, she realized that being a cantor was a path for her to combine her love of performance with her passion for Judaism. This led her to study in the cantorial program of the Hebrew Union College in Jerusalem, completing it in 1996.
After two years at a congregation in New Jersey, she felt the Midwest calling her back. From 1998 to 2001, she led prayer at Congregation Sinai in Milwaukee.
But the concept of "performance" continued to dwell in her mind. Research led her to the Performance Studies program at New York University's Tisch School of Performing Arts.
Its approach to combining folklore and ethnology, particularly in the performance of ritual in both religion and daily life activities, tickled her intellect and spirit.
Havilio said that the Performance Studies program helped her find the answers to her questions: How do I pray and perform at the same time? What is the connection between the training of an artist and that of a prayer leader?
She learned the ways to integrate and interpret the words of prayer with her personal feelings, discovering how prayers can connect to her own life experience. These realizations were articulated in her master's thesis, From Second Avenue to the Synagogue: A Vital Connection between Theater and Prayer.
The academic experience led her back to HUC's cantorial school in Jerusalem.
"I'd seen too many cantors and clergy burning out," Havilio said. "I wanted to help them avoid that condition by better understanding the text, finding their own voice in it and eventually becoming a part of the text."
She was inspired by cellist Yo-Yo Ma's philosophy to practice until you own the musical piece, then give it away as a gift.
While in Jerusalem, she also became involved with the Women of the Wall. During a brief sojourn at a congregation in Toronto, Havilio heard the group's leader, Anat Hoffman, speak and was motivated to take action upon returning to Jerusalem.
She led services numerous times, bringing students from HUC with her. Mostly, it was a spiritual experience. The worst part was having stones and trash thrown at her by ultra-Orthodox teenaged girls.
It was beshert that Temple Israel in Minneapolis was looking for a temporary partner for Cantor Abelson just as Havilio was looking for a place in the Midwest that needed her. Then came the opening at Bet Shalom.
In addition to lakes and snow, Havilio likes the people in the Twin Cities. She is impressed with the high level of Jewish involvement here.
Once COVID-19 is over, the community is sure to see her become more involved.