Fishman on kosher
Stewart Fishman, owner of the former Fishman's Delicatessen and Bakery in St. Louis Park, has launched All Things Kosher, a Web site dedicated to teaching and disseminating information about kosher food. In addition to explaining kashrut, the site reviews new kosher food products and kosher resources, and creates a forum for the sharing of personal journeys to kosher observance.
Fishman owned his 40-seat restaurant for 16 years. The store was exclusively kosher and included an in-house bakery, delicatessen, butcher shop and market. Products were sourced from all over the world, including Israel and Europe.
For information, visit: www.all-things-kosher.com.
Pilates teacher school
The St. Paul JCC has announced the establishment of the Neshama Pilates Teacher Training School. As demand increases for Pilates classes, so does the need for qualified Pilates instructors.
The JCC's school will be taught in three modules including Mat Pilates, Reformer Pilates and Auxiliary Equipment Pilates. Interning and practice time will be included. Students will then be prepared to take the Pilates Method Alliance Certification Exam, the gold standard for Pilates teachers.
The Neshama Pilates Teacher Training School is led by JCC fitness director Sandy Stratton-Rusch. She is trained in Core Dynamics and Peak Pilates, and has more than 20 years of Pilates experience.
For information, contact Stratton-Rusch at: srusch@stpauljcc.org or 651-255-4764.
Jewish channel
launches
The Jewish Channel (TJC) and Comcast recently announced that TJC is now available to Comcast's digital subscribers in Minnesota. For a monthly cost of $6.99, subscribers will have unlimited access to all of TJC's content, including movies, documentaries and original series.
Programming from Israel, the world's first Jewish newscast and explorations of Jewish culture are available to subscribers at any time. The New York Times called TJC a "Jewish HBO."
For those who do not receive Comcast, TJC can also be found on several other systems, including iO Optimum Cablevision Channel 291, and Verizon FiOS Channel 900.
For information, visit: tjctv.com.
Hanuka stamp 2011
The United States Postal Service will issue the 2011 Hanuka stamp on Oct. 14, and it should be available at all post offices around Oct. 17. It will be a "forever" stamp, meaning that if purchased for 44 cents and the postal rate goes up, the stamps can still be used without additional postage.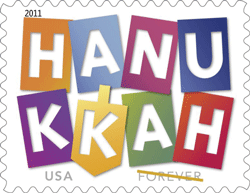 If a post office does not have the Hanuka stamp available or does not include Hanuka decorations in its holiday display, e-mail the city and zip code to Ronald Scheiman, of the Quest for Annual Hanukkah Stamps, at: hanukkah@att.net.
New Shmaltz offerings
Shmaltz Brewing Company has announced the release of Coney Island Barrel-Aged Human Blockhead, which will be available at specialty shops and select bars through October. This imperial American bock has aged more than five months in first-use Buffalo Trace Kentucky Straight Bourbon barrels.
Coney Island Barrel-Aged Human Blockhead joins the Shmaltz lineup as the third member in the Limited Engagement Barrel-Aged series, which also includes He'Brew Genesis 15:15, a barleywine brewed with grapes, figs, dates and pomegranates that will be released later this fall.
Beers from Coney Island Craft Lagers pay tribute to the eclectic performance culture of Coney Island, N.Y. A portion of the proceeds supports Coney Island USA.
Teaming up as a brewing partner with Terrapin Beer Company and Alan Shapiro, of SBS Imports, Shmaltz Brewing is also a first-time participant in the creation of Reunion Ale '11: A Beer for Hope. Now in its fifth year of production, Reunion is brewed annually in memory of Virginia MacLean, a dedicated cancer research supporter who lost her own battle with multiple myeloma in 2007.
A portion of the proceeds from Reunion Ale '11 is donated directly to the Institute for Myeloma and Bone Cancer Research. The beer is available in the nearly 40 U.S. states that receive distribution from Terrapin and Shmaltz, and in Western Canada through Shmaltz's distribution network.
For information, visit: www.shmaltzbrewing.com.
High-tech for ultra-Orthodox
The Technion-Israel Institute of Technology has launched a program to integrate members of Israel's previously unreached ultra-Orthodox population into the technology-driven work force. The "Technological Education Program at the Technion for the ultra-Orthodox Sector" will engage ultra-Orthodox Jews who receive little to no education in mathematics and the sciences.
The Technion will run the program at the Haredi College in the ultra-Orthodox neighborhood of Bnei Brak (near Tel Aviv), making it attractive to potential ultra-Orthodox students, who tend to be married with children, and reluctant or unable to leave their communities in central Israel to move to the Technion campus in Haifa.
Developed at the Technion Faculty of Civil and Environmental Engineering, the new program is based on a unique partnership with the Israeli Mapping Center, a government institution in charge of the mapping of Israel. Graduates will earn a bachelor's degree in mapping and geoinformation, and be granted an accredited surveyor license. The Israeli Mapping Center will guarantee jobs to program graduates.
The program is accredited by Israel's Council on Higher Education.
(American Jewish World, 9.16.11)