Reviewed by NEAL GENDLER
Watching Hitler consolidate power while America slept was so dismaying to U.S. Ambassador William E. Dodd it cost him his health and his position.
Less the thriller its subtitle suggests, but far more compelling than one might expect, Erik Larson's hit In the Garden of Beasts is an attention-grabbing account of Dodd and his daughter in Germany, from 1933 to 1937.
Dodd's affection for the Germany of his doctoral study in 1890s Leipzig dissipates rapidly in office, as he sees barbarity increase. His job satisfaction plummets as he struggles to get Washington to take the Nazi threat seriously and act on it.
Dodd was 64 and chairman of the University of Chicago history department when he became the fifth man President Roosevelt asked to take the post of ambassador. Dodd didn't fit the high-living ambassadorial mold and disapproved of the profligate ways of those who did. He knew "his temperament was ill suited to 'high diplomacy' and playing the liar on bended knee," Larson says. Dodd even traveled out of style, shipping his old Chevrolet to Berlin.
He brought his wife and two young adult children, Bill and Martha, hoping they would have a last good time as a family. The book centers on father and daughter, who left considerable documentation — including Dodd's diary and Martha's two books.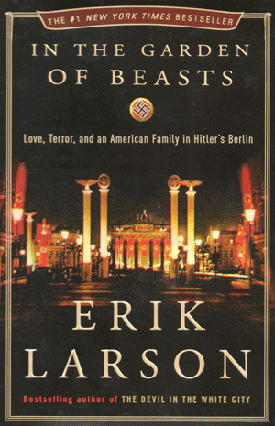 This book's verve comes from the escapades of Martha, at 24 a romantic and sexually adventurous woman. But beneath her initial gullibility and seemingly easy virtue, Martha had substance. She had been assistant literary editor at the Chicago Tribune and counted among her friends Carl Sandburg and Thornton Wilder.
Pretty and vivacious, Martha falls in with Berlin's foreign correspondents and into the city's social fabric. She initially is smitten by the revived nation, "especially the wholesome and beautiful lads… these youth of the modern Hakenkreuz [swastika] Germany," Larson says. She hobnobs with Nazis and has an affair with no less than Gestapo chief Rudolf Diels (soon dismissed for being insufficiently brutal). Amid other flings, her great love is Boris, secretly a married NKVD agent possibly playing her for recruitment. (He's killed in Stalin's 1930s purges.)
Martha's enchantment with Germany wanes, then reverses. A nadir is Hitler's June 1934 purge of the SA; hour after hour of executions can be heard from the embassy.
Dodd apparently tolerated Martha's behavior, although he was a man of modest ways. Larson calls him "Jeffersonian" for his dislike of pomp and fawning servants. He had a sharp sense of humor and ethics; his revulsion at Nazidom led him to avoid unnecessary contact. This deepened his disfavor at the State Department, which saw him as an outsider sent to get Germany to repay its loans; a body of contemptuous enemies developed, undermining and humiliating him and campaigning for his ouster.
Dodd's alarm at the abuse of Jews — of scant interest to shockingly anti-Semitic State Department officials — runs through the book, appearing as early as page 28 at a pre-confirmation lunch with FDR. But while repelled by the persecution, Dodd carries his own "rudimental anti-Semitism," telling Nazi Foreign Minister Neurath that the United States, too, has "had difficulty now and then… with Jews who had gotten too much of a hold on certain departments of intellectual and business life."
One justly can be skeptical of 78-year-old quoted conversations, but Larson explains his research methods in an introduction cutely named "das Vorspiel" [the prelude], and in a substantial section at book's end.
The book is mostly about 1933 and 1934; other than allusion to the Nuremberg Laws, 1935 passes nearly without mention, and little is said about 1936. Dodd, suffering from stomach and neurological problems, is forced out at the end of 1937.
At home, he lectures widely, presciently telling a Jewish congregation on Feb. 21, 1938, that once Germany annexes Austria — which happened March 12 – Poland, Czechoslovakia and Romania will be at risk. Even more, at Boston's Harvard Club on June 10, 1938, he says Hitler's plan for Jews is "to kill them all."
America was ready and willing to do nothing about either.
***
Neal Gendler is a Minneapolis writer and editor.
(American Jewish World, 9.16.11)