Dudu Fisher will perform March 12 at Orchestra Hall, in a benefit for Chabad Lubavitch
By MORDECAI SPECKTOR
Dudu Fisher, who starred in the hit Broadway musical Les Misérables, maintains a busy performing schedule. In recent months, he has sung for audiences in Nice, France; Toronto, Canada; on a cruise ship in the Caribbean; and at a synagogue in Miami Beach, Fla.
On Monday, March 12, the dynamic Jewish singer will perform at Orchestra Hall, in downtown Minneapolis. The show is a benefit for Upper Midwest Merkos-Chabad Lubavitch, marking the group's half century of service to the Jewish community.
The American Jewish World tried to reach Fisher while he was in the U.S. recently. Finally, last week we connected, via a phone interview from his hotel in Johannesburg, South Africa.
Prying into his affairs, I asked Fisher what he was doing in South Africa.
"I'm singing," he replied, about his two upcoming concerts. "It's the only thing I know how to do."
It turns out that Fisher, a native of Israel, served as a hazzan, a cantor, for several years in Johannesburg, beginning in the late-1970s. "I left here in 1980," he recalled. "And since then, I'm coming back here quite often — every couple of years I'm here for a show."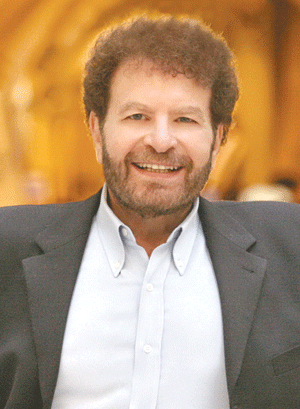 So, it's a bit of a homecoming for Fisher, who added that he lived in Johannesburg for the first three years of his marriage. "And my two boys were born here. I really feel like coming back home, when I come here. I have lots of friends and some family here."
Fisher, who turned 60 last November, was raised in Petach Tikva, Israel. He couldn't recall ever performing in the Twin Cities. "I really can't remember all of the cities I've played in America," he allowed. "But I don't remember being in Minneapolis."
Those who attend Fisher's upcoming show will be treated to Never on Friday, Fisher's "musical biography." The songs and stories trace his family and professional life, from his years as a cantor to performing in "Les Miz" — in Israel, on Broadway and in London's West End. Fisher created Never on Friday as a one-man show for a limited off-Broadway run, in 1999.
The title of the show refers to the singer's Jewish observance; specifically, the conflict he has navigated in being shomer Shabbos, keeping the Sabbath, and pursuing a show business career.
For example, when Fisher was contacted about performing the role of Jean Valjean on Broadway, he declared that he could not perform on Friday night and Saturday matinees. For two years, arguments raged among the theater owners, the show producers and Actors Equity. "There was a very big fight," Fisher recalled. "But Cameron Mackintosh [the producer of Les Misérables], he wanted me very much to be there, and he fought for me."
But being shomer Shabbos apparently has disqualified Fisher for every subsequent Broadway role; he said that he was considered and rejected for Fiddler on the Roof, Phantom of the Opera and Oliver!
The alternative for Fisher was to produce his own vehicles in off-Broadway venues. He has found success in those endeavors; and his profile rose in the U.S. with his 2008 PBS special taped in Beit She'an, Israel. In addition to his stage and TV credits, Fisher has recorded 38 albums of Israeli, Jewish, Yiddish and popular songs. Readers can find samples of his music and videos at: dudufisher.com.
The show in Minneapolis is a benefit for Lubavitch here, so I asked Fisher about his ties to the group. He answered that he had "very deep ties" to the Hasidic group. He explained that his maternal grandmother experienced a very difficult labor, when pregnant with his mother, in Riga, Latvia. An abortion was being considered to save the life of his grandmother.
Fisher's great-aunt was sent to a synagogue to pray for her sister. "She started to cry," Fisher related, about his great-aunt, sitting and weeping before the aron kodesh, the holy ark, in the synagogue. A woman approached to console her, and listened to the story about how the doctors wanted to end her sister's pregnancy. The woman took her to see the "Rayatz" [an acronym for Rabbi Yosef Yitzchok (Schneersohn)], the "previous Rebbe of Lubavitch."
A kvitel, prayer petition, was submitted to the Rebbe, "in my grandmother's name, Frieda Gisa," Fisher continued. In a couple of minutes, a note came back, in Yiddish, and it read: "This is an answer to your request for a bracha for Frieda Gisa." The note said that everything would be fine, that a healthy baby would be born. The note was signed by the Rayatz. And when the singer's great-aunt returned to the hospital, the doctors rushed to her and broke the inexplicable news that a baby girl had just been delivered by her sister.
"And that was my mother," said Fisher, who has the original Yiddish note from the Lubavitcher Rebbe about his mother's birth prospects. "I have it here with me. I'm traveling with it."
Circling back to my question, Fisher commented, "So, you ask for ties with Lubavitch — although I'm far from being a Lubavitcher — but here's your ties. Here's my tie to Lubavitch."
After his Minneapolis appearance, Fisher has a show in Florida; then on May 1, he heads to Branson, Mo., for performances through May 20 (excluding Shabbat) at the Caravelle Theater. He will be performing his Jerusalem show for the mainly Christian music lovers who flock to the resort town in the Ozarks.
The show in Branson is comprised of 18 songs, "only songs about Jerusalem, in six different languages, together with video and stories about Jerusalem," Fisher explained. He performed Jerusalem in Branson on Sept. 20, 2011.
"It was such a great success that now I'm taking a theater for a whole month, and I'm doing 20 shows," he said. "I feel like I'm 25 years old now, because it's like opening a new career. It's for the Christian world, and the Christians don't really know me. For me, this is something really exciting, teaching them about Jerusalem, about how Jews can live with Muslims, if there's goodwill from both sides."
A song in Fisher's show, "This Is Jerusalem," talks about how Jews and Arabs used to live together amicably; "and children used to play together — Jews and Muslims and Christians used to play all together. What a pity it is that we are living through times now when both parties are so much apart. And it's so sad, but it gives us something to pray for, that things will become better one day."
It's a message that the folks in Branson, and all of us, can well ponder.
***
Dudu Fisher will perform 7:30 p.m. Monday, March 12 at Orchestra Hall, 1111 Nicollet Mall, Minneapolis. The concert is a benefit for Upper Midwest Merkos-Chabad Lubavitch. For tickets, call 612-371-5656 or go to: minnesotaorchestra.org. There is a 50 percent discount on ticket prices for groups of 10 or more. Also, Dudu Fisher will conduct a special performance art program for children.
(American Jewish World, 3.2.12)