By ERIN ELLIOTT BRYAN / Community News Editor
For rabbis, cantors and Jewish communal leaders, there is currently no specifically Jewish place for them to turn to unload the pressures, burdens or addictions with which they may struggle.
Rabbi Barry Woolf has asked, "Where does clergy go to get help in these matters in a Jewish way when the clergy is always expected to be the source of help?"
Woolf has proposed Retreats for Rabbis, a confidential program for members of the Jewish clergy to come together and address any variety of personal issues — from job loss, divorce and domestic abuse to addiction and mental illness.
He has teamed up with psychotherapist Dr. Sheldon Pinsky, of Minnesota Medical and Rehabilitative Services (located at the Sabes JCC), to offer supportive services beginning immediately.
In his proposal for the program, Woolf noted that "the needs of the congregation usually precede the needs of the rabbi's and cantor's children and spouse. Illness, stress, marital problems, congregational politics and career-related difficulties are all compounded by the visibility of the clergy."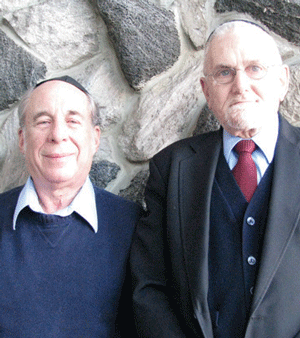 "I've been through this myself," Woolf told the AJW. "I couldn't go to Jewish Family and Children's Service, not because they're not good, not because they don't do good stuff. People will say, 'Rabbi, we can't help you. We send people to you.'"
In 1978, Woolf was part of a small group of people who founded JACS (Jewish Alcoholics, Chemically dependent persons and Significant others), which is now part of New York-based JBFCS (Jewish Board of Family and Children's Services) and a core service of its Rita J. Kaplan Jewish Connections Programs. He also founded the Jewish Recovery Network (JRN) in the Twin Cities and has worked for more than 30 years to educate the Jewish community about substance abuse.
He has been developing the idea for a clergy support program for several years and presented a session about it at the Mental Health Education Project's conference in 2010, which Pinsky attended.
"The response from the audience was unbelievable," Pinsky said. "Questions were asked for the first time: How do clergy function when they have these issues? They hear other people's issues, but what about their own issues? And Rabbi Woolf was saying, well, it's time that clergy need to have a support system."
Pinsky likened the program to Lawyers Concerned for Lawyers, which helps law students, lawyers and judges who are affected by addiction, mental illness, stress or other life-related problems that negatively affects the quality of one's life.
Woolf's program will initially be specific to Jewish clergy and serve people from all denominations of Judaism — from Reconstructionist to ultra-Orthodox. Confidentiality is the ultimate goal and no one will be turned away for an inability to pay.
Dr. Gail Gleason Milgram, former director of the education and training division at Rutgers University's Center of Alcohol Studies, told Woolf that his proposal "clearly describes the situation and provides a methodology to assist these individuals."
Jonathan Katz, LCSW, director of the Rita J. Kaplan Jewish Connections Programs, also supports Woolf's idea.
"We have seen, at first hand, how stressful rabbinical responsibilities can be," he wrote in a letter to Woolf. "We have also seen how difficult it can be for rabbis and their families to find the time, energy and safe environment necessary to address their personal issues."
And the program has been endorsed by Rabbi Dr. Abraham Twerski, founder and medical director emeritus of the Gateway Rehabilitation Center in Aliquippa, Penn., and the author of more than 60 books.
"The retreat for rabbis is something long overdue," Twerski wrote to Woolf. "Rabbis carry a heavy load, and they do not have anyone to turn to. Heaven forbid that it should be discovered that a rabbi consulted a mental health professional! Consequently, not only does the rabbi suffer, but his wife and children are also affected."
The program's objectives will be to explore ways to respond to the special stresses rabbinical families experience; increase awareness of the benefits of a personal rehabilitative Jewish retreat among Jewish clergy; reduce the guilt and shame-driven obstacles that prevent access to effective treatment for chemical dependents and abusers in the rabbinical community; and give Jewish clergy and their families counseling and support services in a private, Jewish retreat setting.
According to Woolf's proposal, "clergy should be dignified with the same privacy in which to work out personal and professional issues as we afford to other individuals in the Jewish community."
Woolf and Pinsky plan to organize retreats for rabbis from around the country (similar to JACS retreats that take place annually) that will include both individual and group counseling. While those plans are being made, Woolf and Pinsky are offering one-on-one counseling that is available now — whether with either or both of them, or other professionals who are qualified to help.
"This is a breakthrough in therapy as well," Pinsky said.
And Woolf is convinced that the program will fill a long-ignored need in the faith community.
"We'll start off slowly and we'll grow," Woolf said. "Once it gets picked up, I guarantee it will snowball."
***
For information, contact Rabbi Barry Woolf at 612-270-5030 or Dr. Sheldon Pinsky at 952-381-3434.
(American Jewish World, 3.2.12)