(Editor's note: At the end of this editorial there is an appeal for donations. It's been pointed out to me that some people might not read to the end of the editorial, which comes as something of a shock. So, here's the pitch: Readers who value the Jewish World are invited to make donations to help sustain this enterprise. The newspaper is run by Minnesota Jewish Media, LLC, a private partnership, not a 501(3)c nonprofit, so donations are not tax deductible. Checks can be made payable to: American Jewish World, and sent to: American Jewish World, 3249 Hennepin Ave., Suite 245, Minneapolis, MN 55408. Donations in any amount will be gratefully received.)
I've been working at the Jewish World for the past 28 years.
As I recall, we had returned from a visit with family in Scandinavia. My wife, Maj-Britt, is a native of Sweden, so I've been fortunate to visit Sweden numerous times over the years. In 1995, I had finished my second tour of duty as a writer for the Minnesota House of Representatives Public Information Office (now Public Information Services), a nonpartisan office at the Legislature. During the 1994 and 1995 legislative sessions, I had covered various committees and House floor debates, and written concise reports for the Session Weekly, a compendium of state House activity.
And prior to an extended visit to Scandinavia that summer, I had seen a classified ad seeking a writer for the Jewish World. I sent in an application for the job.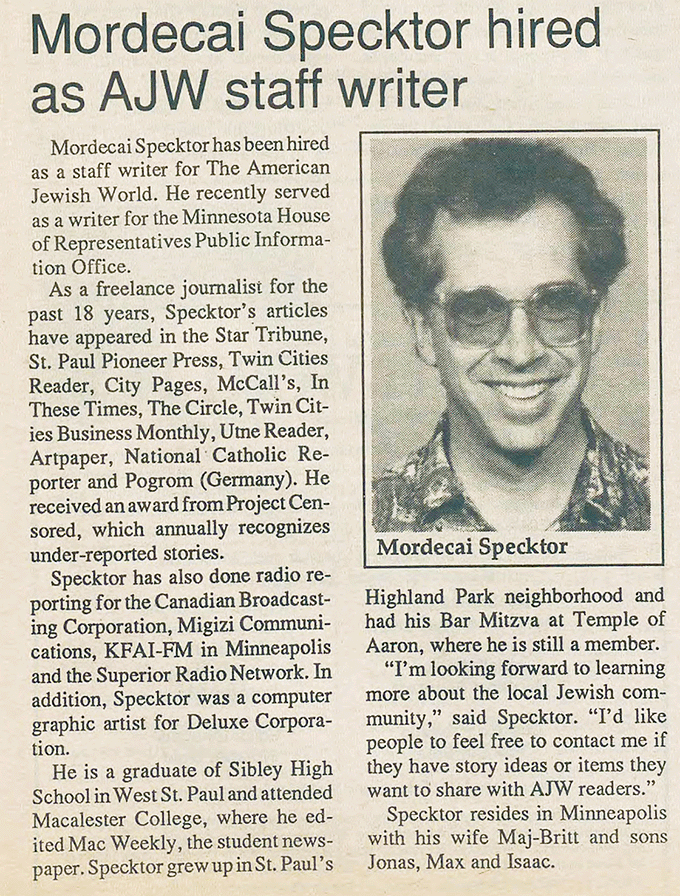 Upon our return to Minneapolis, there was a voicemail message. The AJW needed a writer ASAP — the new hire for the position didn't work out. I went to an in-person interview and was hired. Then I worked my way up in the company: from staff writer to assistant editor, then managing editor. I formed a company, in 2006, brought in nine local investors and bought the assets of AJW Publishing, Inc., which was owned by the late Rabbi Marc Liebhaber.
So, my final ascension in the organization finds me as president and CEO of Minnesota Jewish Media, LLC, the parent company of the Jewish World, of which I am editor and publisher (the fifth publisher in the newspaper's 108-year history).
I like the newspaper business, which has become somewhat challenging over recent years. Numerous papers of the Anglo-Jewish variety have folded, including the storied Forward, which used to publish Yiddish and weekly English editions. The Great Recession of 2008 took a toll on small businesses, including newspapers.
We've had to adjust our publication schedule over the years. When I started here in 1995, it was a weekly newspaper. In 2009, the board of Minnesota Jewish Media approved a shift to biweekly publication; and, in 2019, as if anticipating the COVID-19 pandemic lockdown and the U.S. economy veering into the ditch, the paper went to monthly publication, with a print edition coming out on the first Friday of each month.
I was a journalist for many years, and now I'm a small businessman. I wear many hats, as they say, at the Jewish World. So, apart from writing and editing stories, I maintain the subscriber database, fill out audit forms for our insurers, wrangle ads, make bank deposits and, generally, try to keep all the balls in the air.
While the financial side of the operation is problematic, there remains plenty of news to report and opinion articles to share. Early in my tenure here, the managing editor, Marshall Hoffman, left on a family vacation and entrusted the editing duties to me. As it happened, on Saturday, Nov. 4, 1995, Yitzhak Rabin, the Israeli prime minister was assassinated by a right-wing Jewish extremist following a peace rally in Tel Aviv. Of course, we quickly had to reconfigure that week's newspaper and hustle to report on local, national and international reactions to the epochal event. We remade the paper and, as we always do, made our press deadline for the week.
At that time, in 1995, I had never been to Israel. I was conducting interviews with Israeli luminaries — diplomats, musicians, authors, etc. — and I would have to confide at some point in a chat about never having visited the Jewish state. However, in 1996, the Israeli counsel for tourism in Chicago called me and offered to send me on a tourism junket to Israel. I traveled around Israel with a small group of journalists, including two from Christian publications, and got my first on-the-ground experience of the so-called Holy Land.
And I visited Israel six more times between 2001 and 2013 — it's really the promised land for journalists. There are stories around every corner. For example, in December 2001 — about three months after the 9/11 terrorist attacks in the United States — I took advantage of a photo op in the office of Prime Minister Ariel Sharon, when then New York Mayor Rudy Giuliani, mayor-elect Michael Bloomberg, Gov. George Pataki of New York, along with some Jewish machers from New York City, flew in (on Bloomberg's private jet) for a solidarity mission. The 12-hour visit by the New Yorkers followed a spate of devastating terrorist attacks in Jerusalem and Haifa. From the prime minister's office, the journalists boarded buses that navigated rings of security around Zion Square, the site of an elaborate candle lighting ceremony marking the first night of Hanuka.
I haven't been back to Israel in 10 years. It would be interesting to visit now, as Israel is in an uproar over Netanyahu and his coalition attempting to "reform" the High Court. The conflict with the Palestinians is also spinning out of control at this writing; there's been a marked uptick in violence in 2023.
In 1998, I visited Sweden and came back with a story about the popular reception for a book about the Holocaust, which was sponsored by the Swedish government. Concerned about an alarming spate of neo-Nazi attacks in Stockholm and elsewhere, the Social Democrats in power commissioned a book, Tell Ye Your Children … A book about the Holocaust in Europe 1933-1945.
As I reported in the Jewish World's July 24, 1998, edition, the illustrated history of the Shoah was offered free to families with teenage children. It was expected that 20,000 to 30,000 copies would be distributed as part of a campaign against hate crimes; within weeks, around 800,000 copies, in Swedish, were sent out to Swedish families.
When we arrived in Sweden that year, my late mother-in-law presented me with an English copy of the book. I noticed that one of authors had a Jewish and American name: Paul Levine. With my mother-in-law's help, I found a phone number for the Holocaust scholar from California who had been living in Sweden for a number of years. I arranged to meet Levine at a café in Stockholm, and wrote up the story of Tell Ye Your Children … in the Jewish World.
The Swedish Ministry of Foreign Affairs liked my writing about Sweden and the Shoah and invited me to attend the 2000 Stockholm International Forum on the Holocaust, where international Holocaust Memorial Day was established, on Jan. 27, 2000. It marked 55 years from the date of the liberation of the Auschwitz-Birkenau death camp in 1945. The Stockholm event drew representatives from 46 governments around the world to discuss Holocaust education, remembrance and research.
In the intervening years, I've traveled to Europe several times and brought back stories for Jewish World readers. In 2018, I visited Prague and Budapest, my first forays in Central Europe, and wrote some stories. In 2021, we visited our son Max in Copenhagen and arranged some tours of Warsaw and Łódź, Poland, my first time in the country that was once the world center of Jewish life, prior to the Nazi onslaught that murdered 90 percent of the Jews there. And last year, we visited Berlin for the first time; it's a fascinating city, especially for the history buff.
I would like to continue traveling and reporting — at age 72, I'm still curious and somewhat energetic. The problem is that the Jewish World is unable to sustain any extra expenses attendant to foreign junkets, airfare, hotels, etc.
The Jewish World will continue publishing, but an infusion of dollars would allow the newspaper to enhance its mission of informing the Minnesota Jewish community. In my estimation, we have done well in fulfilling our stated goal, back in 2006, of serving as a catalyst for Jewish art and culture.
Although the newspaper does not make a profit, we are not set up as a nonprofit organization. If anyone would like to contribute to the sustenance of the Jewish World, your dollars would be gratefully accepted, but they are not tax-deductible. And if any reader has a question about contributing to the American Jewish World Second Century Fund, please feel free to contact me.
Mordecai Specktor / editor [at] ajwnews [dot] com
(American Jewish World, July 2023)