By DORIS RUBENSTEIN
I've always thought that there were some parallels between the Children of Israel during the Exodus from Egypt and the Children of the Frozen Chosen during the Minnesota Fringe Festival: The former spent 40 years wandering in search of the Promised Land. The Frozen Chosen wander from theater to theater for 12 days searching for Jewish entertainment.
Search no longer! Here are three performances with Jewish connections that will give you that heimish feeling as soon as the lights dim.
Complete listings for these can be found at: minnesotafringe.org.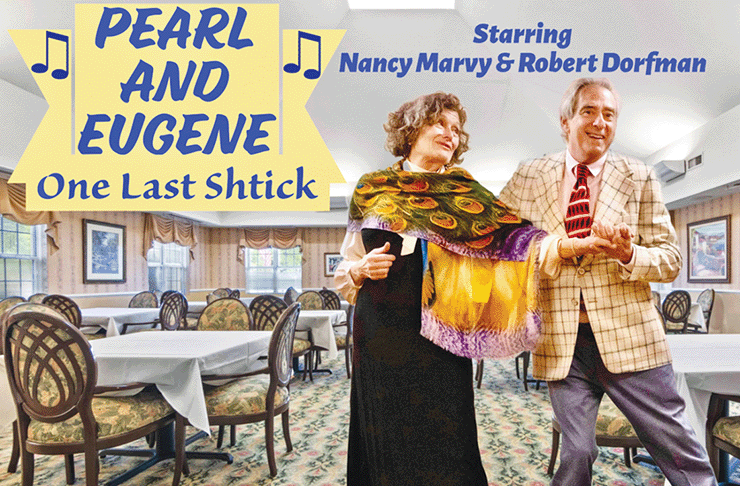 Pearl and Eugene: One Last Shtick, August 4-13 at the Mixed Blood Theatre
It took a "theater mishpacha" to create this musical comedy: Avi Aharoni and Robert Dorfman have worked together three times on plays over the years. Dorfman has been paired with Twin Cities stalwart Nancy Marvy twice. There are many other "members of this tribe" to mention here, unfortunately. In the end, it's Dorfman and Marvy's close friendship that inspired this show.
The plot is sort of the "Catskills in Minnesota": Once, Pearl and Eugene were a dynamic musical duo with big-time stage careers and throngs of fans. They live now in a Jewish retirement home with no one to visit them. When a developer threatens to take their home away, they decide to perform one more time to raise money and save it.
Aharoni gives the two stars a lot of credit for the show's heart: "You get to watch two local legends be local legends doing their best for the audience. Their chemistry is infectious."
No matter how good this show is, it'll be a while before Aharoni is active again in the Twin Cities theater world. He recently moved to the Chicago area to pursue a master of fine arts at Northwestern University. 
Extreme Roadshow, August 6-10 at the Phoenix Theater
John Orenstein may be a recently-retired attorney, but he is no stranger to musical theater. He has musical yichus (lineage) from the Oberlin Conservatory in Ohio. Along with his wife Debbie, he has created various cabaret acts and dozens of Purim shpiels at Beth El Synagogue.  For this production, he went all out, writing the book, music and lyrics.
Involuntary isolation provided many creative types like Orenstein to scratch their theatrical itches.  "My wife Debbie and I watched a lot of Antiques Roadshow during the pandemic.  After viewing one particular episode, a song took form in my head, and that song is the first one that is performed in this show."
In this version of Antiques Roadshow, worthless items are thrown into a fiery pit. A musical romp ensues, featuring a spittoon, the Mona Lisa, a diamond necklace, banjo clocks and a surly mob. Love wins in the end.
There's a cast of nine. Some members of the creative team may be familiar to readers of this publication:  The choreographer is Pam Friedman of Beth El Synagogue and the director is Barbara Wiener, a Shir Tikvah member.
Orenstein has never had a show in the Fringe before. "I'm hoping it might have a life after the Fringe," he admits.
A good turnout and good reviews will turn those hopes into reality.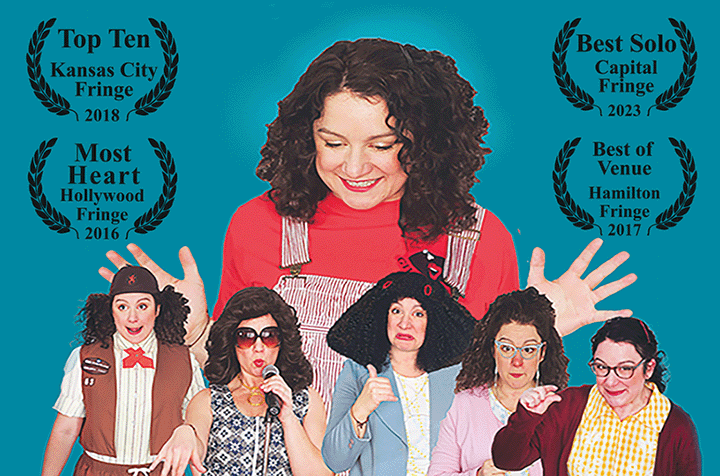 Gilda: A Tribute to the Beloved Comedienne Gilda Radner, August 4-13 at the Southern Theater
This one-woman show is written and performed by Helena Cosentino, who isn't Jewish, but 23 and Me says she's got nine percent Jewish genes. Disregarding genetics, Cosentino is a self-proclaimed Gilda Radner expert. This show, which has been presented (with awards) at several Fringe Festivals around the country, proves it.
Could it be beshert (divinely ordained) that Cosentino was born the year that Gilda took America by storm? She's studied all of Gilda's characters, which she brings back to life in this play. Her favorite Gilda characters?  Lisa Loopner and Emily Litella, but she loves them all!  Cosentino relates how her favorite comedienne used humor to overcome the fears of a life cut short.
Cosentino's dedication to Radner's memory goes so far as to donate a portion of the money earned at these performances to Gilda's Club to fight cancer.
(American Jewish World, August 2023)