Several local bone marrow drives will be held for a Jewish husband and wife from Eden Prairie who are simultaneously battling cancer.
Jodi Heyman successfully beat breast cancer five years ago, but on Aug. 14, she was diagnosed with acute myeloid leukemia — a rare but known side effect of her previous chemotherapy. At the same time, Jodi's husband, Bill, was treated for his advanced melanoma in a month-long trial at the National Institutes of Health in Bethesda, Md.
Jodi will soon be eligible for a bone marrow transplant and community members are encouraged to become part of the bone marrow registry.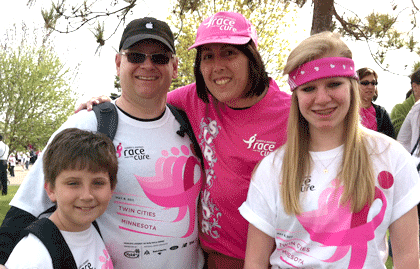 Bill and Jodi Heyman, with their children, Blake and Cassie.
Bone marrow drives will be held 11 a.m. to 2 p.m. Thursday, Oct. 4, hosted by Hillel: The Jewish Student Center at the University of Minnesota, at Coffman Memorial Union Plaza, 300 Washington Ave. S.E., Minneapolis; 9 a.m. to 1 p.m. Sunday, Oct. 7 at Bet Shalom Congregation, 13613 Orchard Rd., Minnetonka; and 12 to 4 p.m. Sunday, Oct. 7 at Eden Prairie Community Center, 16700 Valley View Rd.
Becoming part of the bone marrow registry only requires a painless cheek swab. Your name will remain on the registry until you're 61 years of age.
Donations are also being accepted to help with medical costs and daily living expenses; they can be mailed to: Bill and Jodi Heyman, c/o Wells Fargo Advisors, attn: Bob Warrick, 601 Carlson Pkwy., Suite 190, Minnetonka, MN 55305.
The couple has two children: Cassie, a student at Eden Prairie High School, and Blake, a student at Minnetonka Middle School East.