By ERIN ELLIOTT BRYAN / Community News Editor
Rabbi Emma Kippley-Ogman says it's good to be home.
"I've been wanting to come home for a long time, this is the community that I really care about," she told the AJW. "This is where I want to invest my life's work and to bring my family here. And to have this be as rich and deep a Jewish community as it can be, and to bring what I can contribute to that."
The 31-year-old Highland Park native and Talmud Torah of St. Paul graduate will return to the synagogue of her adolescence to serve as Beth Jacob Congregation's first assistant rabbi. With her arrival, Beth Jacob will also be the only Conservative congregation in the Twin Cities with a female pulpit rabbi.
Kippley-Ogman will work closely with Rabbi Morris J. Allen and Rabbi Lynn C. Liberman, Beth Jacob's director of congregational learning, as well as lay leaders. She will focus on the synagogue's services, and will work with B'nai Mitzva families, and young singles, couples and families.
"I'm hoping to also take us a little bit out of the walls of the shul and into the community," she said.
Kippley-Ogman received rabbinic ordination from the Rabbinical School of Hebrew College in Newton, Mass., and holds an A.B. degree in history and science from Harvard College, where she was a leader at Hillel and sang with the Jewish a cappella group.
Inspired by the book Ordinary Resurrections by education writer Jonathan Kozol, who writes about some of the country's most underserved populations, Kippley-Ogman was encouraged to find a path in which she could make a significant impact on the world.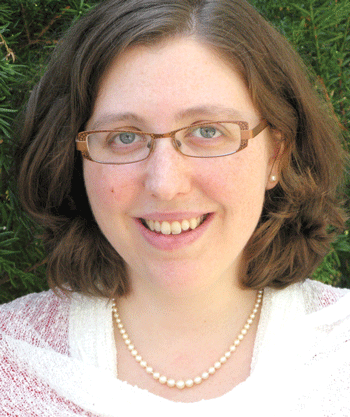 Rabbi Emma Kippley-Ogman: This is where I want to invest my life's work. (Photo: Courtesy of Beth Jacob)
"I went to college thinking I would be a scientist," she said. "But I read that book during college and that was a major source of my inspiration for becoming a rabbi, the idea that I could, with my life work, be present to people in all the different kinds of moments that arise in life… My question really in this work is how to bring that same kind of presence, an integrated presence, to community in a way that elevates people's lives."
After college, Kippley-Ogman spent a year with the Jewish community in Saratov, Russia, as part of Amitim, a now-defunct program of the Jewish Agency for Israel and the Joint Distribution Committee.
"I was doing everything there, from singing with kindergarteners to doing Kabbalat Shabbat with elders to working with a youth club. Doing that work, I realized, Oh, I actually do want to be a rabbi and to be able to do this in a more integrated and knowledgeable way," she said. "And I applied to rabbinical school from Russia and started at Hebrew College the following year."
During her time at Hebrew College, Kippley-Ogman spent two years in Jerusalem as a social justice fellow with the New Israel Fund. She also spent one summer as a community organizer in Chicago with the Jewish Council on Urban Affairs, working to prevent the demolition of public housing; provided pastoral care to patients and families as a chaplain at Brigham and Women's Hospital in Boston; served as High Holy Days rabbinic advisor to the Hillel at Washington University in St. Louis; and provided rabbinic support to isolated congregations during a summer with the Institute of Southern Jewish Life.
For the past two years, Kippley-Ogman served as assistant rabbi at Congregation Kehillath Israel in Brookline, Mass., where she launched an award-winning Kabbalat Shabbat called KICKS (KI's Community Kabbalat Shabbat) that offered lively intergenerational services and monthly dinners.
"What I learned most strongly there is the power of co-creation, that if we want to create things that really move people, we have to do that together," Kippley-Ogman said.
In a press release, Rabbi Allen said that Kippley-Ogman's "success at Kehillath Israel provides us a wonderful glimpse of what we can expect from her work here at our shul."
"Rabbi Kippley-Ogman will bring her passion, her wisdom and insight, and her love of all things Jewish to our community," he said.
Kippley-Ogman returns to Minnesota with her husband, Benj Kamm, and their nine-month-old son, Otto. Kippley-Ogman and Kamm met at the Summer Institute of the National Havurah Committee and share a passion for, among other things, folk singing and piyut — the diverse tradition of Jewish poetry as sung across the Jewish world.
"I'm just so excited to be here," Kippley-Ogman said. "I'm looking forward to really feeling at home. I know that this community is different from the one I left — in 13 years, things really shift — and so I'm looking forward to feeling like I and my family have something to offer and that the connections will be really strong."
(American Jewish World, 11.23.12)