By ERIN ELLIOTT BRYAN / Community News Editor
When Connie Ross traveled to Israel more than 15 years ago, she paid a visit to Yad LaKashish (Lifeline for the Old) in Jerusalem, an organization that "provides a creative work environment and invaluable support" to the elderly and those with disabilities, according to its Web site. Artisans create handmade gifts and Judaica, which are sold in the gift shop to Israeli residents and tourists.
"I saw this program in which there were people from all over the world, who had resettled in Israel, speaking many different languages, being involved and finding friendships. And, of course, most of them were seniors who also couldn't fit into the job market in Israel at that time," Ross told the AJW. "It just seemed like something that we might be able to implement here, on a much smaller basis."
Ross said she found a "receptive community" in St. Paul, and received assistance from the St. Paul JCC, what is now the Jewish Federation of Greater St. Paul and Jewish Family Service of St. Paul to start the program.
Known as By Hand and Heart, the drop-in adult craft workshop at the JCC is free and open to everyone. Those interested in participating do not need to have a creative background and do not need to be members of the JCC. And though most of the members are seniors, the group welcomes all ages.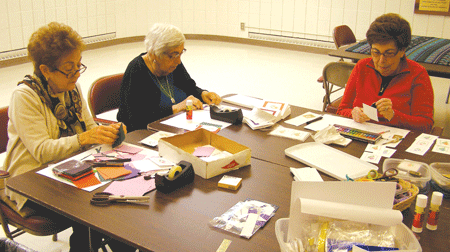 By Hand and Heart group members (l to r): Connie Ross, Betty Baumgarten and Fran Rosen create donation cards for the St. Paul JCC. (Photos: Erin Elliott Bryan)
The group meets from 10 a.m. to 12 p.m. each Tuesday and Thursday, and members work on a variety of projects, in addition to socializing. The finished handicrafts — custom designed invitations and cards, jewelry, beeswax candles, glassware, clay trays and needlework, among others — are sold at the JCC and all proceeds go back to fund the program.
"It's kind of like a support craft group," said Carol Zuckman, the group's coordinator. "I feel good when I see the people that come get benefit from it… I'm doing things that I like, I'm doing artwork, and encouraging other people to be creative and achieve a good potential within themselves."
Zuckman has a master's degree in therapeutic recreation from the University of Minnesota. A self-taught abstract painter, and English and Hebrew calligrapher, she creates the designs for most of the pieces.
Zuckman also uses her training to identify each member's unique skills and can make accommodations for those with special needs. She also calls and checks on group members who have been sick or haven't made it to the JCC in a while.
Above all, she finds great benefit in By Hand and Heart's social atmosphere.
"One philosophy of therapeutic rec is, when you're doing recreational things and talking, it's a good thing," Zuckman said.
Group member Ruth Rischall, who turned 90 in June, lives at Sholom Home East in St. Paul. She has been creating counter cross-stitch pieces for more than 40 years and said she enjoys "being with other people" each week.
"I work alone at my home and here I get to talk about the crafts," she said.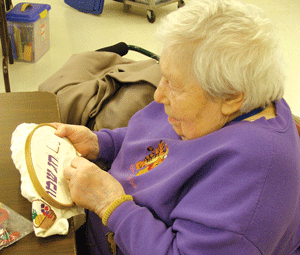 Ninety-year-old Ruth Rischell works on her counter cross-stitch piece, which was designed with the help of group coordinator Carol Zuckman.
But it's not just the members who benefit from the group's social setting. Program assistant D.J. McBeath is an artist who works at her home studio and has found the program to be a great way to meet her neighbors.
"I'm pretty isolated, so it was a natural fit for me to pursue this position," she said.
By Hand and Heart members work on a variety of projects in a variety of media. They create the St. Paul JCC's supply of donation cards, as well as cards for all Jewish holidays and occasions. And gifts are available in everything from glass and yarn to clay and beeswax.
But a big portion of the group's work is in creating custom-designed simcha invitations, mostly for B'nai Mitzva. Zuckman meets with the family about eight months before the invitations are to be mailed and together they brainstorm ideas for the design — usually tied to the child's Torah portion or Hebrew name.
Zuckman creates all of the calligraphy and lettering, and, once the design is finalized, the invitations are hand painted and assembled by members of the group.
"Each invitation cover is different," Zuckman said. "The kids and parents often come to the craft group and help with the painting for the invitations, so it's really neat… Their invitation is their own and it just is such a meaningful part of their Bar Mitzva."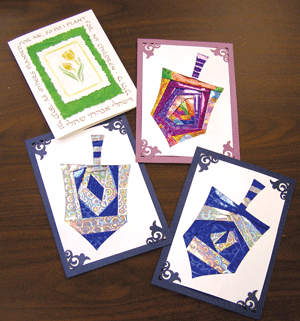 A sampling of the cards created by group members using a variety of techniques.
Designs range from the simple to the complex, and the invitations can include one of several painting techniques and diecuts. Pricing is dependent upon the design and Zuckman can work within a specified budget.
Zuckman showcased the group's invitations at the recent Celebration Showcase, sponsored by the Sabes JCC.
By Hand and Heart welcomes new members, and Ross stressed that you don't need to come from an artistic background to fit in with the group.
"You don't need to be artistic, you just have to cut and paste," she said.
Program assistant McBeath agreed.
"If you don't arrive with creative flair," she said, "we help you discover it."
***
For information about By Hand and Heart, contact Carol Zuckman at 651-255-4746 or: czuckman@stpauljcc.org. To see samples of the group's custom simcha invitations, visit: www.stpauljcc.org/adults/hh_invites.lasso.
(American Jewish World, 11.23.12)