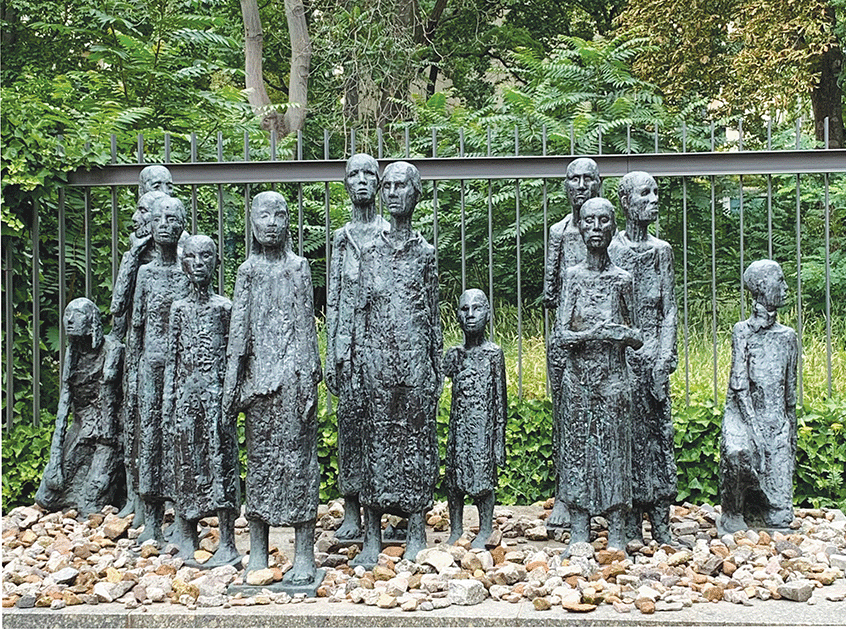 Story and photos by MORDECAI SPECKTOR
We were watching the news in June and seeing all of the horror stories about vacation travelers enduring long airport lines, flight cancellations and missing luggage. So, it was not surprising to encounter some glitches during our July 2 departure from MSP to Copenhagen, via Air France. First off, a layover at the local airport.
We arrived at Minneapolis-St. Paul International Airport several hours early for the first leg of our international flight, to Charles DeGaulle Airport near Paris, and learned that the midafternoon departure had been delayed for three hours. When we finally took off, it was announced that the airliner that we were to board had taken a lightning strike on the way to MSP, so a replacement jet had to be brought in.
Travels in the Jewish World
Of course, the late departure caused us to miss our connecting flight to Copenhagen, and we found ourselves with a seven-hour layover in Paris. From the time we left our house in south Minneapolis to landing at Kastrup in Copenhagen, about 24 hours had elapsed. And our checked bag was lost.
But I'm not complaining. Travel should have an element of adventure, and my wife, Maj-Britt, and I are used to encountering some pitfalls along the path. We spent most of July visiting our son, Max, who has been living in Copenhagen, Denmark, for the past four years. Earlier this year, Max graduated from the Technical University of Denmark with an engineering degree.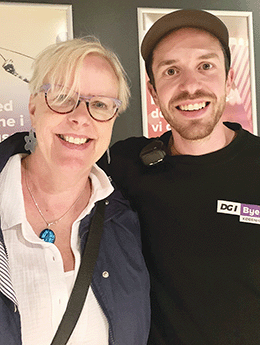 Perhaps, I've mentioned that tuition for the three-year program at this top-flight technical university came to zero — nothing, nada, zilch. And the Danish government provided Max (who has dual U.S. and Swedish citizenship) with an $800 monthly stipend while he was in school. In the United States, a faction of the citizenry views such benefits as a manifestation of "communism," so our students graduate from college and then spend decades paying off massive loans taken to finance their studies.
Copenhagen also has a crackerjack public transit system — buses, metro and harbor buses — that makes it easy for a tourist to see the sights in the beautiful city full of amenities for the 800,000 permanent residents and millions of tourists visiting each year. There were many more tourists this summer, compared to the scene in 2021, when the world was just emerging from the COVID-19 pandemic.
And we enjoyed the big yellow harbor buses that ply the scenic main waterway through the Danish capital. The harbor bus fare is included in the five-day multizone passes we purchased. You can pay for a boat tour of the harbor and canals with a guide describing the attractions, but I'll take the harbor bus.
In addition to Copenhagen, where we spent a full week in a rental apartment, we visited with friends and relatives in Skåne, the southern province in Sweden, which is a short train ride across the Øresund strait, via tunnel and bridge, from Copenhagen. Maj-Britt is Swedish (and a U.S. citizen, too), and we spent time with her brothers residing in Sweden and a cousin living in Copenhagen. And we also visited Berlin for the first time.
In Mitte
After a few nights in the Swedish countryside, where it was green and quiet, we flew from Copenhagen to Berlin, a bustling city of 3.7 million residents. Our Airbnb rental was located in Mitte, a large central neighborhood in the German capital, and our apartment for four nights was in a Jewish neighborhood.
Returning from dinner on our first night in town, I noticed a police booth next to a nondescript building on the corner of the block and three cops standing on the sidewalk. They were guarding Kahal Adass Jisroel, an Orthodox shul and school. Across the street was a small grocery store with a sign proclaiming: KOSHERLIFE.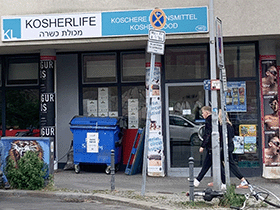 And as it happened, a man in Orthodox garb was walking toward us on the sidewalk. "Shalom, I'm Mordecai from Minnesota," I announced in greeting. He seemed surprised. So, on our first night in Berlin, we chatted with the rabbi of the synagogue on the corner.
Unfortunately, he was leaving for Israel the next morning. His English was somewhat limited, and we couldn't do much with either German or Italian, as he suggested. Anyway, he said that we could send an email to the synagogue and attend Shabbat services. But we had other plans, as Max and his girlfriend, Silvia, who is from the Friuli-Venezia Giulia region of Italy, would be staying with us in Berlin over the weekend.
On Friday, we found a cozy breakfast spot near the apartment and then took the U-Bahn (subway) — the Brunnenstraße station was conveniently located just a few steps from our door — and a bus to the Jewish Museum Berlin. (Germany instituted a nine-euro ($9.08 USD) monthly pass for public transit during the summer months. This minuscule fare covers all buses, trams, U-Bahn (subway) and regional trains. It's a great deal, and there is talk of extending the subsidized fare beyond August.)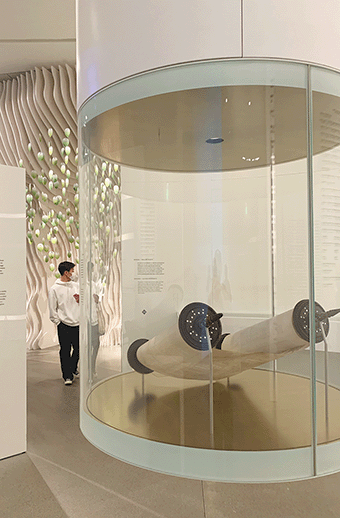 The museum's new building was designed by renowned architect Daniel Libeskind. It's a unique interior. Here's a description from the museum website: "The building zigzags with its titanium-zinc façade and features underground axes, angled walls, and bare concrete 'voids' without heat or air-conditioning. With his 'Between the Lines' design, American architect Daniel Libeskind did not want simply to design a museum building, but to recount German-Jewish history. Even before the Jewish Museum Berlin opened in the fall of 2001, almost 350,000 people had toured the empty building, which continues to fascinate innumerable guests from Germany and abroad. Today the Libeskind building houses the permanent exhibition. The building allows for many interpretations. For some people it brings to mind a broken Star of David; for others it is a bolt of lightning. Many people are left with a feeling of insecurity or disorientation."
There are maps available to orient a visitor to the exhibitions in the building; however, we missed the Holocaust Tower, one of the iconic parts of the structure. I'll have to visit again.
The exhibits are affecting. After looking at art and artists, a picture gallery, one comes to the "Catastrophe" epoch — the Shoah, when the German nation descended into madness and methodically murdered its Jewish population and then all the Jews it could capture in lands occupied by the Nazi regime. Jewish life has reemerged in Germany, which has the third largest Jewish community in Europe, after France and the United Kingdom. An unusual fact is that somewhere between 10,000 and 15,000 Israelis, mainly a younger cohort, live in Berlin. Of course, many Israelis are horrified by the thought that their compatriots would settle in the former capital of the Third Reich.
Jewish history in Berlin
You can't escape the Shoah when visiting Berlin, and we were interested in learning more about the imponderable mass murder of European Jewry. It's what I think about: How did it happen? Could it happen again? Could it happen here?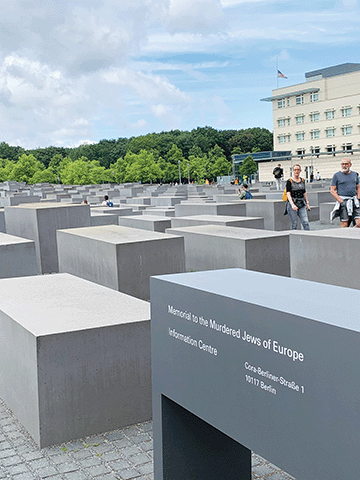 Maj-Britt, Max and I visited the Memorial to the Murdered Jews of Europe, which covers a sprawling site just south of the Brandenburg Gate, which became a symbol of divided Berlin during the Cold War. More than 2,700 concrete slabs of varying heights — a "field of stelae" — form a grid on a two-acre plot. There has been some controversy over recent years about tourists taking selfies in the memorial; the same issue has arisen at Auschwitz and other memorials to victims of the Nazi genocide.
Construction on the Holocaust memorial began in 2003, and the site opened to the public on May 12, 2005. Around half a million visitors tour the memorial each year. An information center, a small museum under the field of slabs, is open to visitors. We waited in line for about 15 minutes — some pandemic precautions are observed in Germany — and then learned about the lives of individuals and families that perished during the Nazi onslaught.
Max and I looked at an exhibit that depicted a family living in the Łódź ghetto, and Max commented, "I've been there." During our visit to Poland last year, we had a guided tour of Łódź, the city, the ghetto and the sprawling New Jewish Cemetery that covers some 110 acres.
The largest Holocaust memorial in Germany and in other European countries consists of around 60,000 stolpersteine, stumbling stones. The memorial is a project of German artist Gunter Demnig. A 2008 documentary, Stolperstein, focuses on this unique effort at memorializing the lives lost in the Shoah. The stolperstein replaces a cobblestone from the sidewalk with a brass marker that memorializes Jews who were deported.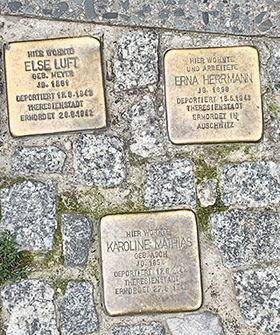 I first saw the stolpersteine in 2018, when I was in Prague, and happened on four of them one night. Somehow, as we were coming and going from our apartment in Berlin, we missed three stolpersteine in front of the building. As I recall, stolpersteine can be found throughout Germany, but not in Bavaria, where the local Jewish leaders felt that having these markers underfoot was undignified.
On our final full day in Berlin, we visited the New Synagogue on Oranienburger Straße. The Reform synagogue was dedicated on Sept. 5, 1866, and features Moorish-style domes, the main dome of wrought-iron latticework rises more than 150 feet above the street. The sanctuary seated 3,200 worshippers.
The building is now a museum and headquarters for Berlin's Jewish community; and a small sanctuary on the third floor hosts an egalitarian congregation. The multimedia exhibits include fragments of the shuls interior furnishings and external ornaments. You can watch a short film clip of the synagogue's cantor and choir singing during a worship service early in the previous century.
The congregants lived under the shadow of antisemitic hatred during various eras. A timeline in the exhibit features quotations from prominent Jews and their antagonists. Paul de Lagarde, a notorious antisemite in the 19th century, is quoted as saying, "The Jews clearly emphasize their foreign nature every day …" Long before the Nazi ideology held sway, de Lagarde referred to German Jews as "vermin," and he also was a proponent of German colonialist projects.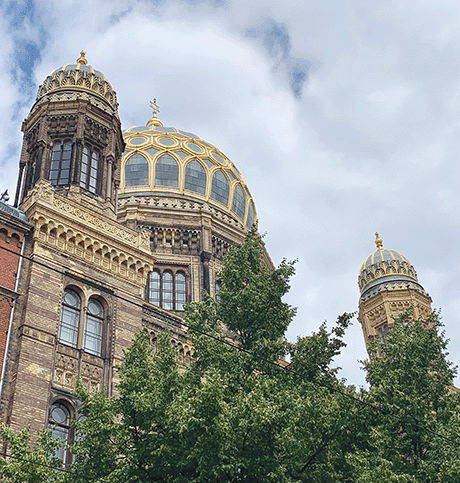 In 1933, when Hitler came to power, around 160,000 Jews were living in Berlin. Around 90,000 managed to escape Germany, so by 1939, just 70,000 were still living in Berlin.
During Kristallnacht, the pogrom perpetrated by Nazi thugs Nov. 9 and 10, 1938, the synagogue's Torah scrolls were desecrated, and the building was torched. Remarkably, services continued in the synagogue into 1940. During World War II, the synagogue was badly damaged by aerial bombing, in November 1943.
In an upstairs room, you can pull up one of the folding chairs provided and watch video testimonies of Berlin Jews recounting their hardships and losses during the Holocaust, along with their resistance activities. A visitor is left with a pervasive feeling of sadness, but the New Synagogue should be on the agenda if you're in Berlin.
A divided city
I credit my wife for finding Airbnb lodgings in some interesting places. We discovered that our Berlin apartment was one block south of Bernauerstraße, a street that provided the path for a section of the Berlin Wall, which was erected on Aug. 13, 1961. After more than three million East Germans fled to the west after the Soviet puppet regime took power, the authorities acted decisively and began building a barrier to keep their citizens in.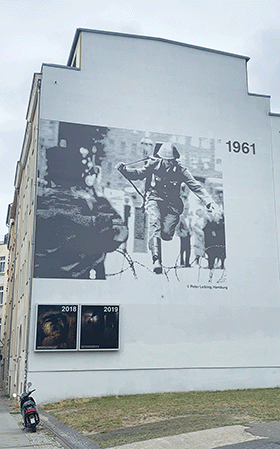 At first, the Berlin Wall consisted of coils of barbed wire and a short wall. Buildings along Bernauerstraße provided an escape for those who dared to fashion bedsheets into a rope or jump out of a window. These buildings on the eastern side were evacuated, then later boarded up or demolished. Our rental apartment was in the area of former East Berlin.
Another popular tourist attraction is the East Side Gallery, a portion of the Berlin Wall adorned with paintings that stretches for 1.3 kilometers. When we arrived at Berlin Brandenburg Airport, we saw a reproduction of one wall panel, artist Dmitri Vrubel's "Fraternal Kiss," which depicts two Communist officials in an embrace. And then we saw the original artwork.
There was one very odd coincidence during our July visit to Europe. My wife and I were touring the Berlin Wall Memorial, and she had seen enough; it had been a long day of touristing. I gave her the key to the apartment, and I continued to explore the memorial. On the way back to the Airbnb rental, Maj-Britt ran into Beth, our neighbor from two doors down on our Powderhorn Park block. Beth was visiting a cousin who lives in Berlin.
Back in Copenhagen
After four nights in Berlin, we flew back to Copenhagen to spend more time with Max and explore the fascinating city. It was relaxing to have our own apartment for a week and to see whatever we wanted to see.
Among our excursions was a day trip to Hamlet's castle. We took the train to Helsingør, where it was easy to find our way to the massive medieval Kronborg Castle that was the abode of Swedish kings and at least one queen. Shakespeare drew inspiration from the place and named the home of the brooding Prince Hamlet Elsinore. Maj-Britt bought a souvenir "To be or not to be" t-shirt.
After touring the castle, we enjoyed a hearty meal of traditional Danish smørrebrød, open-face sandwiches, in a restaurant in Helsingør's Old Town.
Again, Europe, the Old Land of Woe, presents layers of history, and you never know what you might find. Near our apartment in the cool Nørrebro neighborhood, hipster central, we often headed to the Nuuks Plads Metro station to begin our perambulations. And one day Maj-Britt pointed out a marker near the entrance to the subway station. It is a remembrance of the members of the Danish Brigade who fell on the spot on May 6, 1945. The Danish Brigade trained in Sweden and then returned to liberate Denmark from the Nazi occupiers.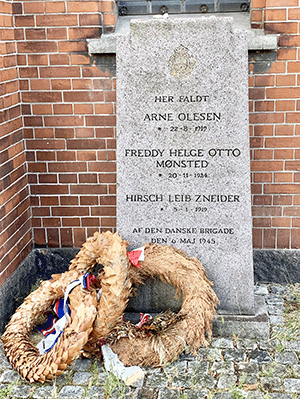 The third name on the marker caught my eye: Hirsch Leib Zneider. Obviously, a Danish Jew. I did some research via Google and found that the Danish Brigade entered Copenhagen and came under fire from Danish auxiliary police working for the Gestapo. These members of the notorious collaborationist HIPO corps fired from rooftops across the street and killed the three freedom fighters. Zneider (whose name is spelled Znaider on his headstone) is buried in a Copenhagen cemetery.
May their memory be for a blessing.
(American Jewish World, August 2022)