By ERIN ELLIOTT BRYAN / Community News Editor
Growing up in the Highland Park neighborhood of St. Paul — the 11th of 14 children — Benny Friedman said he had a "regular Minnesota childhood," shoveling the driveway and building igloos.
And as the son of Rabbi Manis Friedman, dean of the Bais Chana Institute of Jewish Studies, Friedman also attended cheder and accompanied his family to downtown Minneapolis "trying to find Jews to put on tefillin."
But it was music that inspired Friedman the most — particularly that of his uncle, Hasidic music star Avraham Fried.
"We grew up on his music, that genre. It was always in our house," Friedman told the AJW in a recent phone interview. "There's not a lot of opportunity for Hasidic music in Minnesota, but when it did come, it was very exciting. And it was really just a little dream in the back of my head during my childhood, like a faraway dream."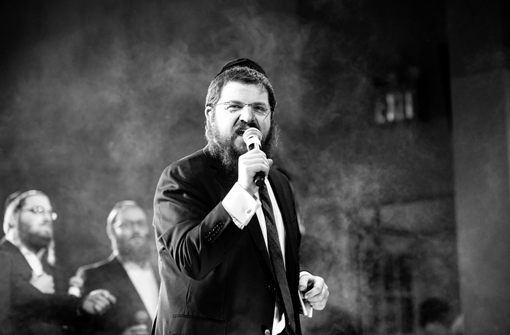 But Friedman's dream is now a reality, with the release of three solo albums and the popular song "Yesh Tikvah (There Is Hope)," the video for which has reached more than four million views on YouTube. Friedman will return to the Twin Cities to perform a concert on April 3 in Hopkins.
"It's contemporary Hasidic music, with a little smattering of old Jewish popular songs and some English songs," Friedman said of the show. "It will be a warm atmosphere, a fun atmosphere, and it will be in the spirit of the month of Adar, filled with joy."
Friedman, who sings mainly in Hebrew, said his professional music career developed slowly, beginning at yeshiva in Postville, Iowa, where he started to sing solo in public. At yeshiva in Tsfat, Israel, he was asked to sing at a wedding and to sing on a Chabad music album. He also spent time studying at yeshivas in Los Angeles and Miami, where he continued to perform at concerts and events.
"By the time I left yeshiva, it was something I was very focused on," Friedman said.
After graduating from rabbinical seminary, Friedman relocated to Los Angeles to train with voice coach Seth Riggs, who has worked with Barbara Streisand, Josh Groban and the late Natalie Cole, among others.
He also partnered with his brother, a Chabad emissary in Calabasas, Calif., to produce a show titled "Judaism: The Song and the Story," which toured the West Coast for several years.
Friedman later married and moved to Brooklyn, N.Y., where he records and performs on a full-time basis. He and his wife have young sons, ages two and four.
Friedman released his first album, Taamu, in 2009, followed by Yesh Tikvah: Dawn of Moshiach in 2011, and Kol Haneshama in 2014. He recently performed sold-out shows in Paris and Moscow.
"It's something unbelievable," Friedman said of his first trip to Moscow, "to go to a place that tried as hard as it could to destroy and to stamp out the spirit of Yiddishkeit from their country. And what you see there today is that light won and darkness lost… [Stalin] tried to destroy Yiddishkeit… and here we were singing 'Am Yisrael Chai (The People of Israel are Alive).' It's something so incredible."
Friedman said it was a similar feeling that he had in Berlin, Germany, in Mumbai, India, and in Israel. Through his music, Friedman said he wants to share a message of faith, hope and brotherly love — particularly this year, the year of hachel, when it is commanded to assemble all Jewish men, women and children once every seven years.
"There's a special mitzva, a special reason for Jews to get together, just for Jews to be together and to remind ourselves that we are one big family," Friedman said. "And if we can do it with music, and with singing and dancing, even better."
***
Hasidic music star Benny Friedman will perform 5 p.m. Sunday, April 3 in the theater at the Eisenhower Community Center, 1001 Hwy. 7, Hopkins. Tickets are $10, $20 or $75, and can be purchased at the door or reserved in advance by emailing: mottelmn@gmail.com.
(American Jewish World, 3.25.16)