Reviewed by NEAL GENDLER
If you like clever short stories about unhappy, frustrated or lonely people, you'll love Notes from the Fog.
I don't, and I didn't.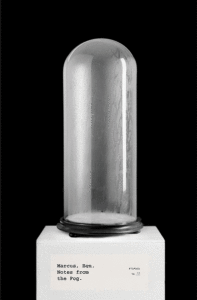 That's not to say it isn't engaging, insightful and immaculately well written, with some amusing turns of phrase. It's all of those. It's the fifth book by acclaimed Ben Marcus, winner of several writing awards and Columbia University teacher.
But like most of us, I've had sufficient frustrations and disappointments; I don't need to immerse myself in someone else's imaginary ones.
"Cold Little Bird" tells of Jonah, 10, who suddenly tells his parents he doesn't love them and no longer wants to be hugged, kissed or touched. This case of premature, severe adolescence affects neither his school performance nor his willingness to entertain his younger brother. But he otherwise withdraws from family life.
His father sees him reading a book claiming Jews caused the 9/11 attack.
"This is a book by an insane person," his father says. "You know that we're Jewish, right?"
"Not really," replies Jonah. "You don't go to synagogue … Last month was Yom Kippur and you didn't fast. You didn't go to services."
The father can't cope; his wife sleeps alone.
In "Blueprints for St. Louis," an aging, passionless architect couple increasingly is commissioned to design memorials for cities hit in a spreading epidemic of bombings. Drug companies are "fighting their way onto the proposal" to inject a mood-altering chemical mist — invisible and scentless — that assures visitors experience an appropriate emotional response.
Three stories are about people who work for companies that use employees as medical lab rats. In one, a worker supposedly gets his nutrition delivered through a light. He stares for hours, becoming disfigured and starving.
In another, a scientist blows a yellowish powder into a woman's face. She's not told what it's supposed to do, and briefly, she feels no change. Then she falls into a Rip Van Winkle sleep.
The deeper you get into the book, the weirder the stories become. Perhaps it's all metaphors or symbolism that I'm just too dense to get, or some sort of code known to the literati that I'm too small-town to crack.
"A Suicide of Trees" is the second-strangest story in the book. After several puzzling pages, I caught on that the boy's father has disappeared, and so has a long-term lodger — a mathematician who occasionally invited over colleagues competing to solve math problems on a blackboard.
A detective investigates, but for lack of evidence — comprehensible evidence, anyway — to no conclusion. The surprising ending may explain the disappearances. Or maybe not.
One of the most-realistic stories, almost not depressing, is "Stay Down and Take It." An older couple must evacuate a coastal home because of a coming storm and flood surge.
As they creep along the sole road out, clogged with silver-haired drivers, they bicker, noodge, joke and bite their tongues in the manner of many long-married couples. Spurning a gym-floor shelter, they drive on, he finally pulling onto an exit so they can eat at a restaurant. Afterward, they drive on into pouring blackness.
Marcus perfectly captures two people who've learned to accommodate each other, bereft of excitement.
Most of the 13 stories are short — mercifully, for several at one sitting is a heavy dose. And be warned: They are not for prudes. In varying ways, Marcus examines life and death — especially death — and whether what we sense as reality is, in fact, real.
Last in the book is the title story, in some ways the most realistic and poignant. The husband loses his teaching job, then loses his beloved wife to cancer. His children live with an aunt while he seeks work. The ending approaches happiness.
Notes From the Fog arrived with a news release containing effusive praise for Marcus' books. Likely this book will get the same, despite its dismal depiction of life as ephemeral, isolated, joyless, laden with trouble.
If this is how Marcus sees the world, I suggest psychotherapy.
***
Neal Gendler is a Minneapolis writer and editor.