by MAX SPARBER
Community News Editor
Minnesota has an odd taste for Frankenstein's monster, the towering revived corpse from Mary Shelley's novel, which this year turned 200 years old. The Bakken Museum in Minneapolis has a recreation of the fictional lab in which the young scientist Victor Frankenstein stitched together dead flesh and brought it to life with electricity.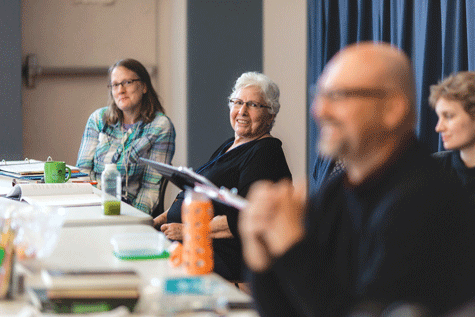 Just now, the Minnesota College of Art and Design has an exhibit of illustrations inspired by the book. One of the season cereal monsters created by General Mills in Golden Valley is Frankenberry, a bright pink version of Shelley's monster printed on the box for a strawberry flavored cereal. There is even a statue of Frankenstein in Janesville, Minnesota.
And one of the better stage adaptations of the novel was commissioned by the Guthrie Theater 20 years ago. Called Playing with Fire, the play adapted by local playwright Barbara Field. I saw it when it debuted, and recall the production as frequently being austere, set neat the North Pole, where the monster has escaped to and where Victor Frankenstein has followed to confront, and perhaps kill, his creation.
It's not clear if Mary Shelley was inspired by the Jewish legend of the golem, the hulking mud man most famously built by Rabbi Judah Loew in in the 6th century to protect the Jewish population of Prague. The golem tale and Frankenstein have a lot in common, especially in the theme of a man-made creature who goes on a murderous rampage.
But the golem story has an element to it that Frankenstein does not: accountability. Judah Loew must confront his own creation and destroy it, while Frankenstein dies without ever catching his creation, who drifts off on an ice raft at the end of the novel.
In interview with American Jewish World, playwright Barbara Field shared her response when she was approached about adapting Mary Shelley's novel. "I said sure. I had never read it," she said. "Then I read it and said I don't want to do it."
Field wasn't interested in creating a play that involved what she described as "a cast of thousands brandishing fire." Instead, she was interested in the scene that Mary Shelley "didn't write.
"I wanted to do the things that she left out of her book," Field continued. Specifically: "the closure conversation," a scene in which Frankenstein must confront his creation and come to terms with his own responsibility. In this way, Field, a Jewish playwright, has connected the Frankenstein story to the Judah Loew story. The cast also includes Jewish actor Robert Dorfman.
Field, one of the cofounders of Minnesota's Playwrights' Center, had already done several adaptations and translations for The Guthrie, including their popular adaptation of A Christmas Carol, but she took a different approach to retelling the Frankenstein story. "It's not quite an adaptation," Field said. "Scenes from the book come in, the principal ones, but it's much more spare."
The play was warmly received when it debuted and the Guthrie toured it for a while, but Field says she hasn't seen the show in 30 years. "I came to it fresh," she explained. "There are things in it that I forgot I had written. It's changed; it's different but splendid."
According to Field, some of her sense that the play has changed comes from having a different director with a different vision (the show is directed by Rob Melrose). Some of the difference comes from the play's location — it debuted in the old Guthrie theater, snuggled next to the Walker Art Center, but now is in a vast new location alongside the Mississippi River.
But some of the difference is that it is just a different time now than it was when the play debuted. "It's timely, simply because we live in a world where people are pushing boundaries
going further and further," Field explains, discussing some of the world's new marvels of destructive technology and the people who are willing to use them.  "It's about taking responsibility.
"Our time is pretty perilous," she concludes.
***
Frankenstein — Playing with Fire plays through Oct. 27 at The Guthrie, 818 S. 2nd St., Minneapolis. For information visit guthrietheater.org.