Reviewed by NEAL GENDLER
Good News Clubs aren't good news for everyone, as Katherine Stewart makes clear in an exposé of how some evangelical groups are using public schools to — as they might put it — reclaim America for Christ.
Stewart describes a national movement as targeting youngsters with a well-organized, well-funded proselytizing campaign, and because of a 2001 U.S. Supreme Court ruling, schools that allow other outside activities — such as scouting — can't stop it. The court held that such "bible study" on school property doesn't violate the First Amendment but simply is private speech from a religious viewpoint.
She calls this effort Christian Nationalism, saying it rejects inclusiveness and diversity, and "seeks to undermine the foundations of modern secular democracy. It has set its sights on destroying the system of public education — and it is succeeding."
Success lies in obtaining vouchers that would have taxpayers paying for private, presumably religious education — thus de-funding public schools — or by a subtler method of aligning school standards and curricula to this brand of evangelicals' agenda.
One route in is Good News Clubs, one of several ministries of 75-year-old Child Evangelism Fellowship (CEF), headquartered in Warrenton, Mo., which Stewart says supplies materials and leadership training. CEF claims to have reached 12.1 million children in 180 nations last year.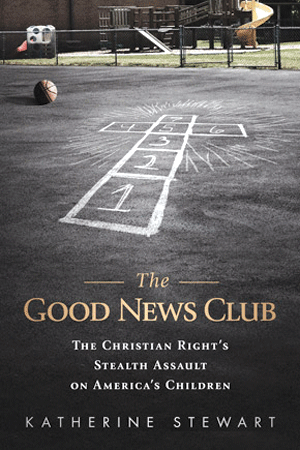 Stewart says that a Good News Club, led by locals, often gains entry as benign-sounding after-school bible study. She describes the weekly meetings as fundamentalist indoctrination, with locations in school buildings — so children might think them part of the school — so important that offers of free space in churches as near as next door have been turned down.
CEF says children attend "only with their parents' permission." Stewart says the weekly meetings include attention-getting treats and rewards for getting other children to join. The clubs can be divisive, she said, with proponents accusing opponents of intolerance.
Stewart, whose name doesn't announce her Judaism, has apparently amiable interviews with Good News Club leaders, and attends some of their training sessions and a CEF national convention. Leaders are forthright about their aims: to attract and evangelize children in the impressionable ages of four to 14, and ultimately to bring their parents into the fold. They see themselves as doing the right thing by bringing people to Jesus.
One worker said: "Public schools are where we meet unsaved children! … Do you want them to go to hell?"
This movement apparently sees America becoming a moral swamp full of anti-Christian discrimination. She quotes top CEF legal advisor Mathew Staver on banning school prayer and bible reading as saying: "When you take education and you remove the only firm foundation, the knowledge of Jesus Christ, you've ultimately de-educated everybody."
This "industrial-scale conversion machine" is aimed at "unsaved" Christians, not Jews, although its triumph would cause us considerable discomfort. Its methods include altering curricula. Stewart attended a March 2010 Texas Board of Education meeting and recounts that members removed from state standards some historical figures, facts and scientific ideas not in tune with a right-wing Christian agenda.
CEF programs have operated under several names, and Stewart claims that "religious groups can now get paid to do their work during the school day, as part of the children's mandated curriculum," if they misrepresent their activities as teaching on secular subjects.
Even Jews try. At her daughter's New York public school, Stewart noticed PTA funding for a weekly, in-school program for all third graders called SKF. "Success For Kids," she learned, "originated with and remains controlled by the Kabbalah Centre.
CEF lists two Minnesota chapters in Duluth, one in Monticello and a "CEF of Twin Cities Area" in Burnsville. Stewart, who is to speak in Twin Cities bookstores Tuesday and Wednesday, told the American Jewish World that CEF "has targeted the public schools of the Twin Cities for a forceful outreach this summer."
I'm skeptical of books with an alarmist aura, but journalist Stewart appears to have done the research to be credible. The subject came to her attention when a Good News Club appeared on an activities list at her daughter's public school in Santa Barbara, Calif.
After moving to New York City, she noticed Sunday church services at the public school across the street. Such "church planting" is widespread and deliberate, and "the church planters clearly have done the math: Why bother to pay for your own church facilities when you can get taxpayers to do it for you?" New York's attempt to prohibit such use is at the federal appellate level, she says.
Stewart is short on solutions. Perhaps under the current Supreme Court, there are none.
***
Neal Gendler is a Minneapolis writer and editor.
Katherine Stewart will appear 7:30 p.m. Monday, June 25 at Magers and Quinn Booksellers, 3038 Hennepin Ave., Minneapolis; and 7 p.m. Tuesday, June 26 at Common Good Books, 38 S. Snelling Ave., St. Paul.
For information, visit: www.thegoodnewsclub.com.
(American Jewish World, 6.22.12)