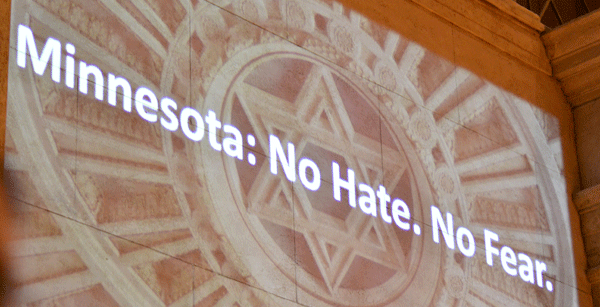 AJW Staff Report
A gathering Tuesday night, Jan. 7, at Temple Israel in Minneapolis featured music and speeches by Jewish communal leaders, rabbis, Minnesota Gov. Tim Walz, Lt. Gov. Peggy Flanagan and others, in the wake of recent attacks on Jewish communities in Jersey City, N.J., and Monsey, N.Y.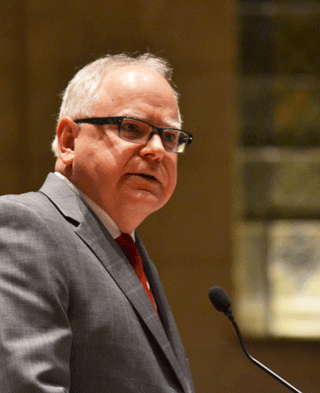 A crowd estimated at 1,400 packed the Temple Israel sanctuary and was greeted by Rabbi Marcia Zimmerman, the shul's senior rabbi, who declared, "This evening is one of unity that we've never seen before…. We have come together this evening in unity, under the banner 'No hate. No fear.'"
Among the sponsors of the evening — which was made possible through funds from an anonymous donor, according to Zimmerman — were the Jewish Community Relations Council of Minnesota and the Dakotas (JCRC), Minneapolis Jewish Federation, St. Paul Jewish Federation, Jewish Community Action, NCJW Minnesota and the Minnesota Rabbinical Association.
In addition to a contingent of state legislators, including Senate Majority Leader Paul Gazelka and House Speaker Melissa Hortman; Minneapolis Police Chief Medaria Arradondo and Hennepin County Sheriff David Hutchinson; the event was attended by a large group of clergy members of varied faiths.
Gov. Walz said that his first responsibility was to ensure the "safety and security of all Minnesotans."
"Every single one of you should feel safe in your community, safe in your schools, safe in your worship, safe in your lives," said Walz.