Reviewed by NEAL GENDLER
Insightful and concise, The Sixth Crisis: Iran, Israel, America and the Rumors of War is both unusually fair when describing Israel's situation and disappointingly one-sided in apportioning blame for the last year in which the "Palestinian problem" has remained unresolved.
The authors say it's difficult to sustain "a simple and literal concept of linkage" of that six-decade problem to the recent and urgent one of a nuclear-armed Iran, which they call America's sixth distinct crisis in its encounters with the Middle East since World War II.
But authors Dana Allin and Steven Simon claim "complex connections between Iran's nuclear threats, the Israel-Palestine tragedy and the Obama administration's strategies for rebuilding America's position in the Middle East." And even with any indirect connection, "it would be facile to imagine that they are linked in some Newtonian fashion, such that a final-status accord between Israelis and Palestinians" would solve the Iran problem or any of the area's other conflicts they list.
Moderately left-wing, Allin and Simon have heavy credentials in international affairs and call their slim volume "a book of explanation and warning." For that, it's quite good.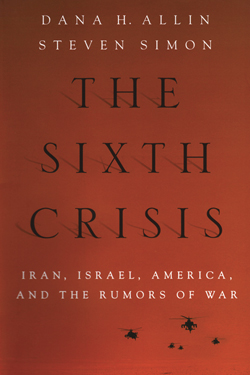 "We have tried to avoid the cant and vitriol" common in discussing the Middle East, they say, and they mostly succeed. Their 165 pages of text show them basically supportive of Israel and sensitive to the threat posed by Iran, both in going nuclear and in fomenting unrest though proxies such as Hezbollah.
While hoping for "a more critical form of U.S. support for Israel," the authors say, "it is a deep and abiding American interest to support an Israeli state that is secure, democratic and Jewish." They say "this interest is threatened by the stalemate over Palestine."
True, but their neutrality thins when calling Jews living east of the 1949 armistice line "active agents of Palestinians' humiliation." Views about the necessity of a Judenrein Judea and Samaria differ; but, to the authors, "the settlements policy was a historic mistake" and Israeli policy is captive to "the baleful influence of the settlers' movement."
They say Obama made a serious mistake "to demand an Israeli settlement freeze without a plan for what to do if Israel said no"; but they don't look deeper to ask whether he was mistaken to exceed even Arab demands — pushing both sides up a tree without a face-saving ladder. They claim the American political right has encouraged "further Israeli intransigence," without seeming to notice that the tangible concessions have been almost exclusively Israeli.
Allin and Simon address an oft-claimed double standard of Israel being allowed to have unacknowledged nuclear weapons that the United States does not want Iran or Arab states to possess, saying "regime type matters." Modern Japan likely could build nuclear weapons, but it "has not used terrorism as a central tool of state policy, or loudly denied the right of another country to exist."
They say: "There is hardly any doubt that Iran's defiant march toward a nuclear capability is creating the objective conditions for a descent into war," and "there is every reason to worry that… a fearful Israel will conclude that it is cornered, with no choice but to launch a preventive war" to remove or delay a threat to its existence.
"It would be negligent to dismiss Israel's worries about a nuclear-armed Iran," the authors write, at one point saying bluntly that "Israeli calculations are not crazy."
Blame for such an attack, they say, also would adhere to the United States, damaging its interests in the region. Writing prior to the cyber attack (the Stuxnet worm) on Iran's uranium enrichment facility, they hold scant hope for the success of sanctions and are pessimistic Iran will abandon its ambitions. Iranian nuclear weapons could set off a cascade of proliferation, and "there is little confidence that a world of 15 or 20 nuclear powers can be managed without a real nuclear war breaking out."
The Sixth Crisis is a fine analysis of the Iran problem. If only it offered solutions.
***
Neal Gendler is a Minneapolis-based writer and editor.
(American Jewish World, 12.24.10)